GMAT Prep Courses in Madrid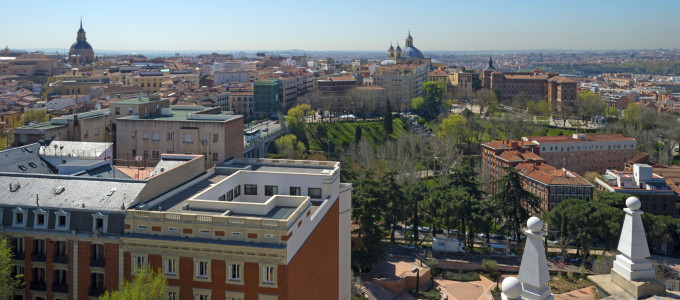 Every year, the Graduate Management Admissions Test, or GMAT, is administered all over the world to graduate business hopefuls. Although the GMAT is primarily used as an assessment tool to determine critical thinking, quantitative reasoning, and the ability to communicate complex ideas at the graduate business level, it is also used as a necessary tool to help find the best and brightest among prospective graduate business students. In order for hopefuls, like yourself, to be able to rise to the challenge of the GMAT, you should and must be adequately prepared to do so. At Manhattan Review, we can help you rise to the challenge, with stellar results!
For over 15 years, Manhattan Review has been number one in providing world-class GMAT test prep services to prospective graduate business students all over the world, including Madrid. Our unprecedented program offers students a state-of-the-art a la Carte program designed with their needs in mind. Specifically, students are given the reigns to design a test prep program around their unique individual learning styles and availability, starting with tailoring our best in class test prep courses. No other test prep program, with a worldwide presence, can claim to offer the same thing.
When prospective graduate business students sign up for GMAT test prep courses at Manhattan Review, they also benefit from our stellar reputation as a result of all the work that we have done with students in Madrid. And as a result, our past participants have gone on to attend the best business schools in Madrid, such as the Charles III University of Madrid, the St. Louis University of Madrid and the European University of Madrid. But that's not all. In addition, our past participants have also go on to accept employment with all the top employers in Madrid, which gives all of our students something to look forward to.
Give yourself the best possible academic and professional advantage; contact Manhattan Review before you take the GMAT!

Since I took the GMAT preparation course with you approx. six months ago, I wanted to inform you that I got accepted at Kellogg and would like to thank you for your support.
- Fabian (This student took our Munich GMAT weekend course)
Madrid
Phone: +34-911-876-504

Primary Course Venue:

Sheraton Madrid
Calle Alfredo Marquerie 43
28034 Madrid
Spain

NOTE: We do NOT typically have staff at the venue, so email us before visiting the venue.
Meet a Madrid GMAT Tutor: Martina D.
Just like her father, for whom she is named after, Martina has accomplished quite a great deal in the field of finance. Although she grew up in the neighboring city of Barcelona, Martina spent a great deal of time in Madrid, and as a result was quite familiar with the capital city by the time she attended the highly competitive Charles III University of Madrid, for it's top rated Business Administration program. Martina is quick to acknowledge that without her phenomenal test scores on the GMAT, she would not have been accepted into such a great school, despite her nearly perfect grade point average. Martina is sure to stress the importance of having both on her students that she tutors at Manhattan Review.
For over ten years, Martina has been tutoring with Manhattan Review, first in the United States, when she briefly relocated with her husband for his job, and then for the past several years in Madrid. From day one, Martina has been a natural with the students, a talent that even she was surprised to discover. She always wanted to teach students, but having a natural ability and rapport with them, is another thing, and she is privileged to have both. Manhattan Review-Madrid was excited three years ago for her to join the team and we're just as excited today to keep her on staff. Having tutors like her on staff with her exceptional experience is precisely what makes our program top notch.