What to Bring & Not Bring to the GMAT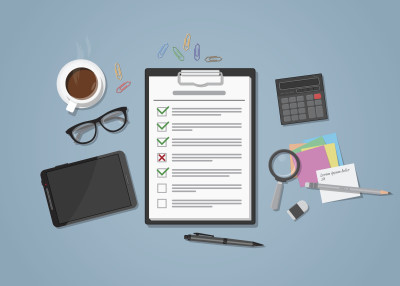 March 6, 2019
You have spent months studying for the GMAT, both with an experienced tutor and on your own through rigorous practice. You have made your long and short list of potential business schools. You have sat for several mock exams so you have an estimation of your projected score. You have even gone so far as to visit your top schools and reach out to alumnus regarding campus life and admission.
You've taken all of these important GMAT-related steps and before you know it, exam day is now just around the corner. But you don't know what to bring to the testing center and/or its rules and regulations.
Does this sound familiar?
Many students feel they know the GMAT inside and out, but they don't know what to expect in the testing center on exam day. This article will break down for you what to bring, what not to bring, as well as detail some specific rules and regulations that are vital to keep in mind. After all, one misstep in these guidelines could mean you don't get to sit for the exam and what could be worse than that?
Take note and take heart—when it comes to GMAT exam day, we've got you covered.
GMAT Test Day: The Essentials
First and foremost, you will absolutely need to have a photo I.D. when you enter the testing area. If you do not have appropriate identification, you will be dismissed from the center. Additionally, GMAC has strict rules regarding what constitutes a valid and approved photo I.D.
Your I.D. on testing day must have your name spelled in the Roman alphabet and exactly the way that you registered it; your I.D. must list your date of birth that also matches the date of birth you provided at registration; a recent and recognizable photograph must be on it; finally, your photo I.D. must list your signature. Keep in mind that if your identification does not meet all of these requirements, it will not be valid for the purposes of the GMAT.
Driver's licenses and passports are the two primary acceptable forms of I.D. Additional ones include government-issued national/state/province identity cards, as well as a military ID cards.
If you are planning on taking the GMAT outside of your country of residence, a passport is required and the only acceptable means of identification. Those without an acceptable means of identification will be turned away at the door—no joke!
In addition to a photo I.D., you will also need to bring your appointment confirmation letter or email just in case there's any confusion regarding your test date and time. If this is an email, it's wise to print it out so that you have it with you to show the exam administrators.
Included in your testing fee is a service that enables GMAC to send your test scores to five schools. While you are there on test day, you will be asked to list your five business schools, so instead of wracking your brain and stressing yourself out in the instance you forget—write down those five schools on a piece of paper.
Please note: if you don't select your schools while in the testing center on exam day, it will cost $28 per school to do so at a later date. So save yourself time and money and jot them down!
GMAT Test Day: Non Essentials
So we've already covered the essentials, but what about the non essentials? And what are "non essentials," exactly? Well, this is a category that encompasses three main items—ones that are useful for test day, but certainly not required. (Although, most tutors and teachers would suggest these are very important!)
Bottled water is a great idea, as you will more than likely become very thirsty. Additionally, healthy snacks, such as a protein bar, banana or trail mix will also serve a purpose of providing energy and curbing hunger pangs. Finally, similar to a movie theatre, you never know about the temperature of a testing room, so bring additional layers—ones that you can easily take on and off while adjusting to a climate in which you can concentrate and focus. Note: all bottled water and snacks will be kept in your locker, but you can access them during breaks.
GMAT Test Day: What to Leave at Home
While there are some vital items to bring to the testing center and some useful but not-so-vital, there are also some things that—well—frankly, you should just leave at home.
While it should go without saying, you cannot bring weapons of any kind into the testing center such as firearms. "Weapons" also consist of common items such as pocketknives, clippers and razors. This policy also relates to those off-duty in the arena of law enforcement, as well as those with conceal and carry permits.
Additionally, don't bother bringing a calculator since you cannot use one on the GMAT. (Remember, there's an electronic one on the screen!) Also, study aids and other books are not permitted in the testing arena, so instead of storing them in your locker, it's best to leave those back at home, as well. After all, let's face it—cramming with GMAT exercises at the last-minute won't help bump up your score.
GMAT Test Day: The Night Before
With everything you must remember for test day in terms of identification and nourishment, what about the night before? While many people may have differing opinions on what to 12 hours before the exam, we believe it's important to keep it simple with the following suggestions:
Get a good night's rest. You cannot perform your best in the testing room when you are exhausted. Come to think of it—no one does their best exhausted! Go to bed an hour or two early so you can ensure you will get the rest that you need.
Don't cram. Stay far away from cramming at the last-minute, as it will not affect your score positively. Trust what you have learned and absorbed and close the books early, instead opting to partake in something fun and relaxing.
GMAT Test Day: What to Store in Your Locker
Thankfully, you are given a locker outside the testing room to store most of your belongings so that they are safe. Naturally, GMAC has strict rules about what you can and cannot bring into the actual exam area, so this means of secure storage is a peace of mind for students. Even though it's a locker and most people put whatever they want into lockers, GMAC has regulations as to what you can store in these vicinities. Below is a list of what they will allow in lockers outside the testing area:
| | | |
| --- | --- | --- |
| watches | lip balm | calculators |
| electronic aids | pagers | smart phones |
| writing utensils | stereos | scratch paper |
| thesaurus | pamphlets | rulers |
| radios | dictionaries | translators |
| ear plugs | cell phones | communication devices |
And here's a test day tip when it comes to lockers—remember that they aren't that big, so you don't want to bring more than you absolutely must. Keep your belongings in storage to a minimum.
GMAT Test Day: The Rules
In addition to stringent guidelines regarding what you can and can't bring into the testing area, GMAC also enforces a variety of exam day rules and regulations. Below are a handful of vital rules you will encounter when in the testing room:
The test administrator will provide students with the equivalent of five erasable noteboards. These are not permitted to leave the testing room and the administrator must collect them when testing commences.
Testing begins once you are seated at your computer; the exam lasts three hours and thirty minutes.
Communicating with anyone about the content of the GMAT during testing is forbidden. Reproduction or removal of any part of the exam is also forbidden. The sharing of this information during the test through email, message boards or other means of communication is also strictly forbidden and subject to consequences.
You cannot leave the test center building during a break. Basically, you're allowed to be in the locker area, the testing lobby, the nearest restroom and the actual exam room. Long story short—no one's allowed to run to their cars during these short breaks!
A GMAT administrator is allowed to dismiss students from a test session for the following reasons: providing false information, attempting to take the test for someone else, failing to provide acceptable identification, possessing unauthorized personal aids, disrupting the testing environment, refusing to comply with an administrator's reasonable requests, giving or receiving unauthorized help, attempting to tamper with the operation of the computer, refusing to follow directions, failing to adhere to other procedures, policies and rules.
Clearly, following rules is crucial for exam day success. Once you know the rules, you can best adhere to them and focus on the content of the actual exam.
GMAT Test Day: Violations
While we don't want to harp too much on policy violations and their consequences, for some it may be important to know just what such consequences are. Below you will find common GMAT test day violations and their results. Please note: all of these are official GMAT policies.
Policy Violation
Consequences
Accessing or using cell phones, smart phones, electronic devices, computers, communication devices, music players

score revoked
ban from testing for up to three years
notification to prospective schools

Accessing study guides

score revoked
ban from testing for up to three years
notification to prospective schools

Storing items improperly

score revoked
ban from testing for up to three years
notification to prospective schools

Any other unauthorized item

score revoked
ban from testing for up to three years
notification to prospective schools
GMAT Test Day: Takeaway
As you can see, it's essential to keep abreast of GMAC's rules and regulations surrounding what you can and can't take with you when you sit for the GMAT. In fact, this information is so crucial it can disqualify you from taking the test should you now follow their guidelines and restrictions carefully. Make a list of what you know you will need and keep it handy as exam day rolls around.
And speaking of exam day, why don't we close out with some last-minute tips for when you wake up and the GMAT is just hours away from you?
Stay optimistic. If you have a negative attitude, this can drastically affect how you might perform. Remember you will have difficult questions ahead of you and that it's vital not to berate yourself for encountering trouble spots. Optimism breeds confidence, which breeds exam day success. Maintain a good outlook so you can perform to the best of your abilities!
Eat breakfast. Okay, okay, they say it's the most important meal—but breakfast is particularly critical when faced with a test like the GMAT. Healthy, energetic, protein-rich food will get your brain and body working, fueling you with energy.
Lay out your test day essentials the night before. Just like you would prior to going on a big trip, you want to lay out all of your test day essentials—particularly your photo I.D.—the night before. Make it a point to get up early, too, so you have some time to acclimate and not feel groggy. We perform best when we're awake, alert, and ready to tackle GMAT questions to attain a high score!