GMAT Online Courses with Manhattan Review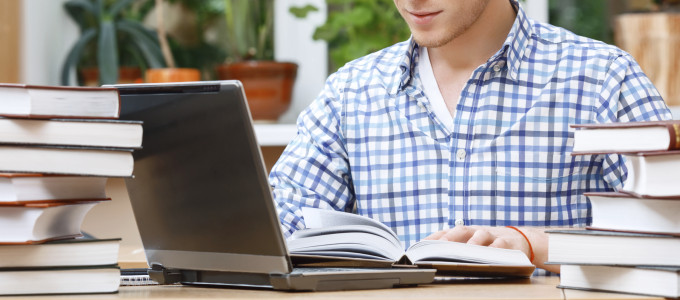 Online GMAT Prep Courses at Manhattan Review
Manhattan Review's online GMAT courses offer the exact same instruction, homework, practice tests and resources as classroom-based courses (in-person). At Manhattan Review, we don't believe that an online course should be any less complete than a course taken in a classroom. While some people appreciate the classroom setting, the online course is ideal for people who do not live close to any of our 90 classroom locations or who prefer the flexibility of taking a course from a remote location.
The online course is taught in real-time (live) and includes an instant messaging feature to allow students to interact directly with the instructor and with fellow classmates. Students can also use an online interactive whiteboard feature to work collaboratively on problems with the instructor and with other students. An online polling tool allows the whole class to submit answers that the instructor can track in real time. Every effort is made to ensure that students who take classes online have as interactive an experience as possible without a commute.
Our GMAT instructors teach the exact same course for online classes as they do for classroom-based ones. The length and content of lectures are the same. As with classroom-based courses, lectures are also available online afterwards on demand, for students who wish to review material presented in class. The Students receive same 10 practice tests as they would if they attended a course set in a classroom.
Instructors are available two hours a day seven days a week for online office hours, just as they are for classroom-based classes.
GMAT Online Classic Course (28 Hours, 8 Sessions)
Start: Oct 06, 2023

End: Nov 24, 2023

5 days left to start

Fridays

09:00 PM - 12:30 AM

(EST)
Start: Oct 07, 2023

End: Nov 25, 2023

5 days left to start

Saturdays

09:00 AM - 12:30 PM

(EST)
Start: Oct 08, 2023

End: Nov 26, 2023

7 days left to start

Sundays

07:30 PM - 11:00 PM

(EST)
Start: Oct 13, 2023

End: Dec 01, 2023

12 days left to start

Fridays

09:00 PM - 12:30 AM

(EST)
Start: Oct 14, 2023

End: Dec 02, 2023

12 days left to start

Saturdays

09:00 AM - 12:30 PM

(EST)
Start: Oct 15, 2023

End: Dec 03, 2023

14 days left to start

Sundays

07:30 PM - 11:00 PM

(EST)

$990.00

$890.00

Early Booker
Start: Oct 20, 2023

End: Dec 08, 2023

19 days left to start

Fridays

09:00 PM - 12:30 AM

(EST)

$990.00

$890.00

Early Booker
Start: Oct 21, 2023

End: Dec 09, 2023

19 days left to start

Saturdays

09:00 AM - 12:30 PM

(EST)

$990.00

$890.00

Early Booker
Start: Oct 22, 2023

End: Dec 10, 2023

21 days left to start

Sundays

07:30 PM - 11:00 PM

(EST)

$990.00

$890.00

Early Booker
Start: Oct 27, 2023

End: Dec 15, 2023

26 days left to start

Fridays

09:00 PM - 12:30 AM

(EST)

$990.00

$890.00

Early Booker
GMAT Online Private Course (12 hours)
I thought you may like to know my GMAT score. I sat for it on Dec. 17 and got a 730.
- Peter (This student took our GMAT weekend course)