GMAT Prep Courses in Jacksonville (Florida)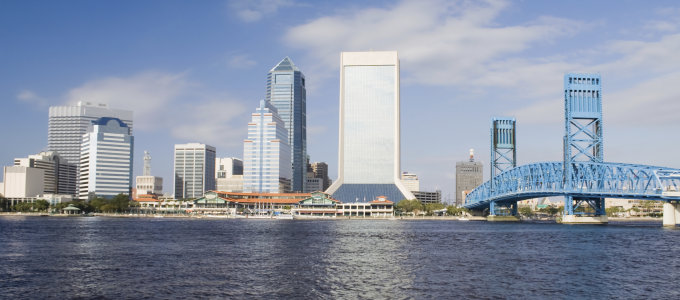 Every year, the Graduate Management Admissions Tests, or GMAT, is administered approximately 250,000 times to prospective graduate business students. Whether those graduate business school hopefuls are applying to an MBA program, an executive MBA program, Masters in Accountancy, Masters in Public Administration or a PhD in Business, the GMAT is necessary hurdle that they must overcome in order to made strides towards achieving their goals of getting into their school of choice. However, in order to conquer the skills assessment on the GMAT that include critical thinking, quantitative reasoning and the ability to communicate complex ideas, prospective graduate business students in Jacksonville will need help. Manhattan Review can provide such help with our top rated GMAT test prep courses.
For over 15 years, Manhattan Review has been delivering prospective graduate business students with world-class GMAT test preparation services, particularly our test prep courses. Our state-of-the-art program is unlike any other, primarily because it is 100 percent customizable by the students. At Manhattan Review, we've thought of everything so that students, like you, can focus on studying for and acing the GMAT. By being able to design a test prep program that fits their schedule and adheres to their unique learning styles, it helps students to learn under the best conditions possible and gives them the confidence to do what they need to do: conquer the GMAT by achieving a high score. The results of our work have garnered us quite a reputation throughout the city of Jacksonville.
All of the top universities in Jacksonville, including the University of North Florida, Jacksonville University, and the University of Florida, have all accepted our past students, not only because they edged out the competition with their high GMAT scores, but also because they know that those students represent the best and the brightest that Jacksonville has to offer. The same is true about all of the top employers in Jacksonville as well. Jacksonville is home to many of the top companies in the southeast of the United States and the state of Florida, as well as four Fortune 500 companies, all of whom who have employed our past students, gladly. Why? Because at Manhattan Review we aren't just preparing students to ace the GMAT with a high score so that they can get into the best schools in the country, but we're also preparing them for an academic and professional career that is fruitful as well.
When you choose Manhattan Review's GMAT test prep, you are making a choice to rise above the rest in Jacksonville. Choose success - choose Manhattan Review.

Great Course! Exceed my expectation. Kevin is knowledgeable and does a good job explaining the material. He also goes to the difficult stuff really quickly and forces you to follow closely.
- Emmanuel (This student took our Online GMAT classic course)
Jacksonville
Primary Course Venue:

Manhattan Review GMAT GRE LSAT Prep
Jacksonville Teaching Center at the Hyatt
225 East Coastline Drive
Jacksonville, FL 32202

Phone: (904) 302-5456

NOTE: We do NOT typically have staff at the venue, so email us before visiting the venue.
Meet a Jacksonville GMAT Tutor: Maggie R.
Before coming to Manhattan Review as a private tutor three years ago, Maggie travelled the world working for some of the biggest banking institutions. Although her career has brought her much fulfillment and numerous accolades, Maggie has found a real sense of fulfillment by helping prospective graduate business students achieve their testing goals, as well as laying the foundation for academic achievement as well. Being back in Jacksonville, her hometown, after years of globetrotting, has also given Maggie a full circle moment as she originally began her remarkable career in this great city.
One of the biggest reasons that Maggie is such a great tutor for Manhattan Review in Jacksonville is because she still very much relates to the students and their experience. Not that long ago, Maggie herself was a student working diligently to pass the GMAT to get into graduate school at the University of Florida, where she majored in accounting at the Warrington College of Business Administration. Although hard work and dedication played a significant role in her academic and professional achievements, Maggie is sure to impart on her students that with the right tools and resources, the "work" part of all it can come a lot easier. She continues, that's why she believes wholeheartedly in Manhattan Review and the work that they are doing with prospective graduate business students.
Maggie is very proud to be a part of something that is enriching the lives of students so much so that they will have the foundation for a successful career, just as she had done prior to becoming a tutor and continues to pursue to this day.