GMAT Prep Courses in Tampa (Florida)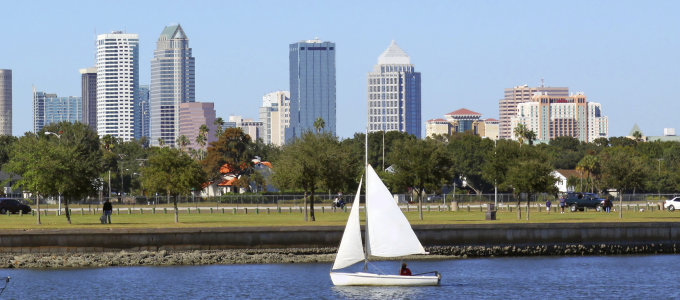 As one of the most widely accepted standardized tests around the world, the Graduate Management Admissions Test, or GMAT, plays an integral role in the application process for many graduate business programs. In fact, over 1,500 universities use the GMAT as tool to gauge academic preparedness of and even potentiality for future success of prospective business students. As a result, business school hopefuls are challenged with the task of taking the GMAT and more importantly performing well enough to get accepted by their school of choice, both in-state business school or out-of-state business schools alike. At Manhattan Review, we can give you the necessary tools and resources to reach your GMAT testing goals with our top rated test prep courses.
Since 1999, Manhattan Review has been at the forefront of the GMAT test prep services industry all over the world, including right here in Tampa. We have been able to accomplish this position by offering an unprecedented program that allows prospective business students to custom design their own learning plan according to their own learning style and availability. Learning plans can then consist of either a mix of our state-of-the-art, interactive online courses or one-on-one sessions with our elite private tutors. In addition, each learning plan is supplemented with a host of tools and resources such as our GMAT practice tests, which are specifically designed to give our students an advantage on test day. No other test prep services instills confidence in prospective business students like Manhattan Review, and it shows.
Throughout the Greater Tampa Area, Manhattan Review is known for developing top talent. In doing so, our past participants are able to complete our GMAT test prep program and go on to achieve great things in Tampa, regardless of which path they take. For starters, all of the top business schools in Tampa including the Muma College of Business at the University of South Florida and the Sykes College of Business at the University of Tampa have all endorsed our program over the years by accepting our past participants. They continue to do so not only because our students are among the highest scorers on the GMAT, but also because they have the academic aptitude that business schools are looking for. But it doesn't end there. All of the top employers in Tampa are also fans of our work at Manhattan Review. Specifically, BayCare Health System, Publix Super Market, HCA West Florida, Verizon, Tampa General Hospital, Wal-Mart, Florida Hospital, JP Morgan Chase & Co., Moffitt Cancer Center and Citi as well as Fortune 1000 companies OSI Restaurant Partners, WellCare, TECO Energy and Raymond James Financial have hired our past students. At Manhattan Review, we provide you with the foundation to reach your academic and professional goals.

I just wanted to let you know that I scored 750 in the GMAT first time around. Thank you very much for your help.
- Florian (This student took our Frankfurt GMAT weekend course)
Tampa
Primary Course Venue:

Manhattan Review GMAT GRE LSAT Prep
Tampa Teaching Center at the Sheraton
200 North Ashley Drive
Tampa, FL 33602

Phone: (813) 830-9623

NOTE: We do NOT typically have staff at the venue, so email us before visiting the venue.
Meet a Tampa GMAT Tutor: Janis
Before coming to Manhattan Review to join our team of elite private GMAT tutors, Janis enjoyed a meteoric climb to the top of her field as a General Manager for one of the most prestigious hotel brands in the world. And while she credits both her strong work ethic, her upbringing in a working class family, and the foundation that she obtained while attending the Sykes College of Business at the University of Tampa, it is also evident when you get to know her that her relentless positive outlook also has played a great deal in the outcome that is her current level of success.
As a member of our GMAT private tutoring team, Janis has played a significant role in helping us to maintain our stance as the number one GMAT tutoring service in Tampa. Janis takes her job as a private tutor very seriously, often going to great lengths to ensure that her students know and understand that she will help them in any way that she can in an effort to help them achieve their testing and subsequent goals, both academically and professionally. During her instruction, Janis often stresses the importance of the custom designing process when creating a learning plan to her students. As she knows from her own trials and errors in both undergrad and graduate school, crafting the right learning plan is absolutely critical to success on standardized tests, which then can be applied to future academic trials thereafter. When she isn't working to help develop talent in Tampa, Janis can be seen taking in the sights in her second hometown. Having only lived in Tampa for half of her life, she still enjoys seeing Tampa through the eyes of a tourist.