GMAT Prep Courses in Singapore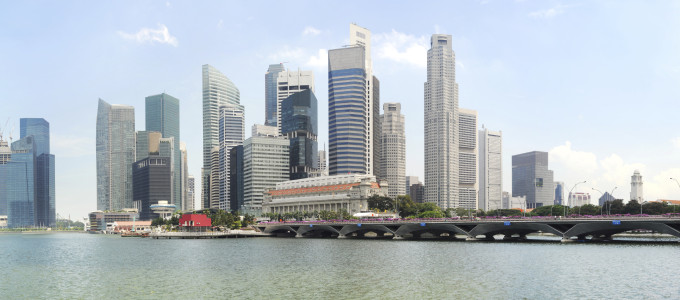 GMAT Preparation in Singapore
Manhattan Review has been helping students succeed on the GMAT since 1999. Our test prep services have set the high bar and led the industry in standardized exam studies. If you are preparing for the GMAT, you can rely on our years of experience to help you achieve top results in Singapore. We have helped past students get into the best business schools globally, and this success continues to climb as we add more highly accomplished GMAT instructors to our ranks of inspiring resources.
There's no one best way to prepare for the GMAT exam. Instead, it's important to simply devise the study plan that actually works for you. Manhattan Review's Singapore tutors don't pull tricks out of their sleeves. These experienced teachers recognize that one-size-fits-all solutions will be ineffective and shortly forgotten throughout the study course. In lieu of these magic formulas and unreasonable shortcuts, we teach you how to think like the test taker who will beat the GMAT with a score of 700 or above. That's the score that gets you accepted to INSEAD, one of the best business schools in the world.
Whether you have taken this test before or you're a first-timer, our planning and prep will maximize your time and your potential for high-scoring success. It's a known fact that students who study rigorously for this standardized test outperform the students who spend less time preparing. This is your opportunity to get ahead of the curve and move your business school application to the top of the pile. Learn more about how our GMAT tutors in Singapore are uniquely qualified to help you achieve your goals. From full courses to Interactive Online Courses or private tutoring, we have the learning platform to tap into your potential.
We have even worked directly with major corporations in Singapore to bring their executives to the next level of their career. The NUS Business School at the National University of Singapore is a world leader in the educational realm. INSEAD, The Business School for the World, has a prominent campus in Singapore as well, which was established in 2000. Nanyang Business School and Singapore Management University also lead the top rankings for renowned MBA programs in Asia. No matter where you are in your prep process, we can work with you to open even more doors to new opportunities.

The math part was excellent in reviewing algebra. The review of English grammar was superb and I honestly feel more confident. I would certainly recommend this course to my friends. I was also happy with the English sentence correction review. Prior to coming for the course my score was really poor in the sentence correction section and now I am making tremendous progress. I feel I will be ready to do the exam in the first week of March as I am busy working for the moment as a junior doctor in Edinburgh.
- Ikol (This student took our London GMAT weekend course)
Singapore
Primary Course Venue:

Hilton Singapore
581 Orchard Road
Singapore SG 238883, Singapore

NOTE: We do NOT typically have staff at the venue, so email us before visiting the venue.
Meet a Singapore GMAT Tutor: Helena G.
Helena, an American national, holds a Bachelor's degree from Duke University, where she studied Engineering and Spanish. Interested in pursuing both, Helena forged forward with a TOEFL to teach English as a foreign language. Her work in Engineering has given her exposure to international travel and relocation. In the past, Helena has weighed these opportunities with strategic planning to visit Spanish-speaking countries. As a result, she's gathered several years of experience teaching test prep for the TOEFL, Spanish, and Math.
As a huge step in her career, Helena had the opportunity to get involved with INSEAD to take her leadership skills to the next level. She studied for the GMAT and took the test twice; ultimately, she boosted her score impressively between the first and second try. Helena landed a seat at INSEAD in Singapore and there received her MBA. Now with increased understanding of the various tests and tactics, Helena is helping students in Singapore ace the GMAT together with Manhattan Review. Out of the office and classroom, Helena loves working with rescue dogs and finding fun new trails to blaze for bicycling.