GMAT Prep Courses in Seattle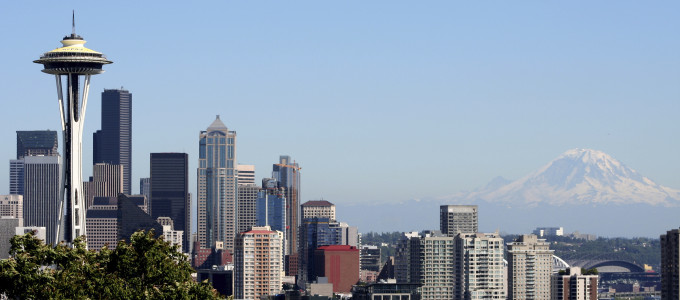 GMAT Preparation in Seattle (Washington State)
For the inexperienced student, the GMAT exam is a complex, if not overwhelming assessment in the world of academia. Intended as a measuring tool for aptitude in business schools, highly competitive programs weed out the applicants who fail to make the grade. For some students, it's not about knowing and mastering the material. It's simply a matter of test-day jitters, or an overall aversion to the task of test-taking. Whether you want to learn the core content or better techniques to increase your score, Manhattan Review has premier GMAT test prep services in the Seattle area.
Find the GMAT course style that best suits how you learn. We have platforms tailored to every student's needs, with hours of operation that are customized for every pupil's convenience. You can achieve a top score, even if you are working a full-time job to pay the bills or still balancing your coursework. Our course syllabus has broken down the complex GMAT exam, making it easier to understand and ultimately conquer the questions you're sure to see. You can sign up for private tutoring to get the personalized attention of a season Seattle tutor. You can sign up for an Interactive Online Course and enjoy a customized learning plan from your couch or kitchen table. Or you can participate in a lively classroom setting, where business school will become an attainable goal for you and your classmates.
We have worked with students who are now accomplished alumni of distinguished programs, locally and globally. With a top-tier score, you can stand apart from the other MBA applicants at the Albers School of Business and Economics at Seattle University, the Foster School of Business at the University of Washington, and renowned programs at The Art Institute of Seattle, University of Puget Sound, Bakke Graduate University, and Antioch University Seattle. MBA degrees are designed to take you further (and faster) in a wide array of career tracks. You can use your business smarts at Fortune 500 companies in Seattle like Amazon, Nordstrom, and Starbucks. Or, you can create a career arc in which you can ultimately become your own boss, owning your own business and living the American dream in a top U.S. city. We will help you get the ball rolling, whatever your business plan may be. Work with a highly specialized GMAT tutor in Washington State so you can test proficiently in both the Qualitative and Quantitative portions of the exam.
Whether you opt for the full-length course or one-on-one private tutoring sessions, each course is designed so you'll excel during the exam. With our distinguished track record of success, we have helped students gain admission to the most prestigious programs at Harvard, Columbia, Oxford Said, Wharton and Stanford. With your leading GMAT score, you can choose the program that is best suited for your future goals and academic aspirations. Leverage our leading resources and work with inspired, accomplished tutors to make your MBA goals a reality. You can hold a preeminent leadership position at a top company in the Pacific Northwest, or bring your degree to top companies and corporations anywhere in the world.

I was very happy with my score. Thanks for a great review.
- Cheryl (This student took our New York GMAT weekend course)
Seattle
Primary Course Venue:

Manhattan Review GMAT GRE LSAT Prep
Seattle Teaching Center at the Sheraton
1400 Sixth Ave
Seattle, WA 98101

Phone: (206) 508-1406

NOTE: We do NOT typically have staff at the venue, so email us before visiting the venue.
Meet a Seattle GMAT Tutor: Stella V.
Born in a small town just on the fringe of Athens, Greece, Stella is a well-traveled student of culture and global cities. She grew up speaking Greek and English, studying English Language and Literature at Oxford once she graduated High School. Adventuring into new lands, Stella took her academia abroad, landing a competitive scholarship at New York University. While here, she studied for the GMAT exam and scored in the 99th percentile thanks to rigorous test prep. With acceptance letters to several top-ranked programs in hand, Stella opted to stay in New York to acquire her MBA, working full-time for a law firm while she went to school at Columbia University. Graduating at the top of her class, Stella was recruited for a highly competitive position at Starbucks. Here she thrived, celebrating several promotions and putting her passion for premium roasts to good use.
With a thirst for travel and setting her sights on new cities, Stella jumped on an opportunity to join Starbucks corporate in the heart of Seattle. Enjoying the abundant outdoor recreation and the thriving local dining scene, the West Coast transplant has enjoyed her new environment. Tapping into her creative side, she even opened her own art studio, where she teaches chalk-paint techniques and sells her own pieces. According to Stella, her MBA has been at the heart of her career moves, helping her to bring together her personal interests and professional pursuits.
In 2004, Stella joined Manhattan Review as a local Seattle tutor for GMAT test prep. She shares anecdotes about her own test-taking tricks while sharing our specialized course syllabus with clarity and charisma. A natural instructor, Stella exudes excitement about how much higher education has to offer, with two continents and several countries tackled during her own journey. Friendly and approachable, the Mediterranean scholar thrives in the full-course classroom setting, where she talks with her hands and creates interactive games that educate yet entertain. She'll help you get prepared for the GMAT in Seattle, but she can also talk to you about restoring old furniture with paint, brewing the perfect cappuccino, and making Moussaka that will make your mouth water.