GMAT Prep Courses in Scottsdale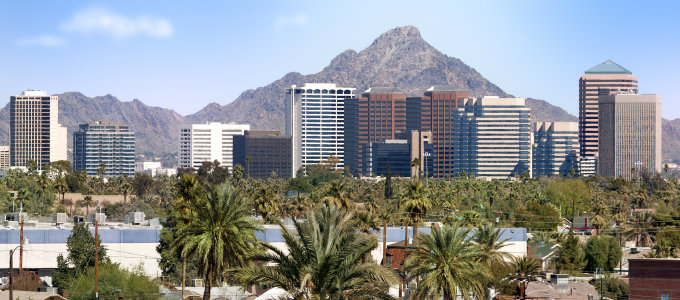 The Graduate Management Admissions Test, or GMAT, is one of the biggest challenges that prospective business students must overcome on the path to earning their degrees. Developed as a test to measure critical thinking, quantitative reasoning, and the ability to communicate complex ideas, the GMAT serves as a key determining factor in the business schools admission process. No other criteria, including academic records or ability to afford tuition, has a greater impact on the admission process. As a result, it is crucial that prospective business students both take the GMAT and achieve as high a score as possible in order to secure a spot in business school. Manhattan Review can help you prepare for and reach your GMAT testing goals in Scottsdale.
For over 15 years, Manhattan Review has been specializing in providing prospective business students with world-class GMAT test prep services unlike no other. Specifically, our state-of-the-art test prep services offer graduate school hopefuls access to a fully customizable program in which they could either participate in interactive online courses or one-on-one private tutoring sessions with an elite professional tutor that we have hand picked from some of the top employers in the area. In addition, and regardless of whichever type of program chosen, students receive access to a host of other tools and resources, including GMAT practice tests that are designed to give students necessary experience before they actually sit for the exam. Manhattan Review not only prepares prospective students for the GMAT, but also a successful academic and professional career thereafter.
All throughout Scottsdale and the surrounding area, Manhattan Review has developed a reputation for being a cultivator of top-notch talent. From the top business schools in Scottsdale including the University of Phoenix School of Business to all of the top employers in Scottsdale including The Phoenician, The Canyon Suites, The Fairmont Princess Resort and Spas, APL, Dial, Discount Tire, Fender, Go Daddy, JDA Software, Kahala, Kona Grill, Magellan Health, Paradise Bakery & Café', United Blood Services, City of Scottsdale, The Vanguard Group and the Mayo Clinic, our past participants have gone on to enjoy much success in their academic and professional endeavors as Manhattan Review is the trusted brand for developing up and coming talent in Scottsdale. Let Manhattan Review invest in you as well.

I have recently attended this weekend session of the Manhattan Review's GMAT course in London. I had hoped the course would be valuable in improving my mathematical and critical reasoning skills. Instead, the course exceeded all my expectations. I mentioned my observations to a group of fellow attendees and we all agreed we had learnt more in one day from this course than in our final year of secondary education!
- Shyama (This student took our London GMAT weekend course)
Scottsdale
Primary Course Venue:

Manhattan Review GMAT GRE LSAT Prep
Scottsdale Teaching Center at the Garden Inn
7324 East Indian School Road
Scottsdale, AZ 85251

Phone: (480) 478-1309

NOTE: We do NOT typically have staff at the venue, so email us before visiting the venue.
Meet a Scottsdale GMAT Tutor: Amelie C.
Before coming to Manhattan Review at an elite professional tutor in Scottsdale, Amelie enjoyed a very fruitful career as a general manager for some of the most prestigious hotel and hotel/casino brands around the world. Although living the high profile lifestyle of a successful professional who just so happened to travel a lot had its rewards, Amelie also longed for a sense of stability. She craved for a place that she could put down some roots and possibly pursue a lifelong passion of working as an educator of some sort. After meeting her husband, Bradford, while on a business trip to Hong Kong, Amelie realized both of her dreams when Bradford was hired to work for the Discount Tire headquarters in Scottsdale.
Upon moving to Scottsdale, it didn't take long for Amelie to find Manhattan Review, a place that would help her to be able to realize her goals to impact up and coming talent. Since joining the team of professional GMAT tutors, Amelie has been instrumental in providing prospective business students with the world-class test prep services that we are known for at Manhattan Review. Our students love working with Amelie because they get the opportunity to work with someone has achieved a great deal of success through hard work, she also has a wealth of experience from her travels around the world, and her down-to-earth nature gives students the opportunity to benefit both academically and professionally; the latter of which often leads to students finding employment opportunities, with Amelie's help. For those reasons and so many more, we are very proud to have Amelie on board our team at Manhattan Review in Scottsdale.