GMAT Prep Courses in San Jose (California)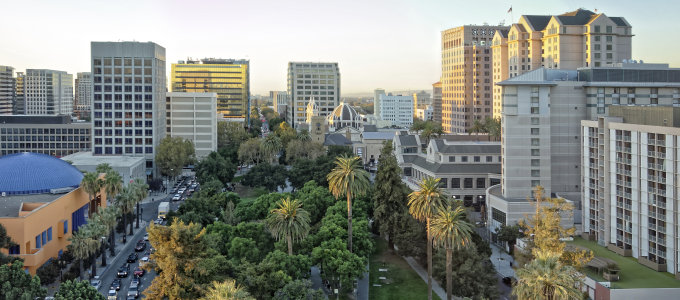 Every year, the Graduate Management Admissions Test, or GMAT, is administered nearly 250,000 times to prospective business students. This critical standardized test serves as both a vital part of the application process as well as a significant determinant for business programs to find potential top talent across the United States and all around the world. In doing so, the GMAT assesses critical thinking, quantitative reasoning, and the ability to communicate complex ideas. Although many prospective business students will feel confident in their ability to adequately prepare for the GMAT, many will find that there their preparation techniques could use some fine-tuning to achieve their testing goals on such an important test. At Manhattan Review, our world-class GMAT test prep courses are guaranteed to help you reach your highest possible score on the GMAT.
Since 1999, Manhattan Review has been at the forefront of the test prep services industry, providing prospective business students, like you, with the requisite knowledge and skills to help them succeed on the GMAT. Specifically, we accomplish this by offering a fully customizable program that enables our participants to create their own learning plan that can either include a selection of our interactive online courses or one-on-one sessions with our elite professional private tutors, whom we have handpicked from all throughout the Greater San Jose Area. Our state-of-the-art program is unlike any other GMAT test prep, giving prospective business students in San Jose more opportunities.
Over the years, Manhattan Review has garnered the respect of the San Jose community-at-large. As a result, all of the top business schools, including the Lucas College and Graduate School of Business at San Jose State University, the Ageno School of Business at Golden Gate University, and California University of Management and Technology, have all endorsed our work at Manhattan Review by accepting our past participants each and every year, without fail. No other test prep program in San Jose can claim the same. Such benefits also translate to professional success for our participants as well. Our students also go on to work for all of the top employers in San Jose, including Adobe, Brocada Communications Systems, Cadence Design Systems, Cisco Systems, eBay, Lee Sandwiches, PayPal, Ericsson, Hewlett-Packard, Hitachi, IBM, Hitachi, Qualcomm, Samsung, and TiVo. At Manhattan Review, we don't just work to ensure your success with the GMAT, we also make sure you have the necessary foundation to achieve your academic and professional goals as well.

Very Personable, great to work with. Always prompt and professional. Excellent, top notch instruction.
- Theodore
San Jose
Primary Course Venue:

Manhattan Review GMAT GRE LSAT Prep
San Jose Teaching Center at the Hilton
300 Almaden Boulevard
San Jose, CA 95110

Phone: (408) 624-1241

NOTE: We do NOT typically have staff at the venue, so email us before visiting the venue.
Meet a San Jose GMAT Tutor: Angelina D.
Before becoming an elite professional tutor at Manhattan Review three years ago, Angelina spent many years working in senior level positions in some of the most respected high-tech firms in Silicon Valley. Over the life of her nearly ten-year long career as a senior level manager, Angelina gathered some experience that she knew would one day lead her towards a secondary career in instruction. Given her past academic achievements and passion for developing talent in her own field, when the opportunity presented itself for Angelina to become a private tutor at Manhattan Review, she was thrilled to join the team, as were we to have her.
Our students love working with Angelina not only because she is incredibly personable and helpful, but also because of the value that she brings to the program. Her wealth of knowledge and experience have ultimately shaped the manner in which Angelina tutors her students, and because of this, she is much more open-minded and enjoys a more reciprocal discussion environment with her students. Never the one to dominant the discussion or tutoring session, despite her position, Angelina prefers to engage as equals with her students, which then gives them the opportunity as they lose inhibitions about any perceived hierarchy in the classroom. With a nearly perfect success rate among her student's GMAT test scores, we would definitely say that Angelina knows exactly what she's doing and we know you'll find similar results with her as well.