GMAT Prep Courses in San Antonio (Texas)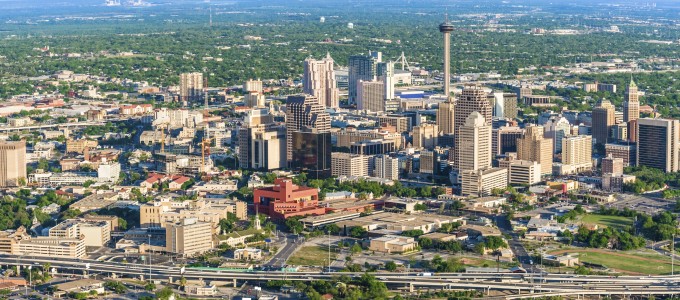 The Graduate Management Admissions Tests, or GMAT, is administered every year to potential graduate business students. While this four hour long standardized test is designed to assess critical thinking, quantitative reasoning and the ability to communicate complex ideas, it is also used as a tool to determine eligibility for admission. As a result, prospective graduate business students are not only expected to take the GMAT, but are also expected to perform well in order to get accepted into the schools of their choice. At Manhattan Review, we have the prep courses to help you achieve your academic goals.
Since 1999, Manhattan Review has been providing students, like yourself, with superior GMAT test prep courses geared towards exceptional performance on one of the most widely used standardized tests in the world. Our state-of-the-art program specifically offers interactive online courses, designed for every type of student. There is no other boutique test prep service around that gives students the opportunity to learn from the most current courses in the world and on their own schedule.
In San Antonio, Manhattan Review's GMAT prep courses have acquired a stellar reputation of developing top-notch talent. All the best colleges and universities in the area, including the University of Texas Health Science Center at San Antonio, St. Mary's University, Our Lady of the Lake University and Hallmark University, have gladly embraced students who have participated in our state-of-the-art GMAT test prep program. Additionally, the top employers in San Antonio, including Nationwide Mutual Insurance Company, Chase Bank, Phillips, and Toyota, have hired our past students for one reason only: We train and work with the best and brightest in San Antonio!
Don't waste another moment worrying about being prepared for the GMAT, contact Manhattan Review to ensure your best results.

I attended the December 2005 weekend GMAT course and would just like to pass my thanks to my instructor. I only had time to do about 5 hours self study so found the Manhattan Review course critical to my success. I took the GMAT for the first time last Friday and scored 690. Many thanks to the team.
- Jonathan (This student took our London GMAT weekend course)
San Antonio
Primary Course Venue:

Manhattan Review GMAT GRE LSAT Prep
San Antonio Teaching Center at the Sheraton
205 East Houston Street
San Antonio, TX 78205

Phone: (210) 485-3627

NOTE: We do NOT typically have staff at the venue, so email us before visiting the venue.
Meet a San Antonio GMAT Tutor: Beth V.
Ever since her family relocated to San Antonio for her dad's job when she was just 10 years old, Beth has considered the Southwest Texas town her home. Growing up in such a heavily influenced Spanish and Native American town increased her desire to travel around the world. And that she did, due large in part as result of the exceptional foundation she laid in school.
After scoring in the 99th percentile on the SAT, Beth was accepted into Trinity University, where she earned her Bachelor's of Arts in Business Administration-Accounting before acing the GMAT with a near perfect score and pursuing a Master of Science degree in Accounting. Of course, with talent like hers, Beth was easily touted to be a success in her field. Before graduating from Trinity University with her graduate degree, she was hired out of nearly 500 applicants to work for a prestigious accounting firm in San Antonio that just so happened to afford her the opportunity to travel. Twelve years later, now married with a son and well travelled, Beth decided to pursue an avenue that would allow her to give back to her hometown of San Antonio, which is how she happened upon Manhattan Review.
For five years, Beth has played an instrumental role in the delivery of our top-notch GMAT test prep services in the San Antonio area. Beth's approach to test prep is very unique, incorporating aspects from traditional classroom learning with rewards systems and modern e-learning techniques that specialize in autonomy, all within one setting. Students often praise Beth's tutoring abilities because there's simply no one like her. Manhattan Review is proud to have her and should you seek out our state-of-the-art GMAT test prep services in San Antonio, you'll be proud to have her as an instructor as well.
In her spare time, Beth can be seen out and about in San Antonio taking in the sites, enjoying her hometown from the perspective of a tourist for the first time. Because her son, Daniel, is still young (5 years old), Beth and her husband John are adamant about exposing their little one to the deep cultural history, and the attractions, that San Antonio has to offer.