GMAT Prep Courses in Salt Lake City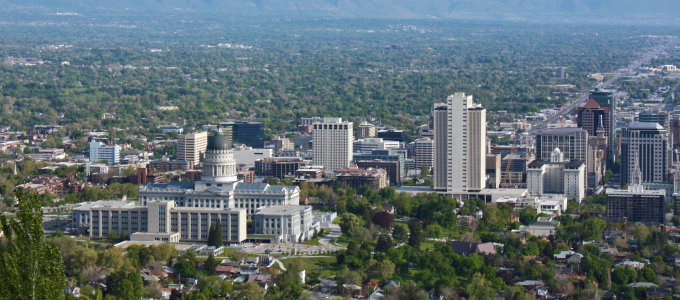 As one of the most widely used standardized tests in the world, the Graduate Management Admissions Test, or GMAT, plays a significant role in the application process for many business schools. For prospective business students, this means that they must take the GMAT and sufficiently satisfy their choice schools' GMAT score requirements in order to earn acceptance into that business school program. While some may in fact have the confidence that their test preparation methods are sufficient enough to help them earn an adequate GMAT score within an acceptable range, others will undoubtedly feel the pressure to modify their test preparation because the GMAT is so important, leaving little to no room for error. Manhattan Review can help!
For over 15 years, Manhattan Review has been specializing in the delivery of the number one GMAT test preparation service in all of Salt Lake City. We accomplish this by offering prospective business students the opportunity to fully customize their own learning plan, which gives them the advantage over their peers as they are able to create a plan that would speak to their individual learning styles as well as other constraints, such as availability, that may in fact impact their ability to prepare for the GMAT. Once our participants have created their learning plan, they then go on to either select from our interactive online courses or sign up for one-on-one private tutoring sessions with some of the top professionals across a variety of industries in Salt Lake City. Only the best for our students at Manhattan Review and it shows.
Due to the fact that we invest so much in each and every student that comes to us for our GMAT test prep courses, Manhattan Review has developed a stellar reputation throughout the Salt Lake City metropolitan area. We know this because each year when our participants leave our GMAT test prep program they go on to get accepted in all of the top business schools in Salt Lake City including the Jon M. Huntsman School of Business at Utah State University, LDS Business College and the Brigham Young University Division of Continued Education at the Salt Lake Center. Similarly, and in addition, all of the major employers in Salt Lake City have proudly hired our past participants. Specifically, Intermountain Healthcare, the University of Utah, Sinclair Oil Corporation, the Salt Lake City International Airport, Alpha, Graphics, Zion's Bancorporation, Questar Corporation, Smith's Food and Drug, MonaVie, Myriad Genetics and Vehix.com are recipients of our past participants and continue to hire our students because they trust that when they hire one of Manhattan Review's pat participants, they indeed possess the knowledge and skills to be successful on the job.

I just wanted to let you know that I took the GMAT yesterday and got 700. Thanks for your help.
- Simon (This student accessed our online recording library and is based in Italy)
Salt Lake City
Primary Course Venue:

Manhattan Review GMAT GRE LSAT Prep
Salt Lake City Teaching Center at the Hilton
255 South West Temple
Salt Lake City, UT 84101

Phone: (801) 415-1821

NOTE: We do NOT typically have staff at the venue, so email us before visiting the venue.
Meet a Salt Lake City GMAT Tutor: Jennifer E.
Growing up in Salt Lake City, Jennifer spent a great deal of time at her mother's office in downtown, watching her mother demonstrate her great competency as a senior level executive at the largest healthcare provider in the Intermountain west. As a result of that experience, Jennifer learned important life lessons about work ethic and determination, especially as her mother worked tirelessly to negotiate contracts and the like. Although Jennifer placed a great deal of value on the lessons that she learned as a result of watching someone like her mother at work, both of her parents also stressed the importance of a solid education. Jennifer took their advice to heart and ultimately excelled academically, both in grade school and on the standardized tests (scoring in the 99th percentile), which then gave her the opportunity to attend the prestigious Brigham Young University before going on to own her own highly successful business consulting firm.
As a trusted member of our exceptional team of GMAT tutors, Jennifer plays a pivotal role in helping us to reach our goal of being the top rated GMAT test prep services. She does this by being the wonderful, compassionate private tutor that she is. Our students love to work with Jennifer not only because she is so down-to-earth, but also because she has a wealth of knowledge as being a top professional in her field. When Jennifer is not hard at work at her Salt Lake City headquartered consulting firm or helping to develop up and coming talent, she spends her free time travelling the world with her husband, Mark. So far, Jennifer and Mark have been to four continents and are hoping to one day make it all seven.