GMAT Prep Courses in Raleigh-Durham (North Carolina)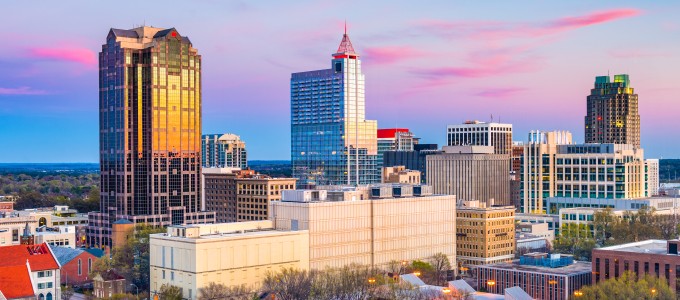 The GMAT exam is a complex test used by business schools to measure aptitude in potential students. Admission officers at highly competitive programs use the GMAT as a tool to weed out applicants who fail to make the grade. At Manhattan Review, we've broken down the GMAT exam in order to create prep courses that produce top scores. We have a unique test prep method, and our tutoring services help students in Raleigh-Durham get admitted to North Carolina's premier universities.
We offer several types of GMAT courses ranging from private tutoring in Raleigh-Durham to Interactive Online Courses. Choose from full-length GMAT courses, private tutoring, or weekend options. We scour Raleigh-Durham for the best instructors in your area. Then we hand them the industry's best GMAT course syllabus. Our dynamic and experienced instructors have mentored students who have gone on to successful careers at many Fortune 500 companies based in Raleigh-Durham. We've helped top professionals from Bank Of America, Lowe's, Duke Energy and other major businesses reach their maximum potential. A Manhattan Review GMAT class helps North Carolina's best and brightest land opportunities that become available once you ace that exam.
We've established a long-line of success in the Raleigh-Durham area, as past students have sought and gained admission specifically to Duke's and UNC's MBA Programs. Others have gotten into top business schools around the world, including Harvard, Wharton, Columbia and Stanford. Both within the Tar Heel State and around the globe, excellent test scores create opportunities for students and professionals who are ready to take their success to the next level.
Raleigh-Durham's top businessmen and women have started their impressive professional careers with high professional GMAT scores. Our local GMAT prep classes can do the same for you. Find out why we're the industry leader in Raleigh-Durham GMAT Prep by working with one of our talented, accomplished tutors.

I took the GMAT yesterday and got......680 (unofficial score). Needless to say I am delighted, if somewhat stunned. I never thought I'd score 100 points higher than last time around. My maths improved the most (from 32nd percentile to 56th percentile) and I was in the 95th percentile in my verbal. If I'd had a few more weeks I'm sure I could have improved my maths score even more, but I'm happy with 680. Thanks for all your help and the excellent classes. They really were invaluable and worth every minute.
- Mathew (This student took our London GMAT classic course)
Raleigh-Durham
Primary Course Venue:

Manhattan Review GMAT GRE LSAT Prep
Raleigh-Durham Teaching Center at the Hilton
4810 Page Creek Lane
Durham, NC 27703

Phone: (919) 436-3748

NOTE: We do NOT typically have staff at the venue, so email us before visiting the venue.
Meet a Raleigh-Durham GMAT Tutor: Michelle W.
Born and raised in Chapel Hill, N.C., Michelle fulfilled a life-long dream by staying close to home to attend the University of North Carolina. After graduating with a degree in Marketing, Michelle received her MBA from the Wharton School at the University of Pennsylvania. Following her education, Michelle returned to her home state where she enjoyed a long career with Bank of America, located in Charlotte, North Carolina. Nowadays, the Raleigh-Durham-based GMAT tutor lives with her husband and two children. In her spare time, Michelle enjoys attending live concerts and trying new restaurants.
Boasting an MBA from one of the top business schools in the country, Michelle relishes each chance she has to share her love of learning with Manhattan Review students. Skilled at identifying strengths and weaknesses, she can work with you and show you what to expect from the GMAT, step-by-step and section-by-section. Michelle has a proven track record of success, as her pupils have gone on to study at Yale, UCLA, Brown, Emory and Georgetown. With her love of learning and winning track record in educating, Michelle can enliven any subject matter, and help you reach your potential.