GMAT Prep Courses in Portland (Oregon)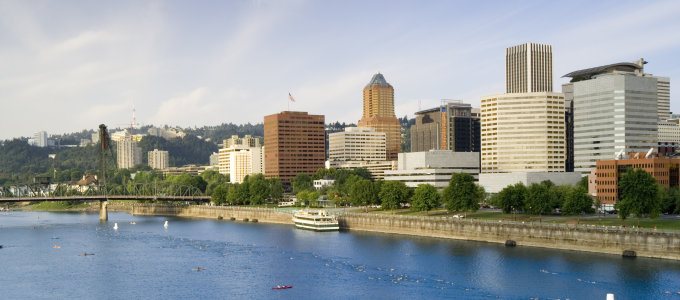 For fifteen years, Manhattan Review has been the go-to source for those preparing for the GMAT exam. Hundreds of aspiring MBA's have utilized our state-of-the-art resources and seen their scores improve. Our private GMAT tutoring services are available in cities throughout the world, including Portland. One-on-one tutoring has helped students gain acceptance into the most well known universities in the country. Being the only test prep company founded by a professor, we know it's important to seek out and hire only the best educated and passionate teachers. Then, we hand them our unsurpassed study guide and turn out GMAT scoring champions year after year.
We've seen a trend of students gaining acceptance into their first choice school with a high percentile GMAT score. Top business schools like Columbia, Booth College of Business, Rutgers, NYU and Wharton are just a few examples of colleges our students are handed diplomas from. Others have taken advantage of in-state tuition and graduated from Lundquist College of Business at the University of Oregon, Portland State School of Business and Pamplin School of Business at the University of Portland. Having an undeniable GMAT score has helped our students' applications move to the top of the stack year after year. Let our experienced and educated instructors help you get your foot in the door of the finest universities.
The exam prep material called 'Turbocharge your Prep' book was created by Manhattan Review and is considered the benchmark in exam prep. We are no strangers to standardized tests and lead the industry in helping our students not only obtain high percentile scores, but also take the next all-important step to the university of their choosing. More often than not the choice is left to the university, but with an undeniable GMAT score your options will be limitless. The most well known schools will be vying to admit you. From there, our students find rewarding careers in Portland at Fortune 500 companies Precision Castparts and Nike, as well as the prestigious advertising firm Wieden+Kennedy. We have encouraged and watched in awe as many of our students choose to carve their path after graduation and start their own successful companies. No matter what direction you decide to go, a top GMAT score is the key to opening the door to a bright and successful future.

Craig is a wonderful teacher. He has been so kind answering my questions through email. He really cares about his students and the subjects he is teaching. You have a real gem there.
- Deborah (This student took online GMAT courses)
Portland
Primary Course Venue:

Manhattan Review GMAT GRE LSAT Prep
Portland Teaching Center at the Marriott
1401 SW Naito Parkway
Portland, OR 97201

Phone: (503) 575-1803

NOTE: We do NOT typically have staff at the venue, so email us before visiting the venue.
Meet a Portland GMAT Tutor: Johnny W.
Johnny is often reminded of his beginnings as those from the Northwest instantly point out his sweet Southern accent. He graduated from Emory University, with a degree in Business Administration degree, before he ventured across the country for graduate school at the University of Washington. "It was quite the change," Johnny says with a laugh. But one semester in Seattle and he was hooked on the beautiful Pacific Northwest. Moving down the coast to Portland was an obvious choice after receiving his MBA.
Johnny is known for his dedication to everything he does. It all began with one of his passions: Tae Bo. In Tae Bo, you are taught the meaning of "T", which stands for total commitment to whatever you do whether it's throwing a punch or studying for the exam. One can expect when in a one-on-one private tutoring session with Johnny, a rigorous learning method using Manhattan Review's course syllabus and techniques. The end results are consistent: high-scoring GMAT champions.
While not teaching or working out, Johnny enjoys watching his beloved Portland Trailblazers. Despite his origins and upbringing, Johnny has been a fan since the days Clyde the Glyde Drexler was on the floor in the 90's. Johnny travels back home to see his family often and usually gets covered with little nieces and nephews who are all too happy to see him.