GMAT Prep Courses in Pittsburgh (Pennsylvania)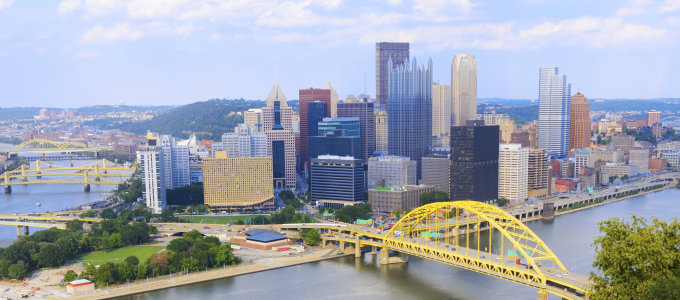 As one of the most widely used standardized tests all over the world, the Graduate Management Admissions Test, or GMAT, represents not only a necessary hurdle that prospective graduate business students must complete as part of the application process for business school, but also a test to ultimately determine their acceptance into all the top business programs. This then requires the prospective business students to edge out the competition with a high score - a feat that is certainly doable without assistance. However, many students have found that professional GMAT test prep is the most optimal way to go in achieving such goals. Manhattan Review has the industry's top rated GMAT test prep in Pittsburgh.
For over 15 years, Manhattan Review has been providing students, like yourself, with world class GMAT test prep through our 100 percent customizable program. What this means is that we give prospective business students the opportunity to design their GMAT test prep according to their own learning style and in consideration of their own availability. In addition, our state-of-the-art program also offers students the opportunity to prepare for the GMAT through our interactive online courses as well as with our elite professional tutors. We have acquired tutors from various industries all over the world to help us deliver the best test preparation options, in addition to access to a myriad of other tools and resources, including practice tests that test just like the real GMAT. No other test prep will get you prepared for GMAT like Manhattan Review!
Our unprecedented program is unlike any other in the world, and because of this our students stand to benefit tremendously as a result. Specifically, all of the top business schools in Pittsburgh, including the Tepper School of Business at Carnegie Mellon University and the University of Pittsburgh College of Business Administration and so many others, have all endorsed our program by admitting our past students into their leading programs. The same is true for all of the top employers in Pittsburgh as well. Major companies like Google, Apple, Bosch, Disney, Uber, Intel and IBM, who contribute to the billions of dollars that are generated in payroll in Pittsburgh annually, have all been the proud recipients of our past students. Why? Because they know that we work hard to train the top talent in the area, one student at a time. With each student we work with at Manhattan Review, our highly trained and experienced staff members not only work hard to deliver the high standards of service that we proudly boast of, but they also go above and beyond to ensure that every student that they come into contact with, which is exactly how we came to be known as the industry leader. Let us invest in you!

I was able to raise my maths score significantly from 28 (25%) to 43(71%)... So in total I raised my GMAT score from 490 (36%) to 580 (64%). The AWA score was 5.5 in both tests… I got into one of my two first choice programs. Thanks again and looking forward to hearing from you again!
- Sabrina (This student took our Munich GMAT weekend course)
Pittsburgh
Primary Course Venue:

Manhattan Review GMAT GRE LSAT Prep
Pittsburgh Teaching Center at the Marriott
112 Washington Place
Pittsburgh, PA 15219

Phone: (412) 235-1755

NOTE: We do NOT typically have staff at the venue, so email us before visiting the venue.
Meet a Pittsburgh GMAT Tutor: Natalie K.
Although some her success may seem like an overnight story, for Natalie, every bit of the journey is still a fresh memory. Working in highly competitive field, Natalie learned early on to not only work hard, but to also steer clear, as much as possible, of outside opinion. Her ability to focus, a skill she developed early on in grade school even before aced the SAT and later the GMAT, helped aid her in her climbing the corporate ladder to the position that she holds today, as a finance executive for a major corporation in Pittsburgh.
Within a year of her promotion to her current position, Natalie was presented with an opportunity to speak with up and coming business professionals, just like she was nearly seven years ago. And while that experience was uniquely rewarding, she also discovered a desire within herself to continue to impact students. That was three years ago. Since then, Natalie has been apart of our team of professional GMAT tutors at Manhattan Review, making a tremendous difference in the lives of present and future business professionals. A busy working woman with a family, Natalie is often admired for her ability to successfully manage all of her commitments, including making any extra time, above and beyond the tutoring sessions that is, to ensure that her students meet their academic and professional goals.