GMAT Prep Courses in Phoenix (Arizona)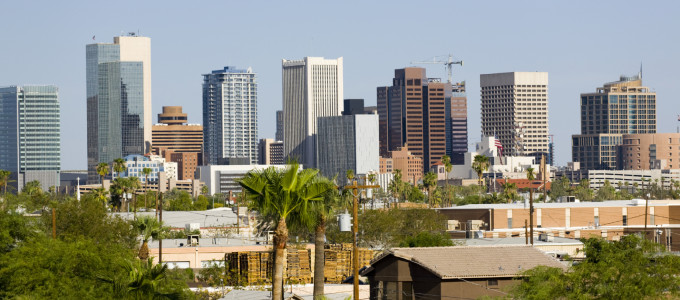 For an increasing number of business schools around the world, including those in Phoenix, the Graduate Management Admissions Test, or GMAT, plays a significant role. Designed to assess such skills as critical thinking, quantitative reasoning, and the ability to communicate complex ideas, the GMAT is used as a gauge to determine two necessary requirements among applicants: academic aptitude and potentiality for success in business school. As a result, many prospective business students often find themselves overwhelmed as they work to prepare for the GMAT, which can then affect their performance on this critical test. This is particularly true for those individuals who are not accustomed to standardized-test taking and/or don't feel confident in their ability to adequately prepare for the GMAT. Manhattan Review can help you achieve your testing goals.
Since 1999, Manhattan Review has been at the forefront of the test prep services industry, helping prospective business students, like you, to reach their highest possible score on the GMAT. Our unprecedented GMAT program gives students more control over their learning process than any other. Specifically, business school hopefuls are given the opportunity to custom design their own learning plan according to their own learning style and needs. Learning plans typically consist of either a unique mix of interactive online courses or one-on-one sessions with one of our handpicked instructors, successful individuals who represent the leading experts in their respective fields. In addition to their own custom designed learning plans, each participant is also given access to our catalog of supplemental learning materials such as our GMAT practice tests, which are specifically designed to aid our participants in identifying opportunities for improvement as well as familiarizing them with the GMAT prior to test day.
All around the world, Manhattan Review is revered for the work we do with prospective business students. The same is true in Phoenix. Specifically, all of the top business schools including the W.P. Carey School of Business at Arizona State University, the W.A. Franke College of Business at Northern Arizona University, and the University of Phoenix's School of Business have all supported our GMAT test prep program by consistently accepting our past students into their esteemed business programs. Similarly, the top employers in Phoenix have also responded positively to Manhattan Review and our students as well, opting to hire our past participants over other applicants when given the opportunity. Specifically, Honeywell Aerospace, Intel, U-HAUL International, Best Western, Apollo Group, US Air/American Airlines, and Mesa Air Group as well as Fortune 500 companies Avnet, Freeport-McMoRan, PetSmart, and Republic Services all have a reputation for preferring Manhattan Review past GMAT test prep students over other potential applicants for open positions. Choose the path to success. Choose Manhattan Review.

Just to let you know that I got a 690 on my GMAT. Not what I aiming for (700) but quite OK given the time I put in. Thanks for all your help and maybe see you at INSEAD!
- Filipe (This student took our GMAT weekend course)
Phoenix
Primary Course Venue:

Manhattan Review GMAT GRE LSAT Prep
Phoenix Teaching Center at the Sheraton
340 North 3rd Street
Phoenix, AZ 85004

Phone: (602) 412-5892

NOTE: We do NOT typically have staff at the venue, so email us before visiting the venue.
Meet a Phoenix GMAT Tutor: Ava K.
Before graduating from the respected W.A. Franke College of Business at Northern Arizona University, Ava had already received several job offers, thanks large in part to her internship with a major insurance firm in Phoenix. And while her previous experience played a role in forging her now ten-year strong successful career in business, Ava reminds her students at Manhattan Review that her academic background, including acing the SAT and GMAT when she took them herself years ago, played an even bigger role. Although her career is fulfilling, it wasn't until she had a chance meeting with a recruiter from Manhattan Review that she realized being a part of the team was exactly the type of professional opportunity she was looking for. A short time later, Ava joined the team, becoming a private GMAT instructor.
As a respected private tutor for Manhattan Review in Phoenix, Ava plays an integral role in helping us deliver top rated GMAT test prep services that we are known for around the world. Our GMAT test prep students love to work with Ava not only because she is so down-to-earth, but also because she has a wealth of knowledge to share with them. In addition to being a shining example for her students to follow, Ava is known for going above and beyond to ensure that her students reach their desired scores on the GMAT, often giving the necessary time to each student, a mere reflection of her commitment level. It is because of private tutors, like Ava, that Manhattan Review is known for dedicated instructors.