GMAT Prep Courses in Pasadena (California)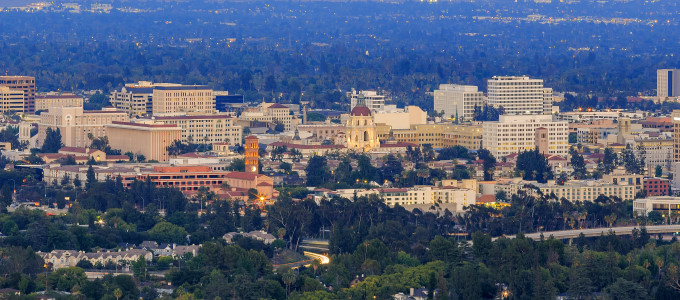 Start preparing for elite Graduate Management Admission Test (GMAT) scores in Pasadena with Manhattan Review's GMAT prep services. We offer a full range of effective GMAT learning plans, including on-site GMAT prep courses in traditional classroom format, online interactive GMAT classes, customized private GMAT tutoring, and GMAT practice tests. Pasadena students can choose the comprehensive GMAT option that works best with their goals, schedule, and learning style. Manhattan Review has been one of the world's leading resources for innovative GMAT prep since 1999, and our cutting-edge methods of instruction produce results that will exceed your expectations. Our top-notch GMAT instructors will identify your areas of weakness and use differentiated approaches to substantially improve your skills and confidence. You will also learn favorable testing strategies that have been proven to work, and we'll show you how to maximize the effectiveness of your out-of-class study time. With Manhattan Review's GMAT prep services in Pasadena, you can start improving your business school admission prospects right away. Contact us by phone, email, or online for more information or for answers to your questions.
Manhattan Review's GMAT clients are consistently accepted to highly ranked business schools around the world. Our GMAT students have entered master of business administration, master of finance, master of accountancy, doctor of philosophy, or other graduate business degree programs at Oxford, Cambridge, Harvard, Stanford, the Massachusetts Institute of Technology, the University of Edinburgh, London Business School, the University of Melbourne, the University of Pennsylvania, the University of Chicago, Northwestern, UCLA, Georgetown, and countless others. We've also seen thousands of our students become successful business professionals. Some now work for Fortune 500 companies, including Archer Daniels Midland, Lockheed Martin, World Fuel Services, Bank of America, and Walgreens Boots Alliance. Others are now employed by Pasadena firms, such as Western Asset Management Company, Wescom Resources Group, Green Dot Corporation, CPO Commerce, and Spokeo. High GMAT scores usually lead to selective business school acceptance, and top business schools develop the skills that employers want and need.
First offered in 1953, the GMAT is now taken by over 250,000 students each year, most of whom intend to study business at the graduate level. The GMAT total score, drawn from the verbal and quantitative sections of the exam, is reported from 200 to 800, with more than two-thirds of all test-takers receiving total scores between 440 and 640. The verbal and quantitative sections are computer adaptive at the question level, meaning that the answer to one question determines the difficulty level of the next question (correct answers lead to more difficult subsequent questions, while incorrect answers result in easier subsequent questions). Total scores of 700 or higher are competitive at most business schools, although the most elite institutions can have mean scores as high as 740. The other two sections of the exam, integrated reasoning and analytical writing, do not contribute to the total score, but they are considered by admissions committees. In short, the GMAT is a challenging exam, and top scores are usually the result of professional instruction. Manhattan Review has helped thousands of students succeed on the GMAT, leading to business school acceptances at high-quality institutions.

I wanted to let your team know that I am going back to Europe this fall as I am accepted to Oxford University MBA. Thanks for all the help.
- Siret (This student took our New York GMAT course)
Pasadena
Primary Course Venue:

Manhattan Review GMAT GRE LSAT Prep
Pasadena Teaching Center at the Sheraton
303 East Cordova Street
Pasadena, CA 91101

Phone: (626) 243-2270

NOTE: We do NOT typically have staff at the venue, so email us before visiting the venue.
Meet a Pasadena GMAT Tutor: Rudolf G.
Rudolf G., who likes to be called "Rudy," has been a GMAT tutor in New York and Pasadena for the past seven years. Students praise his enthusiasm for teaching, his attention to detail, and his adaptability. "Rudy loves what he does, and that's a very important quality," wrote one of his individual tutoring clients. "He's very thorough, and he will not hesitate to use a different approach if something isn't working."
Rudy completed an undergraduate degree in English at Brown University and a master of business administration at the University of Virginia's Darden School of Business. In addition to his teaching, he works as a business consultant specializing in logistics. In his spare time, Rudy enjoys surfing, going to exotic restaurants, and horror films.