GMAT Prep Courses in Orlando (Florida)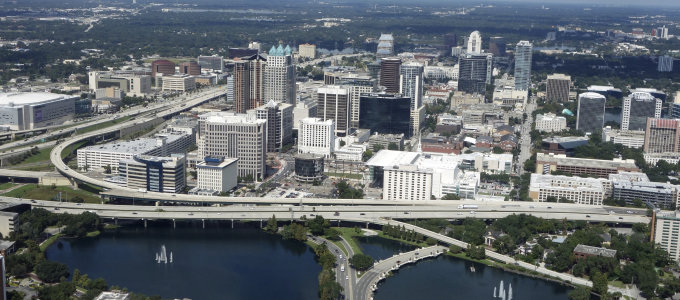 The Graduate Management Admissions Test, or GMAT, is the most widely administered standardized test used by business schools across the world, including right here in Orlando. As a critical part of the application process, preparing for the GMAT can be quite stressful for prospective business students, particularly those who don't feel confident in their test preparation strategies or weren't able to achieve their desired score on the GMAT the first time. Manhattan Review can help.
Since 1999, Manhattan Review has been the industry leader in test preparation services in Orlando, providing prospective business students with state-of-the-art GMAT test prep services. We accomplish this by offering something that no other GMAT test prep company does: a fully customizable learning plan. With a fully customizable learning plan, prospective business students are given an advantage over their peers during the test preparation process. Specifically, by being able to custom design a learning plan that can either include interactive online courses, one-on-one sessions with one of our elite private tutors, or a combination of the two if desired. In addition, every student is given access to a host of supplemental learning tools such as our GMAT practice tests, which are designed to give our participants real world experience with the GMAT before test day.
As a result of our efforts in the city of Orlando, Manhattan Review has acquired a reputation unlike any other for developing top talent. All of the top universities and business schools in the Greater Orlando Area have a history of accepting our students into their programs, including the College of Business Administration at the University of Central Florida, the Keller Graduate School of Management at DeVry University, and the Jack Welch Management Institute at Strayer University. From there, our past participants have gone to achieve even more success in Orlando by working for some of the top companies in the area. Specifically, some of our past participants now hold prestigious positions at companies including Lockheed Martin, General Dynamics, Harris, Mitsubishi Power Systems, Veritas/Symantec, Naval Air Warfare Center Training Systems Division (NAWCTSD), Delta Connection Academy, Embry-Riddle Aeronautical University, GE, Air Force Agency for Modeling and Simulation (AFAMS), U.S. Army Research, Development and Engineering Command United States Army Simulation and Training Technology Center (STTC), AT&T, Boeing, Hewlett-Packard, National Center for Simulation, Universal Studios, Disney's Hollywood Studios, in addition to the notable theme parks and the Orlando International Airport, Orlando Sanford International Airport, and the Orlando Executive Airport.

I just wanted to let you know that I scored 750 in the GMAT first time around. Thank you very much for your help.
- Florian (This student took our Frankfurt GMAT weekend course)
Orlando
Primary Course Venue:

Manhattan Review GMAT GRE LSAT Prep
Orlando Teaching Center at the Sheraton
400 West Livingston Street
Orlando, FL 32801

Phone: (407) 536-4447

NOTE: We do NOT typically have staff at the venue, so email us before visiting the venue.
Meet an Orlando GMAT Tutor: Kelsey
Born and raised in Jacksonville, Florida, Kelsey always wanted to move to a big city like Orlando because she knew it would be the perfect place to have a flourishing career in the tourism industry. After all, Orlando is the home of the famous Walt Disney World and Universal Studios. In order to achieve her goals, Kelsey also knew that she would have to work hard to get into a top undergraduate and graduate program that would give her the foundation she needed to both edge out the competition and develop professionally. Kelsey achieved both of those goals when she earned her Bachelor's and Master's degrees in Management from the University of Central Florida's College of Business Administration before landing a coveted entry level management position at one of the employers in Orlando.
Nearly six years later, Kelsey decided to challenge herself and help develop up and coming talent in her second hometown. She found such an opportunity at Manhattan Review, where she has been now for over three years. Since becoming a member of our elite team of professional tutors, Kelsey has played an integral role in helping us to deliver the top rated GMAT test prep services that we are known for providing in the city of Orlando and all over the world. Our students love working with Kelsey not only because she is so down-to-earth, but also because she has a knack for helping anyone to learn how to master the art of standardized test taking, no matter what their learning style is. While she doesn't particularly see it as a gift, our students do, which is one of the reasons that she is so beloved by both them and the team at Manhattan Review.