GMAT Prep Courses in New York (NYC)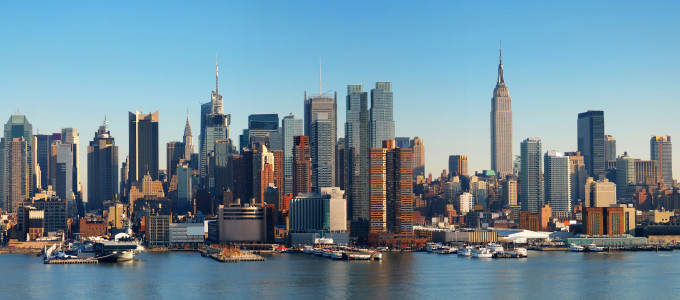 GMAT Preparation in New York (New York)
New York is the prime location where many Fortune 500 companies are eagerly filling positions with the most qualified candidates. To make yourself a contender for your dream position, business school can set you apart from the other applicants. Manhattan Review has dissected the GMAT to identify all this standardized exam's predictable algorithms.
The bottom line is that we understand the inner workings of this test, and you can, too – with the useful instruction of an accomplished tutor and GMAT veteran. We have created the skill set that yields top percentile results on the GMAT. For both New York students and aspiring professionals, we offer flexible programs that will amplify your future success. Get admitted into some of the nation's finest business schools right here in the state of New York.
Our GMAT masters have mentored employees from many of the top companies in NYC. We have counseled staff members from Ernst & Young, SRC, Morgan Stanley, JPMorgan Chase & Co., Goldman Sachs Group, McGraw Hill, Alcoa, Citigroup, Merrill Lynch, and Verizon. From this formidable listing of top businesses, employees have risen through the ranks. Some have become highly respected CEOs chairing their own organizations.
Choose from our selection of GMAT courses, optimized to deliver the highest quality across any platform you prefer. Full-length classroom GMAT courses offer a structured learning plan with lectures from experienced MBAs. Private tutoring harnesses the New York tutor's knowledge in an exclusive one-on-one learning environment. Weekend options and Interactive Online Courses appeal to the professionals working full-time who fill in the gaps with GMAT test prep. Our stellar course syllabus can be modified to meet students' individual learning needs in any of these course offerings.
The business pros in the state of New York have catapulted their careers, beginning with the best GMAT scores. Our New York GMAT prep classes will do the same for you. Get your application moved to the front of the stack by showing the admissions department your academic potential. Get into NYU or Columbia in NYC; Cornell in Ithaca, NY; or consider Saunders at Rochester Institute of Technology, Whitman at Syracuse University, Simon at University of Rochester, or Tobin at St. John's University.
If you do want to venture outside of New York for your business school education, you can join past Manhattan Review graduates of Harvard, Wharton, Stanford, MIT, Berkeley, Yale, or Carnegie Mellon. Score in the 98th or 99th percentile on the GMAT, and you can pick your #1 program.

I got my GMAT score up to 740. Thanks again for all your help and, hopefully, I'll see you next year as a student.
- Tapiwa (This student took our London GMAT weekend course)
New York
Primary Course Venue:

Manhattan Review GMAT GRE LSAT Prep
275 Madison Avenue, Suite 1429
New York, NY 10016

Phone: (212) 316-2000
Meet a New York GMAT Tutor: George S.
George has been tutoring for many years, cultivating and enriching his understanding of graduate level exams. George has a refined working knowledge of the strategies and techniques that conquer standardized tests. As an accomplished student, George received his Master of Science in the History of Political Thought at the London School of Economics. He has worked as a journalist for many years, writing for a variety of publications on wide-ranging topics.
While penning his works, George has also advanced as a top GMAT instructor. He consistently receives rave reviews from his students, thanking him for all his help and building to his track record for success. If you are looking to achieve these proven results, you can study with George for substantial score improvements on the GMAT.