GMAT Prep Courses in New Orleans (Louisiana)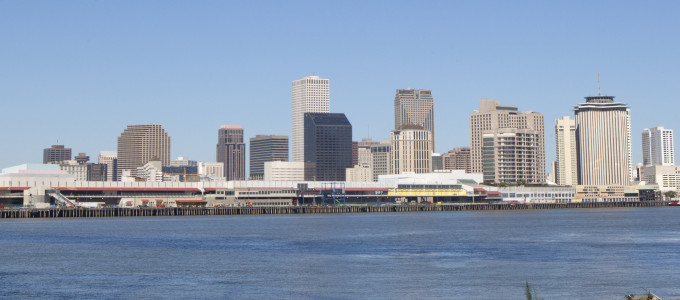 We have broken down the complex GMAT exam in order to construct prep courses that generate top scores. Through a variety of GMAT courses like Interactive Online Courses to private tutoring in New Orleans, Manhattan Review offers test prep methods that suitable for any learning style. No two students are alike and at Manhattan Review we have understand that for years, naming us the industry leader in exam prep methods. Our unique techniques have helped thousands of students get into the finest institutions in Louisiana and throughout the country.
The next step after getting a top score on the Graduate Management Admissions Test is taking your pick of top graduate programs. With a high percentile score, you can choose from any number of distinguished universities. From Princeton to Harvard, or Stanford to MIT, the options are limitless. Or perhaps you want to attend the prestigious Louisiana State University or the University of New Orleans right in your home state. Our world-class syllabus is unmatched in the industry and will not just help you feel confident on the GMAT, but will result in a top score as well, securing your academic future.
Private tutoring is just one of our many facets of exam prep. Yet, many would argue that it's the most effective. Our experienced and dynamic instructors have coached employees from multiple Fortune 500 companies based out of New Orleans. We have helped professionals from IBM, Entergy and Pan American Life Insurance and other major corporations reach their maximum potential. These top professionals attest that Manhattan Review GMAT classes are what helped them ace the exam.
Our accomplished and talented tutors have been assisting students on the GMAT for decades. We scoured New Orleans and only hire those truly passionate about teaching while having unsurpassed resumes. Combined with our exceptional syllabus, our instructors have helped New Orleans students get into Louisiana Tech, Tulane University and the University of Louisiana Lafayette, and others gain admission outside the state to business schools like Wharton, Columbia and Harvard. From the Pelican State to the west coast, high test scores will open the door and take you to the next level of success.

I attended a weekend course with Manhattan Review, the perfect timing for me while working. We managed to cover a lot of ground very quickly and I ended up with 760, just what I needed for the Sloan program at London Business School that I will be starting later this year.
- Rupert (This student took our London GMAT weekend course)
New Orleans
Primary Course Venue:
Manhattan Review GMAT GRE LSAT Prep
New Orleans Teaching Center at the Hyatt
881 Convention Center Boulevard
New Orleans, LA 70130

Phone: (504) 208-2487

NOTE: We do NOT typically have staff at the venue, so email us before visiting the venue.
Meet a New Orleans GMAT Tutor: Jamie B.
Harvard alum with an English degree, Jamie recalls her time playing the lead in "A Midsummer Night's Dream," back on the University stage. Now, she takes the stage as one of our favorite tutors. Her new audience is aspiring MBA students who desire to learn her punctuation tricks and math strategies.
Jamie is full of energy and life. She lives each day to the fullest and embraces the saying 'Carpe Diem'. She recalls studying for the GMAT for days back in undergrad until one night she couldn't take any more information in. So, she went for a swim in the university pool. When she got back to hit the books, her mind was clear. Jamie puts this notion of exercise and learning together and often hosts a jogging session before some of her courses.
Although she moved from southern New England, she actually prefers the short winters in New Orleans to the long cold months back in Massachusetts. Now she enjoys spending her summer months playing with her dog, Lucy, her children and her husband. They spend hours outside in their large, fenced yard. Her children helped Jamie realize her love for teaching and through their eyes she sees a brighter future. Education is a key part to the future, Jamie believes, and that's what drives her to help each student not just succeed on test day, but to pull out a top tier GMAT score.
Boasting an MBA from the prestigious Cal Tech University, Jamie uses her vast knowledge and vibrant personality to convey cumbersome combinatorics lessons to all her Manhattan Review students. In true theatrical form, Jamie summed it up when she quoted Shakespeare "The course of true love never did run smooth. The course to graduate school, now, that's a different story altogether."