GMAT Prep Courses in New Brunswick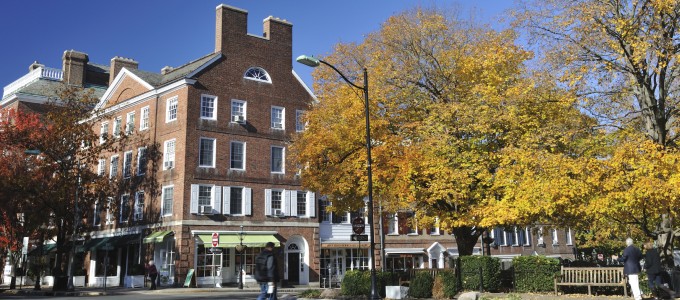 GMAT Preparation in New Brunswick (New Jersey)
Manhattan Review has been helping students succeed on the GMAT since 1999. Our test prep services have set the high bar and led the industry in standardized exam studies. If you are preparing for the GMAT, you can rely on our years of experience to help you achieve top results in New Brunswick. We have helped past students get into the best business schools globally, and this success continues to climb as we add more highly accomplished GMAT instructors to our ranks of inspiring resources.
There is no one perfect way to prepare for the GMAT exam. Instead, it is important to simply devise the study plan that actually works for you. Manhattan Review's New Brunswick tutors don't pull tricks out of their sleeves. These experienced teachers recognize that one-size-fits-all solutions will be ineffective and shortly forgotten throughout the study course. In lieu of these magic formulas and unreasonable shortcuts, we teach you how to think like the test taker who will beat the GMAT with a score of 700 or above. That is the score that gets you accepted to INSEAD, one of the best business schools in the world.
Whether you have taken this test before or you're a first-timer, our planning and prep will maximize your time and your potential for high-scoring success. It is a known fact that students who study rigorously for this standardized test outperform the students who spend less time preparing. This is your opportunity to get ahead of the curve and move your business school application to the top of the pile. Learn more about how our GMAT tutors in New Brunswick are uniquely qualified to help you achieve your goals. From full courses to Interactive Online Courses to private tutoring, we have the learning platform to tap into your potential.
We have even worked directly with major corporations in New Brunswick to bring their executives to the next level of their career. Rutgers is a world leader in the educational realm, and the top tier schools in nearby New York City have also sent professionals to us to improve their test scores and push them to the next level in their careers. No matter where you are in your prep process, we can work with you to open even more doors to new opportunities.

I took the GMAT today and got an unofficial score of 720 (47 quantitative / 42 verbal)! I'm quite satisfied, given the short time I had to prepare.
- Martin (This student took our Frankfurt GMAT weekend course)
New Brunswick
Primary Course Venue:

Manhattan Review GMAT GRE LSAT Prep
New Brunswick Teaching Center at the Hyatt
Two Albany Street
New Brunswick, NJ 08901

Phone: (732) 579-6903

NOTE: We do NOT typically have staff at the venue, so email us before visiting the venue.
Meet a New Brunswick GMAT Tutor: Jessica B.
Jessica, a Rutgers alum with an English degree, remembers the exhilarating rush she felt on the stage at school, especially when she played a lead in "The Skin of Our Teeth". Jessica may have traded in the theatre's curtains for a classroom's whiteboard, but she has merely channeled her star power into a new passion. Now she summons up that dynamic stage presence to perform tricks with punctuation and math for a group of aspiring MBAs.
Having migrated north from Texas for school, Jessica admits that she prefers the climate in coastal New Jersey to the blistering summer heat of Texas. These days, the New Brunswick-based GMAT tutor lives with her husband, their daughter, and their 6-year-old cocker spaniel, Max. Jessica received her MBA from Rutgers, and now she helps students who are seeking their own success. With her love of learning and winning record in education, Jessica can make any subject matter interesting.
Jessica relishes her opportunities to share her love of learning and passion for thought with Manhattan Review Students, and in particular enjoys teaching challenging English Literature courses. Jessica sums it up best by quoting one of her favorite Shakespearean plays: "The course of true love never did run smooth." She laughs and adds, "The course to graduate school…now, that's a different story all together."