GMAT Prep Courses in Minneapolis (Minnesota)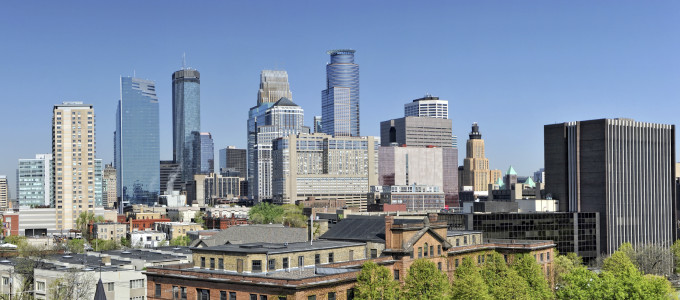 Manhattan Review has dissected the complex GMAT exam in order to create unsurpassed courses in the exam prep industry. Thousands of students utilize our services each year, which range from our Interactive Online Courses to private tutoring in Minneapolis; and top scores are always the result. Our methods are fine tuned for optimum scores, and not just for the masses. We scour the globe for the finest instructors who have the knowledge, the credentials and the passion to meet our high demand and standards. We understand that no two students are the same and work independently with each one to craft a learning plan, which brings confidence and success on exam day.
Students seeking out the top graduate schools around the country can find Manhattan Review wherever they go. Those living in Minneapolis will discover our distinguished and accomplished tutors diligently turn their weak areas into their strongest. The graduate management admissions test score is a gateway to the most prestigious colleges around the globe. Past students of ours upon scoring in the top percentiles on the GMAT, have received diplomas from Stanford, Wharton, Harvard, MIT, Dartmouth and Columbia. Still others in the Minneapolis area have gone on to graduate from the University of Minnesota, Minnesota University and Hamline University. Having a top GMAT score helped open the door and set their future on the path to success.
Perhaps you want to work for one of the many Fortune 500 companies based out of Minneapolis? US Bank, Target and Xcel Energy call Minneapolis home because of its proximity to multiple prestigious institutions, which many of their top executives can call their alma maters. Having a leg up on the competition with a top GMAT score, our students can have access to these desirable positions and a step towards a successful career. Our courses are designed with the one goal in mind: top percentile scores to help students gain acceptance into any school of their choosing.

I took the class with Joern in August and scored a 760 in September. Thanks for your help!
- Melanie (This student took our Germany GMAT weekend course)
Minneapolis
Primary Course Venue:

Manhattan Review GMAT GRE LSAT Prep
Minneapolis Teaching Center at the Marriott
30 South 7th Street
Minneapolis, MN 55402

Phone: (612) 392-3261

NOTE: We do NOT typically have staff at the venue, so email us before visiting the venue.
Meet a Minneapolis GMAT Tutor: Jamie B.
Jamie, a Stanford alum with an English degree, smiles when she recalls the rush she received from performing the lead in "Grease" on the University State. Although she uses her talents for captivating an audience for the greater good and tutors aspiring MBA's in the classroom, Jamie hasn't lost her flare for performing. Her exuberant and lively personality shines even through the most cumbersome of punctuation tricks and math strategies.
Choosing the mid-west over the sunny state of California, Jamie is adjusting to the cooler winters. However, she couldn't be more thrilled as Minneapolis is the third-largest theater market in the US, behind New York and Chicago. She frequents the theater often and in years past, has been known to have a small part or two. Her husband, a top executive at Target, and their two children enjoy taking their miniature pincher, Lucy, on walks through the countries oldest wildflower garden at the Theodore Wirth Park.
When you combine her enjoyment of learning and her love to teach, the product is high scoring future MBA's. Boasting an MBA herself from USC, Jamie is enthralled by how each student learns differently. Not one to let anyone step out of their own spotlight, Jamie tactfully creates a game plan for students to succeed. She has seen it all in her time as a tutor, but doesn't back down from a challenge. Her students enjoy her ability to make the dry subjects (like the challenging combinatorics lesson) exciting while never running out of energy or time for them after class.
Being a Shakespeare buff, Jamie summed up her philosophy of exam prep best when she said, "The course of true love never did run smooth. The course to graduate school, now, that's a different story altogether."