GMAT Prep Courses in Manchester (England)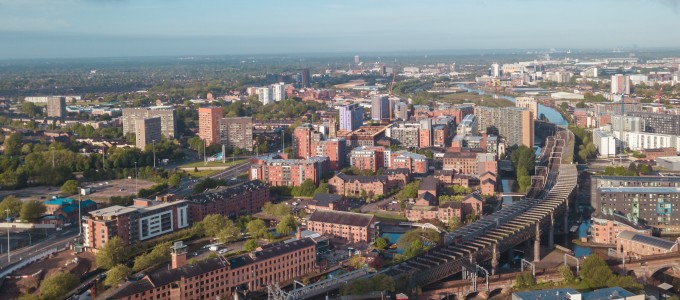 The Graduate Management Admission Test, or GMAT, is an exam designed to demonstrate to business schools how a student will be able to handle the material that is covered at the institute. As an increasingly popular exam, student who are looking for a strong score on the day of the test may find themselves looking for assistance to help them with the process of learning the material on they will encounter in order to help them stand out from the pack. Students in the Manchester area who are looking to prepare themselves for the GMAT exam should look to Manhattan Review for the best standardized test preparation options for students there. Manhattan Review has been helping students since 1999 with a variety of options, such as group courses, private tutoring, and practice exams, that can be utilized either individually or in combination with one another as part of convenient packages.
Students who choose to work with Manhattan Review for the process of learning the material on the GMAT exam are able to utilize a wide variety of benefits that come with their study options to help them learn the material on the GMAT exam. Manhattan Review's group courses and private tutoring allow for students to work with an experienced instructor who has helped a wide variety of students in their standardized test preparation either in-person or online depending on what they think would be the best fit for them. Manhattan Review's private tutors can offer their in-person students the ability to work at any mutually convenient location in the Manchester area, along with flexible scheduling and the ability to customize their lesson plans to fit the student's strengths and weaknesses as needed. Manhattan Review also offers practice tests that are updated annually to ensure an accurate view of the exam's formatting and content.
Students who have worked with Manhattan Review for the process of learning the material that is covered on the GMAT exam are able to use the guidance they have been given to develop a greater understanding of the material that is covered on the exam, allowing for the student the ability to earn a higher score. Students who have worked with Manhattan Review to improve their GMAT scores have managed to attend schools in the Manchester area such as University of Manchester, along with schools outside of it such as Harvard, Yale, Stanford, Oxford, Cambridge, University of Chicago, Massachusetts Institute of Technology, Columbia, Vassar, Brown, Emory, Rice, and many others. Students have also used their academic backgrounds at these schools to get a wide variety of careers, including companies based in Manchester such as PepsiCo and Eversource Energy. Call or email an academic program advisor today to learn more about GMAT prep options in Manchester.

I took the class with Joern in August and scored a 760 in September. Thanks for your help!
- Melanie (This student took our Germany GMAT weekend course)
Manchester
Phone: +44 161 884 0149

Primary Course Venue:

Manhattan Review GMAT GRE TOEFL
Prep & Admissions Consulting
Suite 10, 111 Piccadilly
Manchester M1 2HX, England

NOTE: We do NOT typically have staff at the venue, so email us before visiting the venue.
Meet a Manchester GMAT Tutor: Sandra D.
Sandra D. has been helping students in and out of Manchester with the process of preparing for standardized tests such as the GMAT since her time at University of Manchester, where she studied for a Master's in business administration. She has been working with students, including those with Manhattan Review looking to take the GMAT, since graduating and deciding to remain in the Manchester area.
Sandra's methods for helping her students with the process of learning the material that is covered on the GMAT exam are designed to help students attain the ability to translate the exam's material to their subsequent coursework and careers in a way that is retainable and easy to understand. In her spare time, she likes to travel to other parts of the United Kingdom and visit family.