GMAT Prep Courses in Los Angeles (California)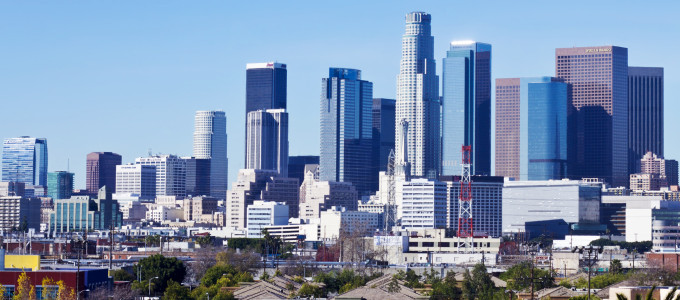 The Graduate Management Admissions Test (GMAT) is the premier test used by graduate business schools as part of the admissions criteria. The purpose of the four-hour long test is to assess necessary skills sets such as analytical writing, integrated reasoning, verbal reasoning and quantitative reasoning, which are all deemed vital for future business students and professionals. Whether a student, like yourself, is applying to an Ivy-League, public or private university, the GMAT is one of the most crucial steps in the application process and therefore achieving a middle-80 percent score is imperative for incoming students.
At Manhattan Review, we specialize in helping students achieve that recommended middle-80 percent score, as well as give them the tools to score well above that. Our boutique programs incorporate a unique combination of private tutoring services and interactive online courses to aid students throughout the test preparatory process and it all starts on our Manhattan Review website when you enroll. We also have plenty of online tools available on the Manhattan Review website for students who are enrolled in our programs including realistic GMAT practice tests.
Our world-class tutors are not only distinguished professionals at the top of their fields, but also have a proven track record of excelling at test taking. This is important to us at Manhattan Review as we only stake our reputation on those individuals that we believe will live up to our high standards of deliverable service. As a result, we only recruit the top talent from Los Angeles area universities, Ivy League schools and area top employers.
Manhattan Review tutors are more than just talented by way of test taking and professional achievements, they are also the best at providing a la carte service to our students. Our goal is to provide students with the requisite knowledge and skills so that they perform better on their GMAT, and that includes achieving a desirable score. Through a personalized tutoring schedule, designed in consideration of the student's schedule, tutors are better able to aid the students in maximizing their learning experience.

Overall went well - 730. Thanks for your help. My performance on sentence corrections really improved thanks to your dissection of those examples in class. Give my best to Joern as well. I hope to either see you at INSEAD or Joern at Columbia if all goes well.
- Gerry (This student took our GMAT weekend course)
Los Angeles
Primary Course Venue:

Manhattan Review GMAT GRE LSAT Prep
Los Angeles Teaching Center at the Marriott
900 West Olympic Boulevard
Los Angeles, CA 90015

Phone: (310) 402-5117

NOTE: We do NOT typically have staff at the venue, so email us before visiting the venue.
Meet a Los Angeles GMAT Tutor: Olivia S.
The daughter of a retired U.S. Military General, Olivia is truly a global child, having lived in seven countries all around the world. Although she spent much of her early childhood abroad, by the time her father received a promotion that brought her family back home to work at the Pentagon in D.C., she had learned a thing or two about other cultures, leadership and how to be successful from the example set by her father. One of the things that Olivia's dad helped her with was her school work and even helped her prepare for her SAT at the young age of 14. She then applied those same skills that she learned from her father when she prepared for and sat for the GMAT three years later.
Like her father, Olivia is quite accomplished her in her field. Though she has chosen to go a different career route and work in finance, she has climbed the corporate ladder rather quickly for someone her age, thanks large in part to her focus, drive, determination and intellect. Even with those attributes in place, Olivia is quick to tell the many students that she has tutored over the years since joining Manhattan Review in 2005, that it wasn't luck that has brought her this far, it was hard work, which she will gladly say to you in English, Spanish, French, Italian, German or Portuguese.
Olivia also has one of the highest repeat student rates at Manhattan Review. Time and time again, students return to Manhattan Review in Los Angeles, requesting private tutoring test prep services from Olivia. In some cases, Olivia has tutored students in preparation for the SAT and TOEFL, then later the GMAT.