GMAT Prep Courses in Long Beach (California)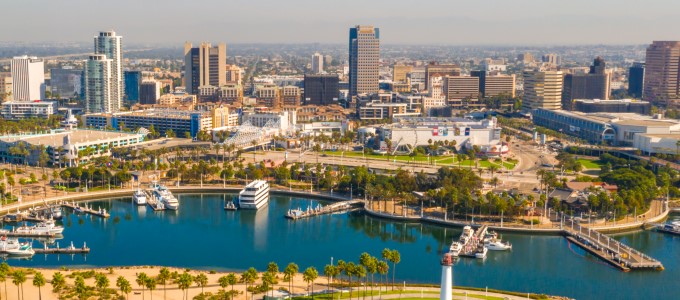 Students getting ready to narrow down their top choice business programs know that the Graduate Management Admission Test (GMAT) is an essential component to acceptance to the best programs in the country. Effective preparation requires the expertise of a professional company with a track record of successful results. Since 1999, Manhattan Review has been preparing students to take the GMAT and other standardized assessments used for admission to postsecondary institutions. In Long Beach, we offer area students many different learning options, including on-site or interactive online group courses, one-on-one tutoring, realistic practice GMAT exams, and consultation services. Manhattan Review clients consistently achieve top-percentile scores on the GMAT leading to their admission to the best business schools in the world, including the University of California, Los Angeles, Harvard, the University of California, Berkeley, Yale, Duke, Oxford, Georgetown, the University of Virginia, Emory, Cambridge, and numerous others. Former Manhattan Review students have gone on to be hired by Fortune 500 companies (including Microsoft, Wells Fargo, Berkshire Hathaway, State Farm Insurance, and Wells Fargo) as well as top firms in Long Beach (such as Epson America, Pioneer Electronics, SCAN Health and Molina Healthcare, Inc.). Get started on Long Beach's best GMAT prep with Manhattan Review today, and you'll soon be bragging about your own success.
GMAT scores are tracked and statistics are compiled by the Graduate Management Admission Council (GMAC). According to GMAC's data over the last three years, test-takers mean score on the GMAT is 560. Elite institutions expect higher scores, and incoming classes tend to have an average of at least a 650. It is important to research the program of your choice to have a better idea of the score you should be achieving to have a chance of being admitted to your chosen university. For example, the incoming class at UCLA Anderson School of Business has an average score of 719, with a GMAT range of 680-750.
We at Manhattan Review know that it is important for students to dedicate significant time to effective preparation. We also know that there is no use in wasting any of that time on a subpar study plan. The cliché "practice, practice, practice!" may be a bit tired, but it still remains true. There is one distinction though. Students need to be practicing with someone who can correct mistakes. Many make the mistake of practicing with no feedback, thereby continuously practicing a skill wrong and solidifying it in their brain. To earn your highest potential score, leave the learning plan to the experts and save your energy on actual preparation instead of piecing together your own plan or scouring private ads for individual tutors. We hire the best learning coaches in the business and train them with our proven methodology. They are then armed with the highest quality materials to help support you. Get started today on reaching your academic goals.

I am happy to report that I aced the GMAT with a scaled score of 760. The methodology you provided me with was essential to achieving my GMAT aim.
- Mona (This student attended our Frankfurt GMAT weekend course)
Meet a Long Beach GMAT Tutor: Shane C.
Shane C., originally from Newport News, Virginia, earned his bachelor's in biology from the University of Virginia before spending some time working in private biology labs. He found that he was interested in the business management side of his industry and decided to get his MBA. After taking the GMAT himself, he was accepted to the UCLA Anderson School of Business, which brought him to the west coast. After earning his MBA, he was offered a position in a local healthcare firm.
While earning his MBA, he began tutoring part time and found that he really connected with the students, so he continues to tutor with Manhattan Review in Long Beach now. His students appreciate his incorporating real-world experiences in discussions about not only the GMAT but preparing for admission to top-tier business schools. They find him to be flexible and understanding, while still maintaining high standards. When Shane is not working, he enjoys surfing and water skiing with his friends.