GMAT Prep Courses in Kansas City (Missouri)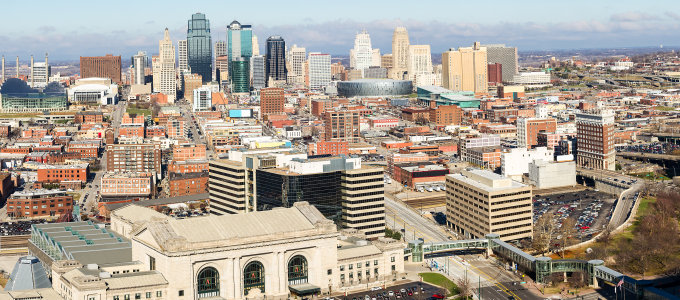 Every year, thousands of prospective business students apply to business school all over the world including right here in Kansas City. Designed to assess critical thinking, quantitative reasoning, and the ability to communicate complex ideas, the GMAT is perhaps the most critical component of the application process as it determines academic potential. For the top business schools in Kansas City, being able to pick out the best and brightest of talent is most important as they look to accept applicants into their respected programs. Manhattan Review specializes in helping prospective business students by giving them the requisite foundation to achieve both their testing goals and academic goals.
Since 1999, Manhattan Review has been the industry leader in GMAT test prep consultant services, providing test-takers, just like you, with the requisite tools and resources to help them achieve your highest possible GMAT score. Our unprecedented program is unlike any other, giving participants the opportunity to control their own success, which ultimately, has no limits. Specifically, each participant is able to custom design his or her own learning plan. Depending on the participant's own learning style and needs, which our experienced staff members help them to identify, each student is then able to determine which type of learning approach would best suit them. In addition, each student is also given access to our growing catalog of supplemental materials such as our GMAT practice tests, which help our participants to both identify and address any areas of improvement before test day.
All throughout Kansas City and the surrounding communities, Manhattan Review has garnered a reputation for working with the best and the brightest. Namely, the top business schools such as Park University School of Business, University of Missouri-Kansas City Henry W. Bloch School of Management, Rockhurst University Helzberg School of Management, Avila University School of Business, and Baker University School of Business & Management have all supported Manhattan Review and our GMAT test prep participants not only because they are the top scorers on the GMAT, but also because of their demonstrated academic aptitude as well. The local businesses including Internal Revenue Service, General Services Administration, National Nuclear Security Administration, Smith Electric Vehicles, Kansas City International Airport, Sanofi-Aventis, Kansas City Federal Reserve Board, AMC Theatres, Applebees, Assurant Employee Benefits, Cerner Corporation, HCA Midwest Health System, Sprint Corporation, Hallmark Cards, Inc., H&R Block, Hostess Brands, J.E. Dunn Construction Group, Novastar Financial, Russell Stover Candies, Boulevard Brewing Company, and Blue Cross and Blue Shield of Kansas City have also expressed a similar sentiment as indicated by their continued commitment to hiring Manhattan Review's GMAT test prep participants. Manhattan Review can give you the tools and resources to help you succeed, both academically and professionally, starting with achieving your highest possible score on the GMAT. Give us a call to get started today.

Overall went well - 730. Thanks for your help. My performance on sentence corrections really improved thanks to your dissection of those examples in class. Give my best to Joern as well. I hope to either see you at INSEAD or Joern at Columbia if all goes well.
- Gerry (This student took our GMAT weekend course)
Kansas City
Primary Course Venue:

Manhattan Review GMAT GRE LSAT Prep
Kansas City Teaching Center at the Plaza
401 Ward Parkway
Kansas City, MO 64112

NOTE: We do NOT typically have staff at the venue, so email us before visiting the venue.
Meet a Kansas City GMAT Tutor: Autumn N.
Growing up in the south, it wasn't until she received a once-in-a-lifetime job opportunity as an executive level manager with one of the top companies in the country, Hallmark Cards, Inc. that Autumn moved to the "Heart of America." Hardworking and known for her perseverance, Autumn graduated at the top of her undergrad and graduate business programs at the University of Texas at Dallas, which helped her to get many job offers from top companies in the Dallas area within a month of her graduation. Autumn has taken those same skills with her to her new position in Kansas City, ultimately influencing many of her peers and subordinates. It didn't take long for our recruiters at Manhattan Review to discover Autumn.
As a member of our elite team of private tutors at Manhattan Review, Autumn helps us to deliver world-class GMAT test prep consultant services designed to give prospective business students the necessary foundation they need to achieve their GMAT testing goals in Kansas City. Our students love to work with Autumn not only because she is so patient and understanding, but also because they appreciate her wealth of knowledge as a professional and as a former successful standardized test taker. Having earned scores in the 99th percentile on both the SAT and GMAT, Autumn is quite skillful at test preparation and equally important wants nothing more than to help to develop talent in her field. With the help of private tutors like Autumn on our team, it is no wonder why prospective business students prefer Manhattan Review for their GMAT test prep.