GMAT Prep Courses in Irvine (California)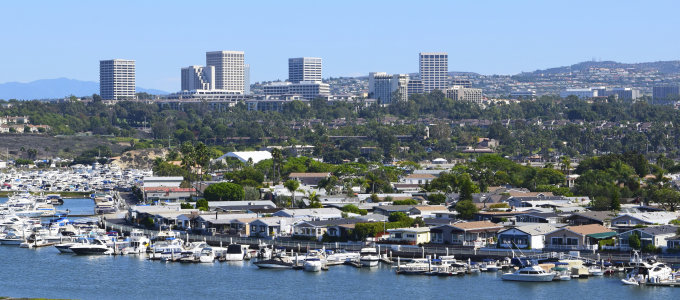 The Graduate Management Admissions Test, or GMAT, is one of the most widely administered standardized tests and critical parts of the application process for business schools around the world, including right here in Irvine. This computer-based test designed to assess critical thinking, quantitative reasoning, and the ability to communicate complex ideas can be intimidating for many prospective business students, particularly those who have never prepared for a standardized test of this magnitude before. Although many students can adequately prepare for the GMAT on their own, more often than not students will indeed find more success with the help of professional test prep services at Manhattan Review, the industry leader in GMAT test prep that has helped more students achieve their highest possible score on the GMAT than any other test prep service.
Since 1999, Manhattan Review has been at the forefront of the test prep service industry, providing top rated GMAT test prep to prospective business students, just like you. Specifically, we offer a state-of-the-art program that allows our participants to 100 percent customize their own learning program according to their own learning needs and style. Prefer a more structured classroom approach to learning versus other styles? Or, do you need private tutoring with off-peak availability due to your other commitments? At Manhattan Review, we understand that our students have busy lives and various needs that affect their ability to learn and prepare for the GMAT, that's why our program is unprecedented. We give our students control over their own learning process, which has consistently led to success for them in Irvine.
Over the years, Manhattan Review has garnered a reputation for working with top talent in Irvine, primarily because of what our participants have accomplished after completing our GMAT test prep program. This has translated into great opportunities for our students, including getting accepted into the top business schools in Irvine as well as the being hired by the top companies. Specifically, the U.S. News & World Report ranked Graziadio School of Business and Management at Pepperdine University, the Paul Merage School of Business at the University of California, Irvine, and the Marshall School of Business at University of Southern California, Irvine have all accepted our students into their prestigious programs. Similarly, major employers such as Irvine Unified School District, Blizzard Entertainment, Broadcom Corporation, Edwards Lifesciences, Parker Hannifin, Allergan, Verizon Wireless, B. Braun Medical, Western Digital as well as international companies including Kia Motors, Sega, and Toshiba Corporation all of which are headquartered in Irvine, also support our students by choosing to hire them over other applicants. Choose Manhattan Review, for it is the surest method leading to success in Irvine.

I talked with my friend about this after every class. The consensus was that we both were charged after coming out of your classes. It was the type of feeling where if I had the time I would have study for a good 12 hours. I hit a 47 for an 82nd percentile on the math... Verbal went a touch better at 48 for 99, leaving me with a Total scaled score of 760 and knocking me into the 99th percentile… I also received 6 out of 6 on my AWA. Thanks for all of your help.
- Eric (This student took our New York GMAT classic course)
Irvine
Primary Course Venue:

Manhattan Review GMAT GRE LSAT Prep
Irvine Teaching Center at the Marriott
18000 Von Karman Avenue
Irvine, CA 92612

Phone: (949) 208-6893

NOTE: We do NOT typically have staff at the venue, so email us before visiting the venue.
Meet an Irvine GMAT Tutor: Ali
For Ali, school always came easy. This, of course, made it possible for her to do so well, which led to her eventually being accepted into one of the top business programs in Irvine, the Graziadio School of Business and Management at Pepperdine University. Ali used her education as the necessary foundation she needed to build her successful career in business management. However, working her way up the corporate ladder to her current position as a senior level manager for an international technology company headquartered in Irvine, Ali recently realized two things: her talent for training others and a desire to want to work with students.
As a trusted member of our elite team of private tutors, Ali works diligently to help us to continue to deliver our industry-leading GMAT test prep services in Irvine. Our students love to work with Ali not only because of her experience as one of the most successful professionals in technology, but also because she has a lot to offer by way of knowledge and experience with standardized test-taking. Ali is honest and thorough. Ali also stresses the importance of utilizing every tool and resource available with our program to create the most effective learning plan possible, as it is arguably the most important step in the GMAT test preparation process. It is indeed her sincere approach that makes her one of the best instructors around and we are proud to have her on our team at Manhattan Review.