GMAT Prep Courses in Hartford (Connecticut)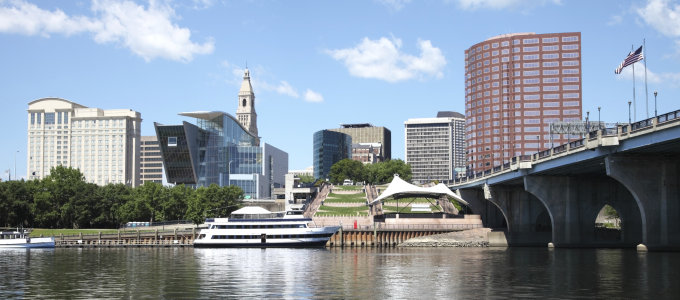 The Graduate Management Admissions Test, or GMAT, is one of the most widely administered standardized tests all over the world. While the GMAT is primarily used to determine eligibility of prospective graduate business students, through the assessment of critical thinking, qualitative reasoning and the ability to communicate complex ideas, it is also used as a competitive tool to determine the best and the brightest. In order for prospective graduate business students to rise to such a challenge, they not only have to do more than they are used to with respect to test preparation, but also increase their confidence to get through the experience. At Manhattan Review, we have the tools and resources to help prospective graduate business students, like you, accomplish their testing goals as well as go further to become successful business professionals.
Since 1999, Manhattan Review has been leading the competition in the delivery of top-notch GMAT test prep services all over the world, including in Hartford. We've been able to rise to the top as a test prep services provider and sustain our position over the years for several reasons, including providing students with a state-of-the-art program that is customarily designed by them. For starters, we offer students one-one-one private tutoring from elite professionals that not only are at the top of their field, but also have are willing to do what it takes to cultivate new talent. We also offer interactive online courses that are not only available at their leisure, but are fully customizable to suit their individual learning styles. Lastly, students are given access to a myriad of other tools and resources including practice tests that mimic the real GMAT that the students will eventually take. The end result has produced an unprecedented program, the likes of which has garnered much respect for Manhattan Review.
Over the years, Manhattan Review has generated quite an impressive reputation in Hartford, among all the top colleges and universities as well as all the top employers. From the historical Trinity College to the respected University of Connecticut School of Business, Manhattan Review is known for cultivating top talent. The same is true for all of the top companies, such as The Hartford, The Phoenix Companies, Travelers, Sovereign Bank, as well as several Fortune 500 companies such as Aetna and Northeast Utilities. At Manhattan Review, we pride ourselves on being able to not only help students achieve their testing goals, but also put them on track to achieving their long term professional goals as well. We understand that in order for prospective graduate business students to be successful in Hartford, they need the tools to help give them the competitive edge in our ever-changing business environment, and that's exactly what we provide.

Since I took the GMAT preparation course with you approx. six months ago, I wanted to inform you that I got accepted at Kellogg and would like to thank you for your support.
- Fabian (This student took our Munich GMAT weekend course)
Hartford
Primary Course Venue:

Manhattan Review GMAT GRE LSAT Prep
Hartford Teaching Center at the Marriott
200 Columbus Boulevard
Hartford, CT 06103

Phone: (860) 838-3173

NOTE: We do NOT typically have staff at the venue, so email us before visiting the venue.
Meet a Hartford GMAT Tutor: Catherine G.
Before Catherine came to Manhattan Review-Hartford, she spent most of her career travelling the world. With impressive credentials like hers, it is no wonder that she has been wooed by some of the most prestigious financial companies all over the world. However, despite her consistent hard work, Catherine never neglects the influence that her academic foundation played in setting the stage for her success in business, starting with her achievements in high school with her earning accolades each year, which only then progressed as she prepared for and entered college at Vanderbilt University.
After graduating from Vanderbilt, Catherine was poised to take the business world by storm, as she fielded several job offers before landing in New York, to work for a prestigious financial services firm. That job, then, led to several promotions before she branched out and accepted an offer with a leading insurance company, which ultimately brought her and her husband, Alex, to Hartford. With several years of globetrotting under her belt, and more knowledge and experience than she would ever hope to imagine, Catherine felt compelled to work with up and coming business students. She wanted to share everything that she had learned, but also felt strongly about helping others achieve their own level of success.
Catherine found the perfect environment to accomplish her goals at Manhattan Review three years ago and has played a pivotal role in delivering our world-class private tutoring services ever since. Among the most interesting facts about Catherine, students are always impressed to learn that, in addition to excelling at being a private GMAT tutor for Manhattan Review and a successful business executive, Catherine is an accomplished painter and her work is featured in art galleries all over.