GMAT Tutoring in San Diego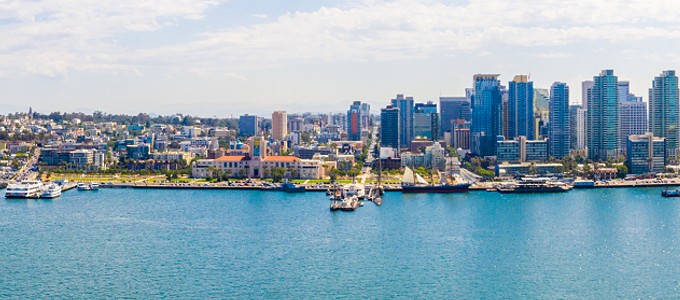 GMAT private tutoring in San Diego (California)
Since 1999, Manhattan Review has been the go-to resource for thousands of students studying for the GMAT. Take advantage of our test prep resources and private tutoring services in San Diego to get accepted at premier business school programs near you. Aspiring MBAs can connect with our educational services firm to get access to our unrivaled GMAT course syllabus, results-driven tutors, and practice exams in the learning platform of private tutoring.
Seeking personalized attention to get accepted at top business schools in Southern California or elsewhere in the country? We have a proven track record of success helping students get admitted to the very best programs. In addition, we offer MBA admissions consulting, which couples our test prep services with dedicated resources so you can submit a solid application along with your successful score.
If you are preparing to take the GMAT in San Diego, streamline your studies with a private tutor who will accommodate your unique learning style, needs, strengths and weaknesses. With years of experience, our experts have developed an inside eye to analyze and understand this standardized exam. No mystery to us, the GMAT has been broken down for your test prep through our effective, efficient course syllabus. Since this syllabus is completely customizable, you can maximize your point-scoring potential with a private tutor in a focused study environment.
Learn how to score the most points through subject matter mastery and strategic test-taking techniques. If you don't have equal ease in the language and mathematics sections (and few students do), find out exactly what you need to know to improve your exam score. Become more familiar with how the GMAT works, so you won't have any surprises thrown your way on exam day. The GMAT takes several hours to complete, so your confidence and precision will pay off as you're able to move through each section without stressing out.
With a private tutor, you can get ahead with a unique study plan. Work together, and get rewarded for your hard work with a single figure that directly correlates to your chances of admission. The average GMAT scores for entering MBA classes at top business schools tells you a great deal about the institutions and the competition. Since you can only take the test a limited number of times, you want to ensure that you reach your goal score or make impressive gains if it's your second or third try. Even a rise of 15 to 20 points can make a provocative difference in distinguishing you from your peers.
Collaborate to conquer our course syllabus, then make your way through our GMAT practice exams to get better acquainted with taking the test. This experience will help you better understand the format and flow of the exam, as you come to recognize standard trends for style and subject matter. Get a score you can be proud of by skipping do-it-yourself study sessions that will likely leave you anxious and under-prepared. Instead, harness our expertise in higher education admissions to secure your entry into business school.
Grab the attention of admissions departments at University of San Diego (USD) School of Business Administration; San Diego State University; University of California, San Diego (UCSD) The Rady School of Management; National University; Alliant International University – School of Management and Point Loma Nazarene University - Fermanian School of Business. Stand out at the highest caliber MBA programs in the country, including Stanford and U.C. Berkeley in California.
Register online for private tutoring sessions today to launch your leadership career in the San Diego area.
GMAT Private Tutoring
Hours package 12 to 48 hours, Personalized 1-on-1 Tutoring, In Person or Live Online
GMAT Private Course
12 hours in total, Personalized 1-on-1 Course, In Person or Live Online

I took the GMAT today and got an unofficial score of 720 (47 quantitative / 42 verbal)! I'm quite satisfied, given the short time I had to prepare.
- Martin (This student took our Frankfurt GMAT weekend course)
San Diego
Primary Course Venue:

Manhattan Review GMAT GRE LSAT Prep
San Diego Teaching Center at the Sheraton
1380 Harbor Island Drive
San Diego, CA 92101

Phone: (619) 819-0716

NOTE: We do NOT typically have staff at the venue, so email us before visiting the venue.
Meet a San Diego GMAT Tutor: James C.
After graduating from Michigan State University, James acquired his MBA from the University of Chicago's Booth School of Management in 2007. Since he had scored 777 on his GMAT, he showcased his dynamic skill set for both the verbal and quantitative sections. Eager to move to the West Coast, he applied for a highly coveted management position at telecommunications company NextWave Wireless.
In 2010, James joined our private tutoring team in San Diego. He has helped students seeking top GMAT scores achieve their goals and get into highly regarded business school programs in California and other states. Let this knowledgeable MBA help you overcome any obstacles to your highest score so you can land your dream job when you graduate.
In his spare time, James enjoys live music performances (with a preference of indie rock and punk rock), spending time outdoors with his fiancé (whom he met during his undergraduate years) and tossing a Frisbee to his Shar Pei, Winnie. With his MBA in hand, James is also carving out a side business that he's excited to get off the ground in the next year or so.