GMAT Tutoring in Raleigh-Durham (North Carolina)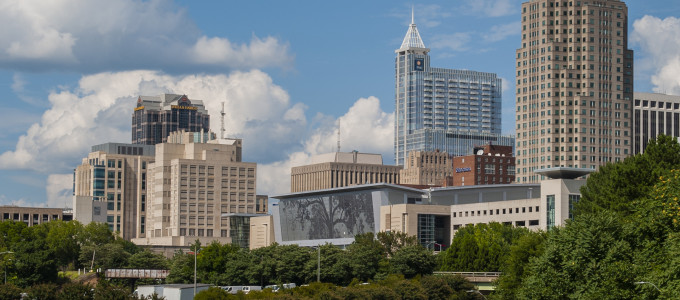 Since 1999, Manhattan Review has become the premier resource for students looking to excel on the GMAT exam. In Raleigh-Durham alone, hundreds of aspiring MBAs have benefitted from our private tutoring services. We provide local students with the educational tools to ace the exam and get accepted into the most prestigious business schools both in North Carolina and around the globe.
The GMAT exam may seem like an intimidating test, but our company has been studying this exam for more than 15 years! Those years of experience have allowed us to cultivate the highest quality course materials in addition to a team of expert professionals. If you are preparing to take the GMAT in the Raleigh-Durham area, Manhattan Review can help you streamline your studies with a private tutoring program catered and customized to your unique needs. No two students learn or test the exact same way. That's why we pride ourselves on offering customized study programs, including on our one-on-one tutoring services that identify and strengthen any weaknesses that may affect GMAT scores. Whether you want to sharpen your math skills, improve your vocabulary or simply receive some expert test-taking strategies, we have a comprehensive curriculum that will propel you to your highest score.
Our methods have a proven record of success. Students who have utilized Manhattan Review have gone on to graduate from the most highly respected business schools around the globe, from Princeton and Columbia to Duke and the University of North Carolina. Future businessmen and women ready to take their careers to the next level have come to us to get even further ahead in the competitive workplace. Once you receive your MBA, you can hold a leadership position at a top company in the booming market of North Carolina, or bring your degree and skill set to any of the top companies and corporations around the world. Find a private GMAT tutor in Raleigh-Durham, and begin your investment in a successful and long-lasting career.
GMAT Private Tutoring
Hours package 12 to 48 hours, Personalized 1-on-1 Tutoring, In Person or Live Online
GMAT Private Course
12 hours in total, Personalized 1-on-1 Course, In Person or Live Online

I talked with my friend about this after every class. The consensus was that we both were charged after coming out of your classes. It was the type of feeling where if I had the time I would have study for a good 12 hours. I hit a 47 for an 82nd percentile on the math... Verbal went a touch better at 48 for 99, leaving me with a Total scaled score of 760 and knocking me into the 99th percentile… I also received 6 out of 6 on my AWA. Thanks for all of your help.
- Eric (This student took our New York GMAT classic course)
Raleigh-Durham
Primary Course Venue:

Manhattan Review GMAT GRE LSAT Prep
Raleigh-Durham Teaching Center at the Hilton
4810 Page Creek Lane
Durham, NC 27703

Phone: (919) 436-3748

NOTE: We do NOT typically have staff at the venue, so email us before visiting the venue.
Meet a Raleigh-Durham GMAT Tutor: Adam R.
Born and raised in Atlanta, Adam graduated from Emory University with a degree in Business Administration before venturing out to the West Coast for graduate school. After obtaining his world-class MBA at Stanford University's graduate school of business, the Georgia boy was ready to return home. After meeting his wife Lucy, the couple relocated to the Tar Heel state, where they have resided for several years.
Adam's approach to tutoring for the GMAT test involves patience and understanding. He takes the time to get to know where his students are struggling, so he can identify their weakness and formulate a plan that helps them improve in these areas. This way, his students go into the GMAT feeling prepared, confident, and familiar in all the most pertinent areas of study. During Adam's one-on-one private tutoring sessions, you can expect a rigorous learning regimen, which applies Manhattan Review's course syllabus and techniques. The results turn even average standardized test takers into high-scorers. Adam has a proven track record, as his former pupils have gone on to study at University of Virginia, Cal Berkeley, Brown, Tufts, and Dartmouth.
When Adam isn't tutoring the brightest minds in Raleigh-Durham, he and his wife enjoy spending time on their boat and visiting family and friends back in Georgia.