GMAT Tutoring in Phoenix (Arizona)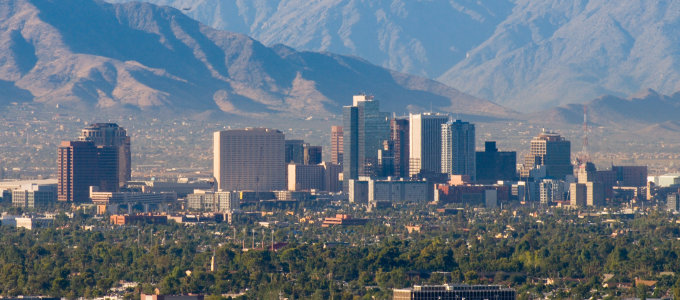 For prospective business students, the Graduate Management Admissions Test, or GMAT, represents one of the biggest challenges that they must face as they apply to business school. As a critical part of the application process, the GMAT not only accesses necessary skills such as critical thinking, quantitative reasoning, and the ability to communicate complex ideas, but it also serves as a gauge to determine academic aptitude and potentiality of business school prospects. Applicants are then encouraged to earn their highest possible score in order to gain acceptance into their school of choice, pressure that can ultimately impact performance on the GMAT. However, with the help of a private tutor from Manhattan Review, you will receive the necessary tools and resources to help you achieve your desired GMAT test score.
For over 15 years, Manhattan Review has been specializing in helping prospective business students, just like you, reach their highest possible GMAT score. Our a la carte GMAT test prep program is unlike any other, giving business school applicants the opportunity to custom design their own learning plan. Although some students choose to design their learning plan to include a mix of interactive online courses, many will find comfort in working one-on-one with a private tutor, instructors who we have handpicked to work with our students and ensure their success on the GMAT. All of our students, however, are given access to our library of supplemental learning materials such as our GMAT practice tests, which are specifically designed to give our GMAT test prep students an advantage over their peers by helping them to both identify and address any opportunities to improve their score well in advance of taking the GMAT. No other test prep service is more committed to helping prospective business students to achieve their testing goals like Manhattan Review.
As a result of all of our efforts to develop top talent in Phoenix, Manhattan Review has garnered the respect of local businesses and institutions of higher learning. Namely, the top business schools in Phoenix including the W.P. Carey School of Business at Arizona State University, the W.A. Franke College of Business at Northern Arizona University, and the University of Phoenix's School of Business have all endorsed Manhattan Review over the years by continuously choosing our past GMAT test prep students over other applicants. They have done so for two reasons: our students are the highest scorers on the GMAT every year and they are proven to have high academic aptitude, which translates to success in business school. Major employers in Phoenix including Avnet, Freeport-McMoRan, PetSmart, Republic Services, Honeywell Aerospace, Intel, U-HAUL International, Best Western, Apollo Group, US Air/American Airlines, and Mesa Air Group have also demonstrated a similar respect for Manhattan Review, as they also prefer our past students to other applicants as well. No other GMAT test prep company will help you achieve success in Phoenix like Manhattan Review. Call us today to get started on the path to your academic and professional goals.
GMAT Private Tutoring
Hours package 12 to 48 hours, Personalized 1-on-1 Tutoring, In Person or Live Online
GMAT Private Course
12 hours in total, Personalized 1-on-1 Course, In Person or Live Online

Today I scored 610 for my GMAT. This is 70 points up from the first time I took it. The Manhattan Review weekend course certainly helped me to improve my score!
- Saskia (This student took our Amsterdam GMAT weekend course)
Phoenix
Primary Course Venue:

Manhattan Review GMAT GRE LSAT Prep
Phoenix Teaching Center at the Sheraton
340 North 3rd Street
Phoenix, AZ 85004

Phone: (602) 412-5892

NOTE: We do NOT typically have staff at the venue, so email us before visiting the venue.
Meet a Phoenix GMAT Tutor: Alistair P.
Born and raised in the Arcadia neighborhood of Phoenix, Alistair spent a great deal of time helping his father with his business, which helped lay the foundation for his own successful career. After graduating at the top of his class, Alistair went on to ace the SAT and the GMAT, which helped him to get accepted into one of the top business programs in Phoenix, the W.P. Carey School of Business at Arizona State University. There he honed his management skills before working for a major finance company before going on to open his own business. Over the years, however, Alistair became more and more interested in helping to develop the people that worked with him. He saw an additional opportunity to achieve such a goal as a private tutor at Manhattan Review as well.
Since joining our team of elite private tutors at Manhattan Review in Phoenix, Alistair has been instrumental in helping us to provide the world-class GMAT test prep services to prospective business students that we are known for. Our students enjoy working with Alistair not only because of his background and depth of experience as a business owner, but also because he goes to great lengths to ensure that they get the knowledge and skills they need to achieve their testing goals. Like all of our exceptional instructors at Manhattan Review, Alistair has the academic training, prior experience exceling at standardized test-taking, and the expertise as a business professional which helps to make him a shining example for our GMAT test prep students to learn from.