GMAT Tutoring in Irvine (California)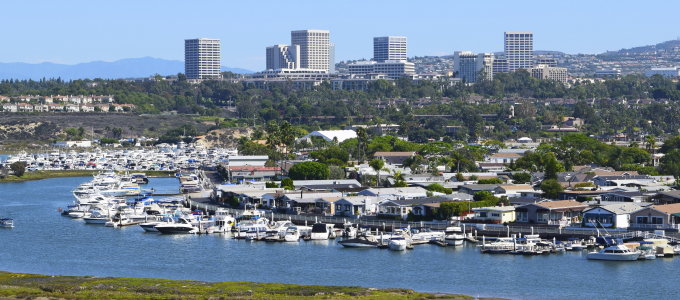 Every year, the Graduate Management Admissions Test, or GMAT, is administered to a quarter of a million prospective graduate students applying to business school all around the world, including right here in Irvine, California. Designed to assess critical thinking, quantitative reasoning, and the ability to communicate complex ideas, the GMAT plays a significant role in the application process and often serves as an obstacle that many prospective business students must overcome. However, with a solid and effective study strategy and accompanying tools for success, prospective business students, like you, can indeed achieve their highest possible GMAT score. Manhattan Review can give you both so that you can reach your testing goals.
For over 15 years, Manhattan Review has been specializing in providing world-class GMAT test prep services to prospective business students. In Irvine, our unprecedented services give participants the opportunity to custom design their own learning program in consideration of both their learning style and any other factors affecting their potential for success on test day such as availability constraints. Learning plans can then consist of either any unique combination of interactive online courses or one-on-one sessions with our elite private tutors, individuals who we have handpicked for our program because they represent the top professionals in their respective fields. In addition, our participants are given access to a host of other tools and resources such as our GMAT practice tests, which are in place to help familiarize our students with the GMAT prior to test day.
Throughout the City of Irvine and the surrounding communities, Manhattan Review has been revered for our work with up and coming talent, particularly prospective business students. As a result, all of the top business programs in Irvine including the Graziadio School of Business and Management at Pepperdine University, the Paul Merage School of Business at the University of California, Irvine, and the Marshall School of Business at University of Southern California all have a track record of supporting our program. The same is true for the top employers including the Irvine Unified School District, Blizzard Entertainment, Broadcom Corporation, Edwards Lifesciences, Parker Hannifin, Allergan, Verizon Wireless, B. Braun Medical, Western Digital, BenQ Corporation, Kia Motors, Mazda Motor Corporation, Samsung Electronics, Sega, Nikken, and Toshiba Corporation who have also supported our program. These institutions of higher education and major employers have done so for two reasons: our participants are always the highest scorers on the GMAT, which means they have the requisite academic aptitude for success, and they always go on to perform well on the job, thanks to the foundation they have achieved while in our program. Let us help you achieve success in Irvine. Contact Manhattan Review today.
GMAT Private Tutoring
Hours package 12 to 48 hours, Personalized 1-on-1 Tutoring, In Person or Live Online
GMAT Private Course
12 hours in total, Personalized 1-on-1 Course, In Person or Live Online

Now I am preparing for my GMAT tests. The course books Turbocharge Your GMAT and Official Guide For GMAT are very helpful. I think the combination of these two books is very good. What I like the most about Turbocharge Your GMAT course is Vocabulary lists. The other books don't provide such lists, but for me as a foreigner it is very important to learn the words that may appear in GMAT. For example, I was afraid not to understand a task in math section or to misunderstand it, and not to give correct answer to relatively easy question just because I didn't understand the data or the question. But after I learned Math Vocabulary list I very seldom misunderstand a task. Now the hardest GMAT task for me is Reading comprehension, because my vocabulary sometimes is not enough to understand a text, especially if it is historic matter. So now I am learning words from Vocabulary lists. Now I study hard every day, because I realize I am at a disadvantage in comparison to test takers, whose native language is English.
- Natalia (This student is based in Russia)
Irvine
Primary Course Venue:

Manhattan Review GMAT GRE LSAT Prep
Irvine Teaching Center at the Marriott
18000 Von Karman Avenue
Irvine, CA 92612

Phone: (949) 208-6893

NOTE: We do NOT typically have staff at the venue, so email us before visiting the venue.
Meet an Irvine GMAT Tutor: Rory
Growing up in Irvine, Rory spent a great deal of time on the campuses of some of the most prestigious universities in the country, thanks in large part to both his parents working in research. This had a profound affect on a young Rory, who later became a researcher and college professor himself at his alma mater, the University of California, Irvine (UCI). It's also where Rory discovered his passion for developing talent and working to help up and coming professionals realize their potential. And while Rory enjoys his work at UCI, he continued to search for an opportunity that would enable him to pursue his passion for helping students. He found that at Manhattan Review.
Since becoming a member of our elite team of private tutors at Manhattan Review, Rory has played an integral role in helping us to continue to deliver our best-in-class GMAT test prep services. Our students love working with Rory because he is so down-to-earth. He also has a great deal of experience taking standardized tests, in which he achieved impressive scores in the 99th percentile. Perhaps of equal importance, he is experienced working with students. Both experiences have given Rory the requisite tools to help develop each and every student that he works with by being able to adjust his teaching style according to their needs. Being adaptable is one of the many characteristics that makes Rory an excellent instructor, which is why we are excited to have him as part of our GMAT team in Irvine.