GMAT Tutoring in Baltimore (Maryland)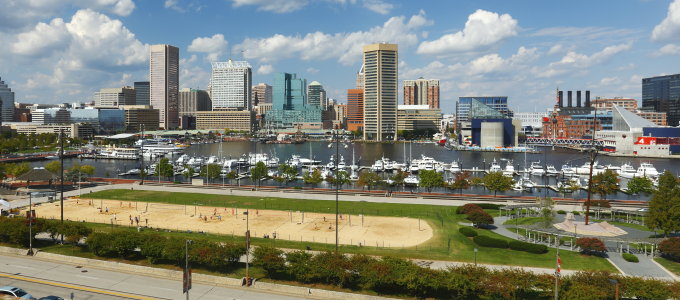 As one of the most widely used standardized tests around the world, the Graduate Management Admissions Test, or GMAT, plays an integral role in the admissions process for 5,400 business programs at 1,500 universities in 82 countries. Designed to measure critical thinking, quantitative reasoning, and the ability to communicate complex ideas, the GMAT is often considered the biggest challenge that applicants face during the application process. However, with the right tools and resources, as a prospective business student, you can overcome your fear of the GMAT and earn your highest possible score on the GMAT. At Manhattan Review, we specialize in both.
Since 1999, Manhattan Review has been delivering top rated test prep services to prospective business students all over world, including right here in Baltimore, in an effort to help them achieve their goals of getting accepted into their school of choice, either in Baltimore or across the country. We accomplish this goal by first and foremost offering our participants the opportunity to custom design their own learning plan, in consideration of both their learning style as well as any availability constraints that they may be facing. At Manhattan Review, we understand that our participants lead busy lives and we want to make sure that they are still able to accomplish their testing goals and subsequently any academic and professional goals thereafter.
As a result of our work with prospective business students in Baltimore, Manhattan Review has garnered a stellar reputation, particularly as a developer of the best and the brightest that Baltimore has to offer. Specifically, all of the top business schools including the Carey Business School at Johns Hopkins University, the School of Business and Management at Morgan State University, and Merrick School of Business at University of Baltimore have all proudly accepted our past students because of their high GMAT scores and otherwise demonstrations of academic aptitude. In addition, all of the top companies in Baltimore are also big fans of Manhattan Review and the students who utilize our GMAT test prep program. Namely, Johns Hopkins Hospital, Under Armour, Cordish Company, Legg mason, McCormick & Company, T. Rowe Price, Royal Farms, the Port of Baltimore, among many others, all have a reputation for hiring our past participants, which further establishes Manhattan Review as the number one place to go to find top talent in the Greater Baltimore Area.
GMAT Private Tutoring
Hours package 12 to 48 hours, Personalized 1-on-1 Tutoring, In Person or Live Online
GMAT Private Course
12 hours in total, Personalized 1-on-1 Course, In Person or Live Online

Great Course! Exceed my expectation. Kevin is knowledgeable and does a good job explaining the material. He also goes to the difficult stuff really quickly and forces you to follow closely.
- Emmanuel (This student took our Online GMAT classic course)
Baltimore
Primary Course Venue:

Manhattan Review GMAT GRE LSAT Prep
Baltimore Teaching Center at the Hilton
401 West Pratt Street
Baltimore, MD 21201

Phone: (410) 999-6300

NOTE: We do NOT typically have staff at the venue, so email us before visiting the venue.
Meet a Baltimore GMAT Tutor: Reece K.
Like most of our talented instructors at Manhattan Review in Baltimore, Reece came to our GMAT test prep service at the height of his professional success as an executive for one of the biggest food companies in the country. Having personally trained many business professionals during his own rise to success, Reece has become quite accustomed to working with up and coming professionals and developing others. At Manhattan Review, Reece has the opportunity to do what he has always done over the course of his career in the food industry: help others reach their goals through the benefit of his knowledge and experience.
Since joining the elite team of private GMAT tutors at Manhattan Review, Reece has played a significant role in our program, helping us to maintain our position as the best in the business when it comes to adequately preparing prospective business students for the GMAT and their academic careers thereafter. Our students love to work with Reece not only because he is so down-to-earth, but also because he is a shining example of a success story in Baltimore. Reece is also honest about the trials and tribulations of preparing for and taking standardized tests like the GMAT. Although Reece is honest and forthcoming with each of his students about what lies ahead for them and how best to prepare for the GMAT, he also shows sincerity and works hard to encourage his students to persevere to achieve their individual goals, both academic and professional alike. Being a man of his word, Reece can often be found challenging himself through multiple physical outlets, most recently by training for marathons and decathlons with his wife Susanne.