GMAT Prep Courses in Glendale (Arizona)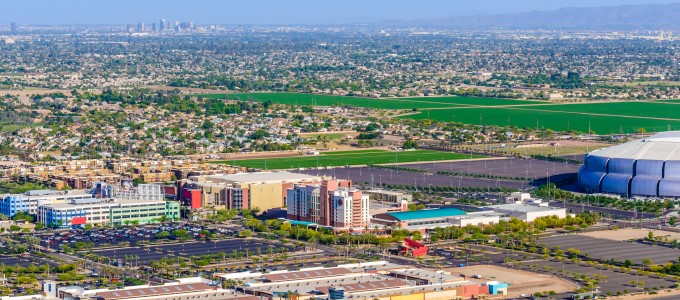 Every year, the Graduate Management Admission Test, or GMAT, is administered to prospective business students all around the world including in Glendale. This is especially true for the top business schools such as the Thunderbird School of Global Management at Arizona State University, where acceptance of top talent into their programs is the first priority. Instituted by business school admission boards to assess skills necessary for academic success and critical for practicing business professionals in the workforce, the GMAT is designed to measure critical thinking, quantitative reasoning, and the ability to communicate complex ideas, which applicants must effectively demonstrate in order to obtain acceptance into their school of choice. Manhattan Review can help business school applicants, like you, to achieve your best possible score on the GMAT and much more.
For over 15 years, prospective business students all over have been seeking out the industry-leading GMAT test prep consultant services of Manhattan Review to provide them with the requisite foundation they need to achieve academic success, starting with a desirable score on the GMAT. Specifically, our GMAT test prep program gives our participants the opportunity to custom design their own learning plan according to their own learning style and needs. Whether they choose a more independent learning style by engaging in our interactive online courses or they choose a more traditional learning style by working one-on-one with a one of our elite private tutors, each of our participants are given access to our online catalog of supplemental tools and resources such as our GMAT practice tests, which provide additional opportunities to fine tune their learning plans and improve their overall GMAT test score before test day.
At Manhattan Review, we take the necessary time to invest in each of our GMAT test prep participants, which is why Glendale supports Manhattan Review and deems our GMAT test prep students among the best and brightest in Glendale. Specifically, all of the top business programs in Glendale including the Thunderbird School of Global Management at Arizona State University as well as the top employers in Glendale including Banner Health System, Arrowhead Hospital, CSAA/AAA, Honeywell Aerospace, Humana Healthcare, Empereon Constar, Ace Building Maintenance Co., Bechtel Corporation, Conair Corporation, Arrowhead Mall, Wal-Mart, Westgate, Tanger Outlets, and Sanderson Ford have all made a commitment to top talent by choosing Manhattan Review's GMAT test prep participants over other applicants for their programs and open positions. Let Manhattan Review invest in you by choosing our number one rated GMAT test consultant service for your GMAT test prep needs. Get the tools to achieve success on the GMAT and much more. Call to schedule your appointment today.

Just to let you know, my overall score jumped 100 points from 640 on my first attempt to 740 after completing the course. Overall, I am very happy with the results I was able to achieve by taking the Manhattan Review course.
- Freddie (This student took our New York GMAT classic course)
Glendale
Primary Course Venue:

Manhattan Review GMAT GRE LSAT Prep
Glendale Teaching Center at the Hampton Inn
7350 N Zanjero Blvd
Glendale, AZ 85305

Phone: (623) 207-9057

NOTE: We do NOT typically have staff at the venue, so email us before visiting the venue.
Meet a Glendale GMAT Tutor: Emma D.
Before becoming a private GMAT tutor at Manhattan Review, Emma spent nearly ten years of her professional life working for one of the largest retail outlets in the country. In fact, it was her extensive experience as a highly successful retail manager that she used as a foundation to build her career in instruction. While teaching at the Thunderbird School of Global Management at Arizona State University, Emma met many students that expressed their concerns about preparing for and taking the GMAT. Emma wanted to help. Not long after, Emma discovered and joined Manhattan Review as a GMAT tutor.
As a member of our team of elite private tutors at Manhattan Review, Emma helps prospective business students in Glendale to create a custom designed learning plan that will help them to achieve their GMAT testing goals as well as give them the foundation to achieve their academic goals as well. Our students love working with Emma because she is so down-to-earth and gives each student her undivided attention, both on and off campus. Dedicated to ensuring that her GMAT test prep students achieve their goals, Emma even makes herself available outside of office hours or class time because of her commitment to her job. For these reasons and many others, Manhattan Review is proud to enlist an instructor like Emma on our team in Glendale.