GMAT Prep Courses in Frankfurt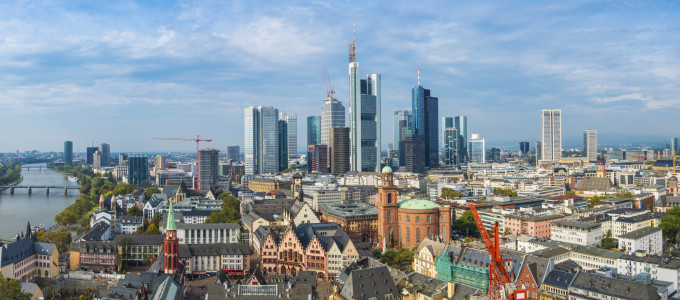 GMAT Preparation in Frankfurt (Germany)
Frankfurt is a phenomenal location for the aspiring MBA candidate. Attending business school launches the careers of corporate executives and creates new opportunities for entrepreneurs and ambitious employees alike. With the 44,000+ companies and organizations in Frankfurt keeping 464,000 on their payroll, the figures are stacked in your favor for postgraduate professional success.
Manhattan Review offers elite test prep services that will help you achieve your top GMAT score. Whether you have taken this test before or this is your first try, you'll get the tools, resources, and support you need to get a top percentile score. A GMAT score above 700 will give you the choice of which program you want to attend, as more admissions departments will eagerly accept your application. You will find yourself primed for the possibilities in Frankfurt's enriched center of commerce.
The city is a financial capital in Europe, housing 350 German Banks (the European Central Bank a prime example), 150 foreign banks, and the fourth largest stock exchange in the world. We can help you get to business and bolster your qualifications to apply at the German Federal Bank, the Frankfort Stock Exchange, the Frankfurt Trade Fair, Deutsche Bank, DZ Bank, or Commerzbank.
Beyond Frankfurt's rich roots in the international financial industry, an MBA degree can bring any career to a promising new level. Our test prep services and expert GMAT instructors have helped students get into Frankfurt School of Finance & Management, one of the most popular and prestigious business schools in the world. Our track record for success also includes alumni from Goethe Business School – Goethe University Frankfurt.
In other areas of Germany, you can secure your candidacy at WHU – Otto Beisheim Graduate School of Management, ESMT European School of Management and Technology, Dresden International University or Mannheim Business School. Outside of Germany, we have helped students get into top-ranked business schools spanning the globe. From Harvard and Wharton Business Schools in the U.S. to Singapore's acclaimed INSEAD and beyond, we've watched as top GMAT scores return greater acceptance rates.
Join forces with one of our first-rate GMAT tutors in Frankfurt to get on the road to your MBA. We have full-length classroom courses, GMAT practice exams, private tutoring, Interactive Online Courses, and much more, so you can find the learning plan and pace that match your needs. With Manhattan Review, you'll find advanced test prep services customizable for every student seeking top GMAT scores and entry into the best business schools.

I'll definitely recommend you to my buddies looking at getting into b-school.
- Matthew (This student took our New York GMAT weekend course)
Frankfurt
Primary Course Venue:

Sheraton Frankfurt Congress Hotel
Lyoner Strasse 44-48
60528 Frankfurt
Germany

Phone: +49-69-9073-2266

NOTE: We do NOT typically have staff at the venue, so email us before visiting the venue.
Meet a Frankfurt GMAT Tutor: Stephanie D.
Stephanie holds her degree in Germanic Languages and Literatures from Harvard University. Fluent in German to meet this level of proficiency, Stephanie knew that she wanted to bring her skill set to the full global experience. After writing her 50-page thesis on comparative modes of narration in Johann Wolfgang von Goethe's works ("The Sorrow of Young Werther" being her favorite), Stephanie graduated with honors and headed to Europe. She landed a high-power marketing position at BMW and expanded her skill set with rich real-world experience. She matriculated at London Business School, where she earned her MBA after boasting 99th percentile GMAT scores and a portfolio of unique work experience.
Upon graduating and getting to know life in the UK, Stephanie was again drawn to Germany, where she accepted a prominent position with Volkswagen and met her now-husband, a well-established figure at the Frankfurt Stock Exchange. Stephanie's academic and professional triumphs underscore her value as a Manhattan Review GMAT tutor. She can show you how to maximize your score to get accepted into the best schools in Frankfurt and all over the world. Her global perspective and educational background make a powerful force in the classroom. Harness Stephanie's help to realize your own GMAT success. In her spare time, this GMAT tutor loves cooking, sampling German beers, and taking her seven-year-old son to Senckenberg Museum of Natural History.