GMAT Prep Courses in Fort Worth (Texas)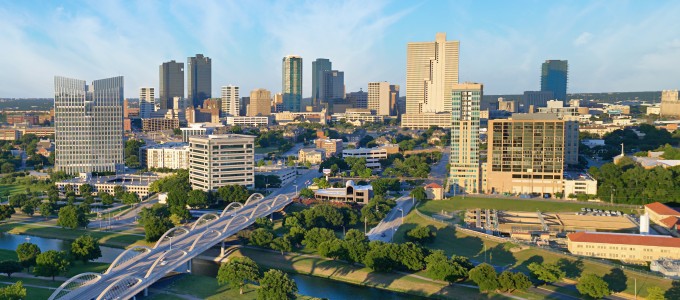 The Graduate Management Admission Test, or GMAT, is the most commonly prepared for standardized test of those that Manhattan Review can offer its students. Because of this, we have been able to provide our alumni with a wide variety of options in terms of preparing for the nature of the exam. Students who sign up to prepare for the GMAT exam with Manhattan Review can choose between a variety of options that include group courses which allow you to collaborate on your test preparation with a variety of like-minded peers with an instructor leading the way for all of you, individual tutoring that comes with customizable scheduling and a flexible lesson plan that can be adjusted to fit the needs of the student, a wide variety of practice exams that are kept up to date to fit the formatting and current focus of the exam's layout, and the choice between taking these online or in-person.
Success on the GMAT has become an increasingly competitive enterprise and Manhattan Review has an established track record at helping students who take the GMAT exam get into graduate schools with an established track record of strong academic reputations and helping its students to go onto successful careers after they have graduated. Students who have used Manhattan Review to prepare for the GMAT have gone onto successful schools in the Fort Worth area such as Texas Christian University, Texas Wesleyan, and University of North Texas Health Science Center. They have also gone onto acclaimed universities such as Harvard, Yale, Oxford, Cambridge, and many other acclaimed business schools. As a result of their academic success and increased confidence when taking both standardized and general academic exams, students from Manhattan Review have been able to work for Fortune 500 companies both in and out of the Fort Worth area, including American Airlines, Bank of America, RadioShack, and many other successful companies with headquarters all around the world.
Fort Worth students who use Manhattan Review to help them prepare for standardized tests such as the GMAT exam have a lot to gain by taking advantage of the services the company has to offer its potential students. Students who are able to improve their score via the various resources Manhattan Review has to offer are able to drastically increase their odds of getting into their top choice of school. While the GMAT and the GRE have different focuses in terms of what kind of graduate school they are accepted from, and it is highly recommended that students who are looking to apply for graduate school do their research as to which one is a better fit for their goals, anyone who uses Manhattan Review to assist them with either is sure to find that their score and confidence in their test taking ability will go up drastically.

Thought you'd like to know… I scored 770 (unofficially) on the test Monday morning in Twickenham."
- Alan (This student took our GMAT weekend course)
Fort Worth
Primary Course Venue:

Manhattan Review Prep
Hilton Fort Worth
912 Northton Street
Fort Worth, TX 76104

Phone: (212) 316-2000

NOTE: We do NOT typically have staff at the venue, so email us before visiting the venue.
Meet a Fort Worth GMAT Tutor: Ryan A.
Ryan A. grew up in the New York City area but moved to Fort Worth after graduating with his Bachelor's degree in Mathematics from Emory University. He is currently studying to earn his Master's degree and looking to become a teacher, but he also tutors for various standardized tests in his spare time, including the GMAT and the GRE exams.
Ryan gained his experience with the GMAT after performing well on the GRE and looking to find out more about the other graduate school exam, as he was already working as a tutor by that point. He found that he performed well on the GMAT as well and has been teaching it ever since. In his spare time, Ryan plays soccer.