GMAT Prep Courses in Durban (South Africa)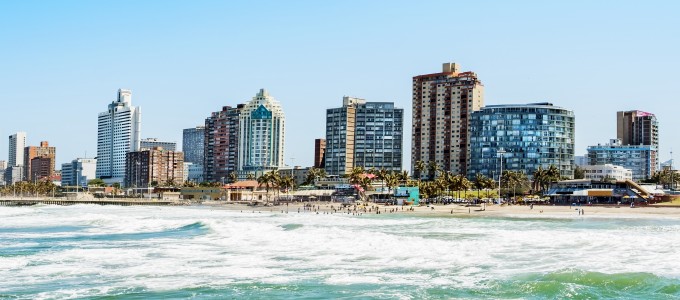 Are you a student or professional in the Durban area seeking to obtain the highest score possible on the Graduate Management Admission Test (GMAT)? If you are searching for the most effective and comprehensive GMAT preparation resources, look no further than the test prep professionals at Manhattan Review. Those looking to further their knowledge and their career should consider working with our world-class test prep professionals to prepare for the GMAT, making use of Manhattan Review's cutting-edge materials and courses. We are pleased to offer a variety of test prep options, including classroom-style group courses, interactive online instruction, and private tutoring. For those individuals intending to apply to the most prestigious MBA or EMBA programs, it is imperative to score in the top percentiles of the GMAT in order for your application to be considered competitive. When it comes to preparing for this challenging, yet potentially life-changing exam, there is no need to waste your valuable and already limited time attempting to piece together your own study plan, hoping you are covering the most relevant information. At Manhattan Review, we have deconstructed the GMAT and analyzed every question in every section, then used our industry knowledge to create the most targeted resources in the test prep business. Our instructors have helped numerous clients just like you obtain the GMAT score they needed to attend the business program of their dreams. At Manhattan Review, we take great pride in having developed a GMAT prep method that is unparalleled in the test prep industry, and our tutoring services have helped those in the Durban area gain admittance to the most selective and prestigious business programs in the United States and around the world.
Manhattan Review has been offering unsurpassed standardized test prep materials and resources since 1999, pairing discerning clients and students with leading instructors who know just how to help every individual achieve their highest score on the GMAT. We encourage you to make use of our more than twenty years in the test prep industry and partner with one of our experienced and dedicated professionals. Our industry-leading tutors have mentored and educated a diverse variety of clients, from students who recently completed their undergraduate degree to executives at Fortune 500 companies seeking to take their education and their career to the next level. We are pleased to offer Durban's most results-driven, flexible, and client-friendly resource for GMAT preparation, available at times and delivered in ways certain to work for the unique needs of every learner. Whether you prefer participating in a traditional classroom-style prep course, desire the personalized approach of one-on-one tutoring, or require the flexibility of online instruction, at Manhattan Review, there's always a program that's just right for you. As leaders in the instructional industry, we know there is no such thing as a "one size fits all" approach when it comes to learning and mastering complex test information, which is why we offer individual and group GMAT prep options, delivered virtually or in-person at times that are most convenient for you and your schedule. Join our ever-growing list of satisfied and successful clients who prepared for the GMAT with Manhattan Review, obtained impressive total and section scores, and found themselves accepted to leading business programs, including the University of Texas at Austin, New York University, Cornell University, Harvard University, Yale University, Duke University, the University of Virginia, Georgetown University, Northwestern University, Columbia University, the University of Pennsylvania, the University of California at Berkeley, the University of Chicago, and elsewhere.
Now, more than ever, a high GMAT score is incredibly important, and the highest scores unquestionably open doors for students and professionals looking to take their success to the next level. The Graduate Management Admission Council (GMAC), the organization responsible for the administration of the GMAT, tracks and reports statistical information about test-takers, studying them as a whole while also dividing them into subgroups. Total GMAT scores range from 200 to 800, and roughly two-thirds of test-takers will score between 400 and 600. According to the available statistics, the mean GMAT total score for all test-takers is 574. Top business programs around the world require very high GMAT scores. For example, the University of Texas at Austin, repeatedly ranked as one of the best business schools in the world, regularly has an incoming first-year class with average GMAT scores falling in the range of 650-740. When preparing your application to the business program of your dreams, make sure you stand out from the competition with application materials that shine. By scoring in the top percentile on the GMAT, you can make an informed decision about which business program is right for you and choose which option is the best for your personal and professional goals.
If you are a motivated student or professional intent on receiving the highest quality instruction to prepare for the GMAT, come work with the brightest and most respected instructors in the standardized test prep business. While our instructors have first-hand experience with a variety of tests, having earned their own stellar high scores, we do not only hire exceptional test-takers…we hire exceptional teachers with strong backgrounds in education, learning theory, and applied instruction. Each Manhattan Review instructor is equipped with our proprietary GMAT prep course syllabus, providing them with a replicable and state-of-the-art format to use when guiding clients from test prep to test success. Our tutors are eager to help you achieve your own GMAT success by mastering the necessary test-taking skills and techniques that will lead to the highest scores. Whether you have been preparing for the GMAT for months or have only just begun to consider preparing for this important exam, our instructors will meet you wherever your study has led you before showing you how to go farther than you ever imagined. The tutors at Manhattan Review look forward to teaching you how to leverage the academic skills you already possess while showing you how to avoid costly mistakes that might negatively impact your GMAT performance. There is a method to mastering a standardized test, and we are here to ensure you are as prepared as possible on the day of your exam. Whatever business program you hope to study at and whatever GMAT score you need, the test prep professionals at Manhattan Review are here to help you keep moving forward to academic and professional success.
Durban is an incredibly competitive marketplace, and in order to succeed and stand out in this fast-growing and educated city, you need to have studied at a world-class college or university. Earning a degree from a leading business program is not simply about attending classes and gaining a diploma to hang on your corner office wall…it's about the quality of the instruction you receive and the connections you make with both peers and faculty. Whether you plan to stay in Durban, move within South Africa, or intend to relocate as part of your career, unlock your success by partnering with Manhattan Review and obtaining your own impressive GMAT scores. Learning from respected and experienced instructors will help you take your test preparation to the next level, allowing you to complete the GMAT with confidence and ensuring you earn the score you need to secure your position in the most prestigious and competitive business programs around the world. Find out why we are consistently praised as a leader in standardized test prep by reaching out and learning more about our GMAT programs today. We look forward to partnering with you on your journey to MBA success.

Bill was extremely knowledgeable about all of the concepts and was able to effectively answer all of my questions. He went above and beyond to accommodate my needs as student and has honed my skills in preparation for my GMAT.
- Frank (This student did private tutoring in Boston)
Durban
Primary Course Venue:

Hilton
12-14 Walnut Road
Durban 4001
South Africa

NOTE: We do NOT typically have staff at the venue, so email us before visiting the venue.
Meet a Durban GMAT Tutor: Shelly J.
Shelly J. was born and raised in Denver, Colorado, and never pictured herself living anywhere else. She describes herself as someone who "has always been good with numbers…they're a sort of universal language and much easier to understand than words, which can have different meanings." Shelly proudly obtained an undergraduate degree in finance from the University of Colorado and during her time there, she enjoyed working as a math tutor in the university's learning center, helping others who didn't find numbers quite as enjoyable as she did. "I was surprised at how much I enjoyed helping others learn," she explains, "and it was so exciting to help them prepare for an exam and then have them do well and be proud of themselves." Knowing she wanted a career in finance and international business, Shelly didn't want to leave anything to chance when it came to preparing for the GMAT. While she completed workbooks, she didn't feel prepared enough and enrolled in a classroom-style group course, certain professional test support would exert a positive impact on her preparation. Shelly prepared diligently for the GMAT, and her hard work and dedication were rewarded when she scored in the 99th percentile of test-takers, earning countless offers of admission from leading business programs across the United States.
While sad to leave her supportive family, Shelly ultimately chose to obtain her MBA at the Kenan-Flagler Business School at UNC Chapel Hill. During her graduate program, she took on part-time work as a tutor, "mostly because word got out that I was good with numbers and also good at explaining things," she laughs. Shelly graduated with distinction and was offered a variety of exciting positions with both local and international companies, but she accepted a position that allowed her to relocate to Durban, excited to live outside the United States and expand her professional and cultural horizons. Shelly enjoyed working in the finance division of a large biotech company for more than a decade, but after a while, she began to search for additional ways to make a difference in the world on a smaller, more personal, scale. She obtained a master's degree in education from the University of South Africa, determined to help others enjoy the success she had earned. When Manhattan Review opened an office in Durban, Shelly was one of the first to apply, and we enthusiastically welcomed her to the team.
Shelly's GMAT prep courses fill up almost as fast as they're announced, and there is regularly a wait list to work with her. Clients routinely provide feedback stating how much they appreciate her impressive background, particularly her first-hand business experience as well as her ability to break down even the most challenging GMAT-related concepts. Shelly is especially proud of her ability to teach students time management skills, ensuring they are able to complete all sections of the GMAT due to proper pacing. Her students have gone on to achieve impressive careers in a variety of industries, and she loves when they reach out and share their personal and professional successes with her. When she isn't offering instruction on acing the GMAT, Shelly can be found enjoying craft brews in street pubs at Umhlanga Rocks, searching for the tastiest samosa with friends, and jogging along the beach with her boyfriend.