GMAT Prep Courses in Dallas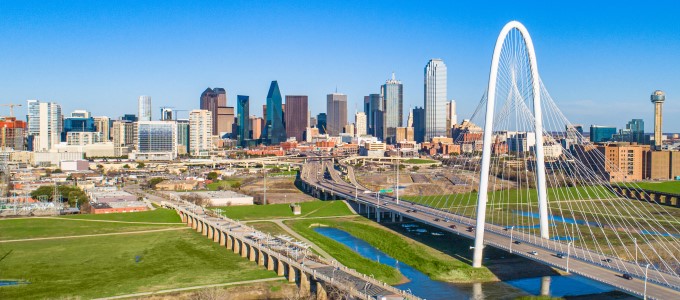 GMAT Preparation in Dallas (Texas)
A high score on the GMAT is your first step toward success in business school. For students preparing for the GMAT in Dallas, Manhattan Review has a variety of options for aspiring MBAs. Choose from full-length classroom courses, structured around our highly effective syllabus. Drill your skills with plenty of practice tests, which will get you more accustomed to the format and structure of this standardized exam. If you want to leverage the knowledge of our esteemed tutors on a one-on-one basis, we also provide private tutoring services that are highly customizable to fit your needs.
Prepare for the GMAT with the personalized support of a Dallas tutor. Each instructor has had his or her own substantial success with the GMAT. Now our tutors harness their own experience and expertise to help students attain top-percentile scores. Or, if you are already working a 40-hour week and your schedule is too demanding for classroom courses, register for one of our Interactive Online Courses. All you need is a laptop and an Internet connection to plug into our proven course syllabus for speedy, easy test prep. With several platforms to do your test prep, you can choose the learning method that works best for you. No matter which way you work with Manhattan Review, we will supply you with the knowledge base and resources to master GMAT strategies and subject matter.
The competition for business schools is increasingly steep, as more and more students find value in completing an MBA program. This extra title can add significant clout to your resume and future job opportunities. This is also your chance to fully embrace your entrepreneurial spirit. Stand out from the other candidates and become the top choice at top Dallas businesses. If you dream of opening your own business or climbing the corporate ladder several steps at a time, a top-ranked business school degree will help you conquer even your most ambitious goals.
We have helped students get into the best-ranked business schools in the United States and abroad. You can stay in Texas to attend MBA programs among the nation's finest. McCombs at University of Texas is a competitive choice, requiring a GMAT score at an average of 638. Score 700 or higher, and you'll improve your chances for admission at the 20+ universities and colleges in the Dallas area offering business degree programs. Based on rankings, you'll need to bring your top scores to gain entry to schools like Southern Methodist University, the University of Texas-Dallas and El Centro College.
Catapult your candidacy with the most competitive GMAT scores with the help of Manhattan Review's premier teaching tools and helpful tutors.

I just wanted to let you know that I scored 750 in the GMAT first time around. Thank you very much for your help.
- Florian (This student took our Frankfurt GMAT weekend course)
Dallas
Primary Course Venue:

Manhattan Review GMAT GRE LSAT Prep
Dallas Teaching Center at the Sheraton
400 North Olive Street
Dallas, TX 75201

Phone: (214) 254-3620

NOTE: We do NOT typically have staff at the venue, so email us before visiting the venue.
Meet a Dallas GMAT Tutor: Harold B.
Born and raised in Dallas, Harold attended University of Texas-Dallas, where he matriculated with a summa cum laude degree in Economics and International Policy. With his impressive transcript and well-rounded extra curriculars (marching band, soccer, and full-time employment in the school library), Harold decided to take the GMAT and apply for Business School. He scored in the 99th percentile and gained acceptance to his alma mater's prestigious Jindal School of Management.
Upon graduation, Harold accepted a management position for a Fortune 200 financial services company located in Plano, Texas. He stayed in this role for seven years before branching out and opening his own business, providing brand strategy consulting services for CPAs, attorneys, and mid-size financial advisers. He continued in this capacity for the next 17 years, ultimately turning the reigns over to his oldest son in 2013. With early retirement, Harold headed back to Dallas with his wife – where he could be close to his three children and six grandchildren.
Nowadays Harold shares his wealth of knowledge about business school with GMAT tutoring for Manhattan Review. With his past experience and our company's MBA admissions counseling, aspiring business school students have access to a powerhouse of resources and tools to get accepted at top programs near Dallas and beyond.