GMAT Prep Courses in Columbus (Ohio)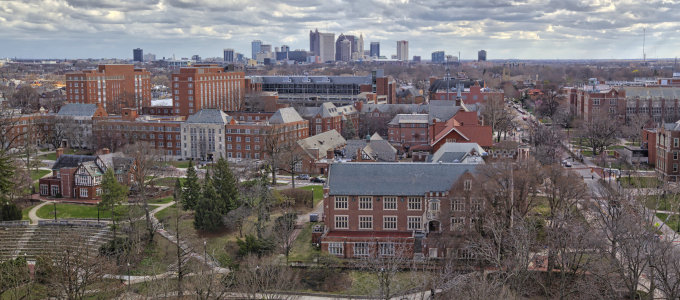 The Graduate Management Admissions Test, or GMAT, is one of the most critical parts of the business school application process. This computer-based test, employed by more than 5,400 programs around the world, is designed to measure aptitude for skills necessary for business professionals such as critical thinking, quantitative reasoning, and the ability to communicate complex ideas. Whether a prospective student is applying to a Masters of Accountancy program, a Masters in Public Administration program, or a PhD program in business, the GMAT score can greatly influence a student's academic future. That's why so many prospective business students, like yourself, have sought out the help of professional test prep services like Manhattan Review.
For over 15 years, Manhattan Review has been providing prospective business students with the #1 GMAT test prep services all over the world, including right here in Columbus. We accomplish this by offering a state-of-the-art program that is fully customizable. This means that each student is able to develop their own learning plan that is tailor made to suit their individual learning style and needs, such as availability. The students can then choose among our host of interactive online courses, which are accompanied by a myriad of tools and resources, including GMAT practice tests, or they can simply elect to engage in one-on-one private tutoring with one of our elite professionals handpicked because of their individual achievements and past academic testing success.
All throughout the Greater Columbus Area, Manhattan Review is revered for developing top talent. From the top business schools including, the Fisher College of Business at The Ohio State University, the Keller Graduate School of Management at DeVry University, and the Ohio Business College, to name a few, Manhattan Review's past participants have all been accepted into their schools of choice after achieving a high score on the GMAT. And it doesn't end there. In addition to having gone further to attend some of the top business programs in Columbus, and around the country, our participants have also gone on to work for the top companies in the city and surrounding area. Specifically, major employers such as the Battelle Memorial Institute, OCLC, Chemical Abstracts, JP Morgan Chase, Huntington Bancshares, Owens Corning, Wendy's, White Castle, Siemens, Roxane Laboratories, Vaisala, etc. are among the most notable recipients of our students. As you can see, Manhattan Review's GMAT test prep is a guarantee for success in Columbus. Let us invest in you as well.

It was surprisingly better than I thought and I received a 690, so I'm very happy with the result. Thanks for the preparation.
- Armin (This student took our Frankfurt GMAT weekend course)
Columbus
Primary Course Venue:

Manhattan Review GMAT GRE LSAT Prep
Columbus Teaching Center at the Hyatt
350 North High Street
Columbus, OH 43215

Phone: (614) 340-9763

NOTE: We do NOT typically have staff at the venue, so email us before visiting the venue.
Meet a Columbus GMAT Tutor: Janine D.
Born and raised in the suburbs of Columbus, Janine spent most of her time in her father's office because he was a single parent and didn't have anyone to watch his daughter. Her childhood experiences ultimately led her to discovering her own talent for business and giving her a foundation and advantage upon which she was able to build her own successful career in the field. She started by focusing on her academics, increasing her grade point average and studying diligently to get into the best business school in Columbus, getting her closer to her goal of being a business owner.
In addition to being a private tutor at Manhattan Review in Columbus, Janine is a successful business owner with three businesses to her name. And while her father certainly is proud of her, she has also accumulated numerous accolades for her innovative thinking and encouraging entrepreneurship among women in Columbus. These are just a couple of the reasons why our students love working with Janine. They like that Janine is so down-to-earth and willing to help them reach their goals by means of valuable career coaching. While being an inspiration, Janine was providing each and every one of her students with exceptional GMAT test prep services that Manhattan Review is known for delivering. When she isn't helping to develop talent in Columbus, Janine enjoys spending time with her husband Mark, going to Ohio State Buckeyes games, their alma mater.