GMAT Prep Courses in Cincinnati (Ohio)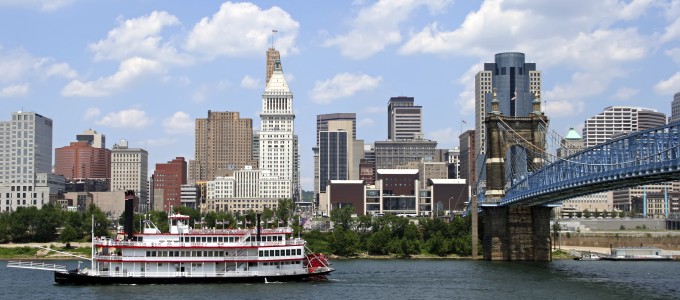 We've taken apart the intricate GMAT exam here at Manhattan Review in order to develop prep courses that result in higher scores. From private tutoring in the city of Cincinnati to our Interactive Online Courses, we have the unique test prep method that is perfect for you. With the knowledge gained from our courses, students just like yourself have been accepted into the most prestigious higher education programs in the state.
In fact, through our highly trained and experienced tutors, we have helped numerous students take the next step and join many Fortune 500 companies whose headquarters are right here in Cincinnati. For example, the students we have helped have gone on to careers at Proctor & Gamble, Krogers and Macy's. These students credit our services for helping them reach their maximum potential. Outside of school, the Manhattan Review GMAT class is one sure way to put your resume at the top of the pile once you ace the exam.
Whether you prefer private tutoring, weekend options or full-length Graduate Management Assessment Test courses, we have you covered. With the industry's best GMAT course syllabus in hand it's no wonder why we have seen a trend of our students being accepted to the best business schools around the country including Columbia, Oxford, Harvard and Wharton. Cincinnati students have also chosen the Carl H Lindner School of Business at the acclaimed University of Cincinnati. Higher test scores are the gateway for students and professionals who wish to take the next step towards success.
Impressive GMAT scores and rankings are what many top business professionals credit as the giant stepping-stone to where they are today. Past students now enjoy careers at large and small companies of their choosing because they learned our unique exam prep methods. Let our Cincinnati GMAT prep classes have the same affect in your life. You will discover why we are the leader in Cincinnati GMAT exam prep once you meet of one of our accomplished, talented tutors.

I wanted to let your team know that I am going back to Europe this fall as I am accepted to Oxford University MBA. Thanks for all the help.
- Siret (This student took our New York GMAT course)
Cincinnati
Primary Course Venue:

Manhattan Review GMAT GRE LSAT Prep
Cincinnati Teaching Center at the Marriott
151 Goodman Drive
Cincinnati, OH 45219

Phone: (513) 297-1580

NOTE: We do NOT typically have staff at the venue, so email us before visiting the venue.
Meet a Cincinnati GMAT Tutor: Jamie B.
Jamie, a Harvard alum with an English degree, left her calling for the theater from her day's playing the lead in "A Midsummer Night's Dream" in college to pursue a more selfless calling, teaching. Her intense, yet lively, personality played out in the real world rather than on stage is perfect for demonstrating math strategies and punctuation tricks for those aspiring towards an MBA.
Jamie moved from New England to the Queen City after graduating from Harvard and soon began a family. She loves being outside with her children, husband and 5-year-old black lab, Mandy. Having been involved in philanthropic work in college, giving back is just part of Jamie's make-up. In undergrad, she was always getting asked for help on a variety of exams. From Astronomy to Spanish, Jamie's ability to teach others meant her classmates often lined up at her dorm room door the night before an exam for a late night study session; where they always left knowing more than they thought possible.
Her enjoyment for learning, along with her heart for helping others, makes her one of our most beloved tutors yet. Through her children eyes, she sees the way she wants to world to be; and education is key to her vision of the future. Therefore, she enjoys seeing those she cares about achieve their dreams and does everything she can to make that happen. She knows the students she turns out today are tomorrow's future and she couldn't be more proud.
Jamie's students at Manhattan Review say that her enthusiastic, charismatic personality and love for life helped them through some of the most cumbersome of lessons. Jamie says that by staying focused on the task at hand, dreaming big and never giving up, you will attain whatever you set out to do. So far, her track record of raising students' GMAT scores year after year certainly backs this up.