GMAT Prep Courses in Charlotte (North Carolina)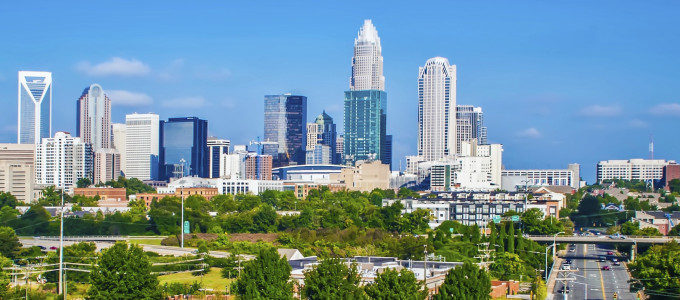 Every year, thousands of graduate business school hopefuls prepare to take the Graduate Management Admissions Test, or GMAT. While it is certainly possible to successfully prepare for such a tremendous undertaking without the help of professionals, a growing number of prospective graduate business students are finding that doing so can and does dramatically increase their chances of achieving their desired test scores on the first attempt. At Manhattan Review, we not only specialize in best in-class GMAT test prep, we are labeled the leader in test prep services.
For over 15 years, Manhattan Review has been providing students with exceptional GMAT test prep services all over the world, including in Charlotte. For starters, our top-notch program features state-of-the-art interactive online courses, elite professional tutors, and practice tests that mimic the actual GMAT. We like to call our program a la carte because students get to tailor the program to their own specific testing goals and learning styles. This unprecedented style of test preparation services not only gives students access to the necessary tools and resources that will aid them in achieving their testing goals, but it also prepares students for a successful academic and professional career after the GMAT.
Over the years, past participants of Manhattan Review's GMAT test prep courses have gone on to realize the many benefits of our program. Namely, students have been accepted into all of the top colleges and universities in Charlotte, including Central Piedmont Community College, Johnson & Wales University, University of North Carolina at Charlotte, and Babcock Graduate School of Management and DeVry University. Additionally, all of the top employers in Charlotte, including Bank of America, Lowe's, Family Dollar, Chiquita Brands International, Coca-Cola Bottling Co. Consolidated and NASCAR, are happy to recruit from Manhattan Review, because of the stellar reputation that we have cultivated in every community where we establish test prep services.
Take charge of your future, starting with setting yourself on the best possible path to success. Contact Manhattan Review for best in class GMAT test prep services. You won't regret your decision.

Yesterday - exactly one month after the weekend course - I took the GMAT and got an unofficial score of 710! That's really great! Thank you for all your support and help.
- Thomas (This student took our Frankfurt GMAT weekend course)
Charlotte
Primary Course Venue:

Manhattan Review GMAT GRE LSAT Prep
Charlotte Teaching Center at the Hilton
222 East Third Street
Charlotte, NC 28202

Phone: (704) 625-1326

NOTE: We do NOT typically have staff at the venue, so email us before visiting the venue.
Meet a Charlotte GMAT Tutor: Margaret W.
For nearly seven years, Margaret has been working diligently to become one of the top professionals in the banking industry. Graduating at the top of her class from the Babcock School of Management in her hometown of Charlotte, Margaret was very much poised for success in her field, which she has truly delivered on ever since. Just prior to graduating from her alma mater, Margaret edged out more than 500 applicants for a highly sought after entry level position at one of the top banking institutions in Charlotte. But she didn't stop there. Within one year of graduating from business school, she had already received her first promotion to a supervisor level position. From there, it only took her a mere five years to be promoted to a senior level management position.
Being at the top of the banking field is only one of Margaret's most revered qualities. She's also passionate about working with up and coming talent in Charlotte. As a result, she's come aboard our elite team of professional tutors to help develop future Charlottean professionals. From day one, Margaret was a hit among her students for two reasons: She's incredibly down-to-earth, and her particular style of instruction is quite refreshing to them. Margaret essentially guides the learning process by presenting the topics, offering suggestions and then allowing the students to "take the wheel," with Margaret intervening intermittently and only when needed. She tells students all the time that it is one thing for her tell them what to think but information truly sticks when you discover on your own. She wants the information to stick, and that is what makes her an asset to our team at Manhattan Review in Charlotte.