GMAT Prep Courses in Bangkok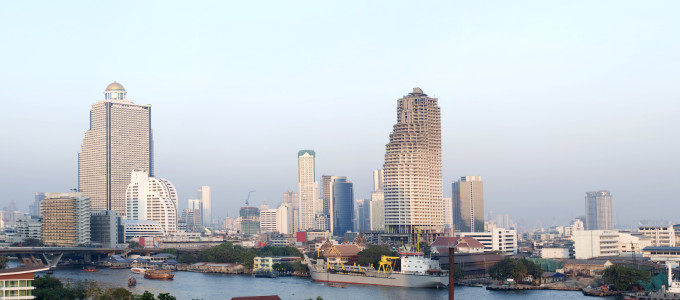 GMAT Preparation in Bangkok (Thailand)
Since 1999, we have been making the GMAT exam approachable and accessible for our students. Team up with Manhattan Review in Bangkok, and we will help you gain admission to the globe's top business school programs. If you are seeking your MBA, the first step is securing top-percentile results on the GMAT, a standardized exam that tests skills in both Qualitative and Quantitative areas. We will pair you up with a world-class Bangkok tutor who has demonstrated skills in both areas, so you can strengthen your weaknesses and get well-balanced results.
Get ready to take the Graduate Management Admission test with poise and precision. You can enjoy the structured classroom environment of our full course; take advantage of test prep on your schedule with Interactive Online Courses; or, team up with an accomplished private tutor in the local Bangkok area for customized test prep that caters to your unique needs. The GMAT Exam is the first step to your admission in business school, so you can begin your career with a successful start.
An MBA will make you a highly qualified candidate for the top-ranked companies located in and around the Bangkok area, including Fortune 500 Company PTT PUBLIC COMPANY LIMITED. Become the expert in your field, and you can turn your job-hunting into a sure-fire search for the perfect position. We have helped our past students get into some of the best MBA programs in Asia, Europe, and North America. For more than 15 years, we have worked with students in Bangkok to ensure excellent results and boost GMAT scores for first-time and repeating test takers.
Our office in Bangkok gives you access to a number of top-tier business schools. You can take the next step toward business school at Stamford International University, National Institute of Development Administration, Asian Institute of Technology – School of Management, Sasin Graduate Institute of Business Administration of Chulalongkorn University, Assumption University, Ramkhamhaeng University, and the list goes on. A Global MBA is your passport to anywhere you want your career to take you down the road. With the help of Manhattan Review, you're sure to be your own boss, whether you are a mover and a shaker in a top corporation or decide to bring your entrepreneurial skills to owning your own business. Let's get you started with an impressive GMAT score.

I have recently attended this weekend session of the Manhattan Review's GMAT course in London. I had hoped the course would be valuable in improving my mathematical and critical reasoning skills. Instead, the course exceeded all my expectations. I mentioned my observations to a group of fellow attendees and we all agreed we had learnt more in one day from this course than in our final year of secondary education!
- Shyama (This student took our London GMAT weekend course)
Bangkok
Primary Course Venue:

Sheraton Grande Sukhumvit
250 Sukhumvit Road
Bangkok 10110, Thailand

Phone: +66-6-0003-5529

NOTE: We do NOT typically have staff at the venue, so email us before visiting the venue.
Meet a Bangkok GMAT Tutor: Stewart F.
A fluent Thai speaker with international working experience in Southeast Asia and the Middle East, Stewart has been an asset to Manhattan Review's GMAT team for more than six years. His persistent entrepreneurial drive and passion for new business ventures has taken him all over the globe. Stewart believes that taking risks and coming up with cutting-edge ideas will always help business owners bring winning products and services to the table. Stewart has served as a consultant for start-ups and larger organizations alike, building strong relationships and solving problems to help businesses grow and achieve their bottom line.
Stewart acquired his MBA from INSEAD, where he transferred from the Abu Dhahbi campus to the Singapore location. Now he's settled in Thailand with his wife and two children, working in the capacity of freelance consultant and Manhattan Review GMAT instructor. Stewart believes there is quite a bit of overlap in these roles, since he troubleshoots areas of difficulty and diagnoses problems with strategic, workable solutions. His past students have gained the confidence and skill to perform in the top percentile of the GMAT, graduating from business schools with reputations of worldwide renowned.
In his spare time, Stewart spends time developing new mobile applications for Android and iPhones, stays in shape thanks to the rigorous Crossfit program and likes going on hikes with the family dog, a friendly Schnauzer named Dusty. Stewart was born and raised in Southern California, so he also enjoys going home to visit friends and family and cheer on his college teams at his alma mater University of California, Berkeley.