GMAT Prep Courses in Baltimore (Maryland)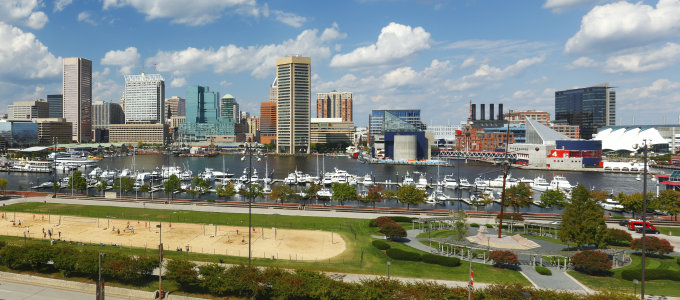 Every year, the Graduate Management Admissions Test, or GMAT, is administered nearly a quarter of a million times to prospective graduate business students. Used by 5,400 programs at more than 1,500 universities in 82 countries, the GMAT plays a critical role in the application process for a growing number of business schools around the world, including those right here in Baltimore. In doing so, the GMAT, which is designed to measure critical thinking, quantitative reasoning and the ability to communicate complex ideas, is used as a gauge to determine academic preparedness for graduate level business programs. With a high score on the GMAT, prospective business students are not only deemed academically viable, but also get to choose among the top schools in Baltimore and all over the country to pursue their education. At Manhattan Review, our top rated GMAT prep courses are guaranteed to help you achieve your academic goals, starting with obtaining your highest possible GMAT score.
For over 15 years, Manhattan Review has been at the forefront of the test prep service industry, providing prospective business students, just like you, with the requisite knowledge and skills to perform their best on the GMAT. Simply put, we offer an unprecedented program that affords our participants the opportunity to custom design their own learning program based on their individual learning style and needs. Learning programs typically consist of unique combinations of our state-of-the-art interactive online courses, but can also include one-on-one private tutoring sessions with our elite professional tutors, individuals who we have individually selected to provide exceptional instruction as part of our program. In addition, our participants are able to access a host of other tools and resources such as GMAT practice tests, which are designed to help familiarize them with the GMAT before test day.
Our efforts at Manhattan Review to help develop prospective business students in Baltimore have not gone unnoticed. All of the top business schools in the area including the Carey Business School at Johns Hopkins University, the School of Business and Management at Morgan State University, and Merrick School of Business at University of Baltimore have all endorsed our GMAT test prep program by accepting our past students. They have done so and continue to do so every year because they are confident that our students not only have the GMAT scores that indicate academic aptitude, but also possess the knowledge and skills to represent their programs. The top employers in Baltimore have also expressed a similar sentiment by hiring our past students. Specifically, Johns Hopkins Hospital, Under Armour, Cordish Company, Legg Mason, McCormick & Company, T. Rowe Price, and Royal Farms have all hired our past participants, further proving that when it comes to developing top talent in Baltimore, Manhattan Review is the place to go.

Overall went well - 730. Thanks for your help. My performance on sentence corrections really improved thanks to your dissection of those examples in class. Give my best to Joern as well. I hope to either see you at INSEAD or Joern at Columbia if all goes well.
- Gerry (This student took our GMAT weekend course)
Baltimore
Primary Course Venue:

Manhattan Review GMAT GRE LSAT Prep
Baltimore Teaching Center at the Hilton
401 West Pratt Street
Baltimore, MD 21201

Phone: (410) 999-6300

NOTE: We do NOT typically have staff at the venue, so email us before visiting the venue.
Meet a Baltimore GMAT Tutor: Elizabeth P.
Before coming to Manhattan Review five years ago, Elizabeth spent much of her career working to develop up and coming talent in Baltimore as an instructor at one of the most noteworthy universities in Baltimore, a career that she found great fulfillment in, both working with students and leading research in the field of business management for her department. Through her years of working with students, Elizabeth came to realize two thins: she thoroughly enjoys helping prospective business students to build the foundation necessary to achieve academic and professional success in Baltimore and that there is a growing number of prospective business students who need help preparing from the GMAT like she once needed prior to attending the Merrick School of Business at University of Baltimore.
At Manhattan Review, Elizabeth plays a pivotal role in helping us deliver the world-class GMAT test prep services that we are known for providing all over the world, including right here in Baltimore. As a dedicated instructor who has a passion for working with future business professionals, Elizabeth is a great source of inspiration for the students that she works with, students who love working with her as well. Having had her own share of trials and tribulations while preparing to take standardized tests prior to entering undergrad and graduate school, our students at Manhattan Review appreciate having the benefit of Elizabeth's experiences as well as the wealth of knowledge that she has accumulated as a result of a fruitful career as a business professional. Not to mention, Elizabeth has a wonderful sense of humor and has been known to bring laughter to every classroom of students that she encounters. For that reason and so many more, we are thrilled to have Elizabeth as part of our team in Baltimore.