GMAT Prep Courses in Atlanta (Georgia)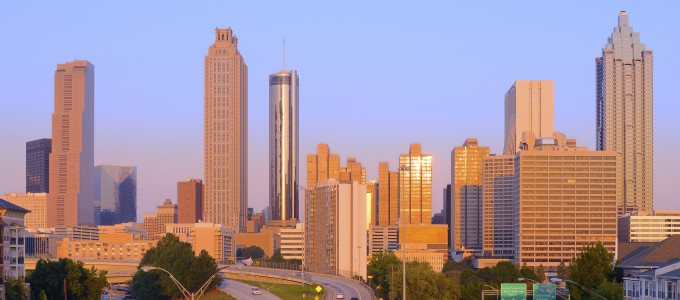 GMAT Preparation in Atlanta (Georgia)
At Manhattan Review, we've broken down the complex GMAT exam to create prep courses that produce top scores. We offer several types of GMAT courses ranging from private tutoring in Atlanta to Interactive Online Courses. We have a unique test prep method, and our tutoring services help students in Atlanta get admitted to Georgia's best higher education programs.
Our dynamic and experienced instructors have mentored employees from the many Fortune 500 companies based in Atlanta. We've helped top professionals from The Coca-Cola Company, UPS, Delta Airlines, and other major businesses reach their maximum potential. A Manhattan Review GMAT class helps Georgia's professionals plug into opportunities that become available once you ace that exam.
Choose from full-length GMAT courses, private tutoring, and weekend options. We scour Atlanta for the best instructors in your area. Then we hand them the industry's best GMAT course syllabus. We've seen a significant trend in the Atlanta area, as past students have sought admission specifically to the Georgia Tech MBA Program. Still, others have gotten into top business schools around the world, including Harvard, Wharton, Columbia, London Business School, Oxford Said Business School, INSEAD, IE, and so on. From the Peach State and across the ocean, high test scores opens new doors for students and professionals ready to take their success to the next level.
Top business professionals in Atlanta have catapulted their careers, starting with impressive GMAT scores. Our Atlanta GMAT prep classes can do the same for you. Find out why we're the industry leader in Atlanta GMAT Prep by working with one of our talented, accomplished tutors.

Now I am preparing for my GMAT tests. The course books Turbocharge Your GMAT and Official Guide For GMAT are very helpful. I think the combination of these two books is very good. What I like the most about Turbocharge Your GMAT course is Vocabulary lists. The other books don't provide such lists, but for me as a foreigner it is very important to learn the words that may appear in GMAT. For example, I was afraid not to understand a task in math section or to misunderstand it, and not to give correct answer to relatively easy question just because I didn't understand the data or the question. But after I learned Math Vocabulary list I very seldom misunderstand a task. Now the hardest GMAT task for me is Reading comprehension, because my vocabulary sometimes is not enough to understand a text, especially if it is historic matter. So now I am learning words from Vocabulary lists. Now I study hard every day, because I realize I am at a disadvantage in comparison to test takers, whose native language is English.
- Natalia (This student is based in Russia)
Atlanta
Primary Course Venue:

Manhattan Review GMAT GRE LSAT Prep
Atlanta Teaching Center at Georgia Tech Hotel
800 Spring St. NW
Atlanta, GA 30308

Phone: (404) 410-4981

NOTE: We do NOT typically have staff at the venue, so email us before visiting the venue.
Meet an Atlanta GMAT Tutor: Jamie B.
Jamie, a Harvard alum with an English degree, remembers the exhilarating rush she got on the University stage, especially playing the lead in "A Midsummer Night's Dream". Jamie may have traded in her curtain calls for the classroom, but she has merely channeled her star power to a new setting. Now, she summons up that on-stage energy to perform punctuation tricks and math strategies for a group of aspiring MBAs.
Having migrated to the south from New England, Jamie admits preferring the climate in "Hotlanta" to Boston's bitter-cold winters (despite her soft spot for the Red Sox). Nowadays, the Atlanta-based GMAT tutor lives with her husband, children, and 9-year-old German Shepherd, Lucy. Jamie received her MBA from the University of Southern California, and now she supports students who are seeking their own success. With her love of learning and winning track record in education, Jamie can enliven any subject matter, even a challenging combinatorics lesson.
Boasting an MBA from the University of Southern California, Jamie relishes in her opportunities to share her love of learning with Manhattan Review students, and in particular enjoys teaching the challenging combinatorics lesson. Jamie summed it up best (quoting her Shakespearean starring role): "The course of true love never did run smooth. The course to graduate school, now, that's a different story altogether."