GMAT Prep Courses in Ann Arbor (Michigan)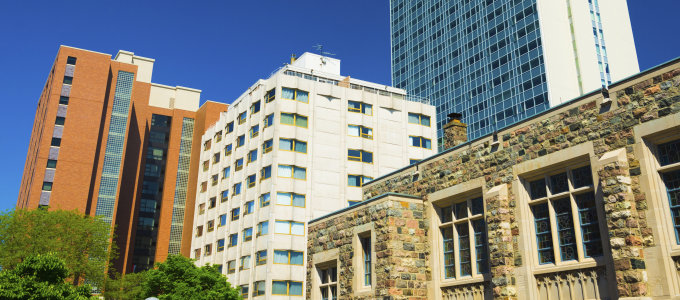 Since 1999, Manhattan Review has broken down the intricate GMAT exam in order to craft exam prep courses designed to produce top scores. Through our variety of GMAT courses, ranging from Interactive Online Courses to private tutoring in Ann Arbor, our students can find the perfect fit for them. We understand that each person is unique and no two students learn the same. We carefully match each student with a private tutor who is best suited to his or her learning style. The private tutors Manhattan Review employs are dynamic, knowledgeable and, above all, passionate about helping their students achieve a top GMAT score. Highly demanded by exam prep companies around the globe, our professional tutors will be with you every step of the way.
Aspiring MBA students have utilized our services for the past fifteen years and gained acceptance into the finest universities around the country. The University of Michigan, located in the heart of Ann Arbor, has become the next step for hundreds of Tree Town residents. Other students of ours find their way to the West coast at Stanford or the East coast at the prestigious Harvard. The doors of the most well known colleges and universities will open wide to those with a high GMAT test score. For years, our students' applications are brought to the top of the stack of college applicants because of their high percentile GMAT score. Let our experts help guide you through our world-class syllabus and make your next step towards success just a bit easier.
Our courses are flexible for students attending school or working full time. We have weekend courses, Interactive Online Courses and our private tutors will work around your schedule to provide one-on-one tutoring as well. Unique in the test prep industry, Manhattan Review created our courses not for the masses, but rather for those truly seeking out top scores. Upon receiving a top score, our students have gone on to rewarding careers at Google Adwords in Ann Arbor, the Dominos Pizza Company, or one of the many tech companies, like ArborText and JSTOR. They have helped these companies reach their maximum potential and enjoyed many personal successes at the same time.
Let our unmatched exam prep methods and private tutors help you achieve a high percentile GMAT score. Ann Arbor is a hub of academics, exciting start-up companies have often voted as one of the top cities to live in the United States. Take our word for it, having a top GMAT score will make your path easier to success smoother than you can imagine.

...Thanks so much for you help! The 80 point improvement was fabulous! I wished I had hit the 700 mark, but 680 is around the 90% mark, so it should be okay......The Manhattan Review course not only focuses students upon solving complicated quantitative and verbal problems, but also prepares students for a range of cognitive failures that the GMAT exploits and few books address...
- Sahil (This student took our London GMAT classic course)
Ann Arbor
Primary Course Venue:

Manhattan Review GMAT GRE LSAT Prep
Ann Arbor Teaching Center at the Holiday Inn
3600 Plymouth Road
Ann Arbor, MI 48105

Phone: (734) 786-9587

NOTE: We do NOT typically have staff at the venue, so email us before visiting the venue.
Meet an Ann Arbor GMAT Tutor: Jamie B.
Our Harvard alum with an English degree, Jamie still recalls the exhilarating rush from the University stage, specifically, from acting the lead in "A Midsummer Night's Dream." Although Jamie has changed courses and enjoys crafting young minds into top scoring GMAT champions, she still uses her charismatic personality to engage her students. She channels her star power into a new setting summoning up her on-stage energy to teach math concepts and punctuation tricks.
Jamie moved to A-squared from New England and enjoys the fresh water lakes to the ocean. Her husband has become an avid fisher and she and her dog Lucy, a chocolate lab, join him often for days at the lake from sunup to sundown. Jamie uses this time to refresh and renew her mind. She encourages her students to do the same during their off time and even organizes a yoga class before each course to help students calmly prepare for a rigorous study session. She finds that with an open, clear mind her students can more readily absorb a challenging combinatorics lesson.
Graduating with her MBA from the University of Southern California, Jamie genuinely enjoys sharing her love of learning with Manhattan Review students each year. Jamie truly cares for each of her students and cannot wait to see their progress. She described tutoring best when she said (quoting her Shakespearean starring role): "The course of true love never did smooth; however, the course to graduate school, now, that is a different story altogether."