GRE Prep Courses in Dammam (Saudi Arabia)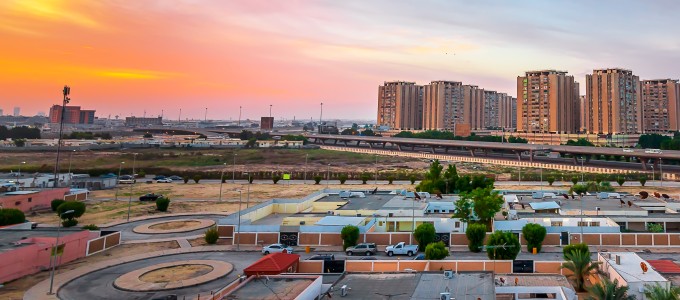 The Graduate Record Examination, or GRE, is a potentially important exam for students who are looking to get into a competitive graduate school, as the admissions committees of those schools tend to place high value on the exam as a testament to how well the student will be able to handle the course load during the student's chosen program. Students may find themselves looking for professional preparation for the GRE to help them achieve a higher score and reach their full potential. Students in the Dammam area looking to properly prepare themselves for the GRE should look to Manhattan Review for the best standardized test prep in the area. Students have been working with Manhattan Review for a variety of standardized tests since 1999, and Manhattan Review is the best resource for those looking to utilize a variety of study options. Manhattan Review offers group courses, private tutoring, and practice exams as part of convenient packages.
Students who choose to work with the various study options provided by Manhattan Review are allowed to utilize benefits that come with each of the various study options. Students who work with Manhattan Review's group courses and private tutoring will be working with an instructor that has many years of experience in helping students to properly prepare for their chosen standardized test, and can utilize them either in-person or online depending on what they would feel would be most beneficial. Manhattan Review's private tutors who work with their students in-person can utilize any mutually convenient location in the Dammam area for the purposes of helping their students, and Manhattan Review tutors can provide all their students with flexible scheduling and the ability to customize their lesson plan according to their specific strengths and weaknesses. Manhattan Review can also provide practice tests and study curriculums that are updated annually to reflect the exam's current formatting and content.
Students who have chosen to work with Manhattan Review for the purpose of preparing for the GRE have managed to develop a stronger understanding of the material that is covered on the exam that has served them well in the process of trying to earn a higher score on the day of the test. Manhattan Review's assistance with standardized tests such as the GRE has helped students in the Dammam area gain admission into local schools such as the Prince Mohammad bin Fahd University, and schools outside of the area such as Harvard, Yale, Stanford, University of Chicago, Penn State, William and Mary, Columbia, Vassar, Oxford, Cambridge, University of Vermont, New York University, and many others. Students have also used their academic backgrounds at these schools to gain work at Fortune 500 companies such as Walmart, Apple, Google, and many others. Call or email an academic program advisor today to learn more about Dammam GRE prep options.

I was most impressed with how efficient Vince was with everything, he came prepared and he knew what he was talking about. I liked the efficiency. I already came in with a good idea with what I needed to work on and Vince was great in attacking my weaknesses. I cannot think of anything I disliked or that he could improve about his teaching style.
- Jackson (This student took our GRE Tutoring)
Meet a Dammam GRE Tutor: Roger C.
Roger C. has helped a wide variety of students who are looking to prepare for their standardized tests since he moved to the Dammam area for both career purposes and to be closer to family. He began helping students with exams such as the GMAT and GRE after finishing his time in graduate school, and now is one of the most popular tutors with Manhattan Review.
Roger's methods for helping students to learn the material that is covered on their choice of standardized test are aimed at ensuring that students are able to develop their skills from the ground up, starting with the easier material and working their way up to the advanced subjects. In his spare time, he likes to attend the area's art museums.