What to Take to the GRE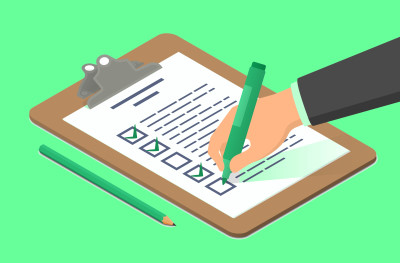 March 7, 2019
You are putting in a lot of effort preparing for the GRE with vital strategies and approaches to difficult questions. More than likely, you have spent months finessing your performance, working with a teacher or tutor, as well as mock exams to enhance your score. A high score is important, as it opens the doors to graduate programs and business schools all around the world. What can be more satisfying than studying at the school of your dreams?
Naturally, you want to adhere to the stringent rules and regulations—not to mention expectations—regarding your GRE exam day. These guidelines are crucial, as any misstep in a number of them could disqualify you and cancel your score. To avoid any problems at the testing center, we're going to take a deep dive into what is expected of you so you can avoid any problems and perform your best.
Have a pen and paper ready? You will want to take notes on some of these areas, as they are crucial to keep in mind!
GRE Test Day: Your ID
So there is an item that you absolutely must bring to the testing center on GRE exam day—and that's your photo I.D. It's very important to remember that you will not be permitted to even walk into the testing area without the proper photo identification, as it's an irrefutable requirement. What entails a viable photo I.D. for the GRE? Let's explore the specifics.
valid identification constitutes a passport, driver's license or military I.D.
your name on your I.D. must match the name you used to register for the GRE, specifically in the Roman alphabet; this includes middle names, in addition to any other special characters
according to ETS, the makers of the GRE, if a test administrator questions the validity of your identification you present, you may be asked to provide supplemental I.D.; if positive confirmation is not made, the test will be withheld
your test scores will not be refunded if you are turned away because of an invalid I.D.
Long story short—your I.D. must be exactly what ETS requires or you could run the risk of losing your test date. Double and triple check your identification, not just if it's a passport, military or driver's license, but also that the name with which you registered matches your identification exactly. For example, if you registered as "Fernando de Calbreza," that is the name that must be on your photo identification.
You've come so far with your course of study, don't let something as simple as a photo I.D. prevent you from attaining your top score!
GRE Test Day: What Else to Bring
In addition to your I.D., there are also some other items that will be important for you on test day. One, in particular, is your confirmation email you received from ETS. This is the email that validates you registered successfully to take the GRE. Do yourself a favor and print this up and bring it with you; that way, if there is confusion or a misunderstanding about your exam day, you have proof. (Note: Some may simply want to bring this email up on their phones, but trust us, it's advisable to print since cell phones aren't allowed in the testing area.)
While registering for the GRE, you had the option of selecting up to four schools you want your scores sent to. If you did not have the chance to fill those out during your registration, you will have the opportunity to do so at the testing center. Write down your list of schools so you aren't distracting yourself by wracking your brain should you forget one.
The testing center should provide you with pencils, but in the instance they do not, bring a few non-mechanical ones just in case. Again, ETS officially states that they will provide them, but bringing along a few to avoid a disaster is a great idea.
Similar to movie theatres, testing centers can sometimes be very cold. We all know we cannot focus on our GRE subject material if we're freezing; hence, bring along a few layers of clothing that you can easily take on or off just to give yourself some flexibility. Again, you do not want any environmental distractions; weather and climate can certainly be one of them!
Additionally, you never know when you will become hungry or thirsty during your exam, so bringing along healthy snacks and beverages that are low in sugar and provide you energy is key. You don't want your stomach growling prior to sitting for the GRE, especially while you're attempting to tackle some challenging exam questions!
GRE Test Day: What to Leave at Home
The testing center provides lockers for you to store various belongings during the exam that you cannot take into the testing room. This is a great service, as everyone has various accessories that they don't want to leave in their car or at home. However, there are some things that you want to avoid bringing, as ETS has strict rules against them.
Leave behind your phone. ETS strictly forbids cell phones of any kind in the testing area. You can leave these in your locker, but if you're able to leave it behind in your car or at home, it's for the best so you aren't tempted to check it during breaks and run the risk of getting in trouble. (Cell phone use is not permitted during breaks.) Scores can be cancelled because of this, so it's always best to err on the side of caution.
Leave behind your calculator. When it comes to the GRE Quant portion, an on-screen calculator is provided, making the need for a physical calculator obsolete.
Leave behind jewelry. ETS insists that all bracelets, bags, purses, watches, necklaces, headphones and anything similar be left behind. Sure, you can store these belongings in your locker, but why not leave them at home so you aren't concerned about taking them on and off? When it comes to valuables, our minds are more at ease knowing they are safe and sound.
Leave behind family and friends. Yes, we all love moral support, but the GRE testing center is for you and you only. Rest assured you can tell loved ones all about your exam experience once it's over.
Leave behind weapons of any kind. Well, this should go without saying, but it also bears repeating in today's climate. Naturally, firearms or knives of any kind must be left at home and are not permitted in the testing area. This includes razor blades and pocketknives, so keep that in mind when preparing to head towards the exam center.
GRE Test Day: Rules and Regulations
As with any standardized test, the GRE has many rules and regulations. Let's take a deep dive into some of them so you aren't surprised on test day. After all, the only surprise any of us really want is our score being being higher than we originally anticipated!
It's possible you may be asked to remove your eyeglasses for a close visual inspection. This occurs prior to check-in and also after breaks.
The only jewelry that is permitted inside the testing area is wedding or engagement rings; anything else must be stored in the lockers that ETS provides or left at home.
Clothing such as bowties, neckties, scarves, jackets, hair accessories, jackets and outwear are subject to inspection by test administrators. Steer clear of accessories such as tie clips, cuff links, ornate clips, combs, barrettes, headbands and other similar items, as you may be prohibited from adorning them in the testing room.
In addition to storing your personal items in the lockers, you will be asked to remove everything from your pockets.
Food and beverages you bring are only to be consumed outside the testing room and during designated breaks. Medication can also be accessed during your break, as well.
Scratch paper is not to be used during breaks or before the exam. All paper must be returned to the center administrator once the testing session ends.
Testing premises are subject to videotaping.
During breaks, you are not permitted to go outside or to your car. Restrooms, however, are permitted.
Testing centers cannot provide printed copies of unofficial score reports.
Due to weather, ETS may require a delayed start or outright rescheduling of your testing session.
GRE Test Day: Tips
When exam day finally arrives, it leaves many students wondering how best to approach their final hours prior to walking into the testing center. Below are some proven tips to help you tackle the day of your exam.
Get a good night's rest. Sleep is crucial to GRE success so you can optimally approach each section. Make it a point to go to bed early and try to get an extra hour or two of sleep. It will pay off in the long run!
Do not cram the night before or day of your GRE test. Oh, boy, how can we emphasize this point any more? Cramming will have an adverse affect on your exam day performance, so avoid learning new strategies or exam techniques so close to your actual test day. Instead, opt for a quiet and relaxing evening at home doing something low key and enjoyable.
Lay out your belongings the night before. Similar to the day before you embark on a big trip, you want to set out your photo I.D. and any other necessities before you sleep so you aren't running the risk of forgetting anything.
Get to the testing center in plenty of time. This point is crucial for obvious reasons; if you're late for your GRE, you will be disqualified. Concerned about the route you will take? Try making a dry run first so you know exactly how to get there and the length of time it takes.
In the end, you must prepare for test day logistically just as much as you do in terms of exam content. Knowing the rules and regulations, as well as what to bring and what to leave at home will hopefully shed some light on what to anticipate when you walk through the doors of your GRE testing center.