GRE Prep Courses in Tampa (Florida)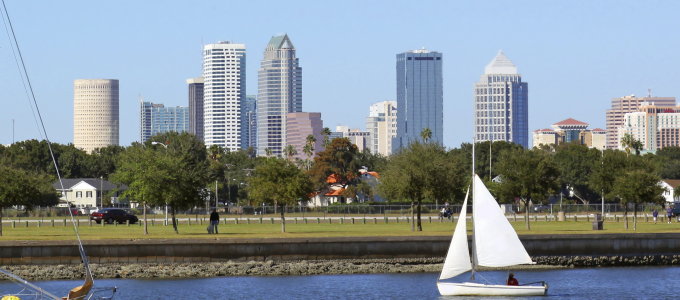 Every year, the Graduate Record Examination, or GRE, is taken by more than a half a million prospective graduate students all over the world, including right here in Tampa. This means that thousands of graduate programs, including business programs, rely on the GRE as a significant determining factor in the application process. Applicants are challenged to take the nearly four-hour long assessment used to measure verbal reasoning, quantitative reasoning, and analytical writing abilities in order to meet the application criteria for their school of choice. For many, preparing for the GRE will require the aid of a professional test prep service. For those prospective graduate students, Manhattan Review can help.
Since 1999, Manhattan Review has been delivering top rated GRE test prep services in Tampa by providing an unprecedented program designed by prospective graduate students. Our a la carte program affords our participants the opportunity to custom design their own learning program based on their individual learning styles and availability. At Manhattan Review, we understand that our students lead busy lives and as a result we work to accommodate them in any way that we can. While learning plans can indeed consist of one-on-one private tutoring sessions with our elite professional tutors, some students can option to participant in our many interactive online courses, which are accompanied by a host of other tools and resources including our GRE practice tests. No other test prep service takes the time to develop students like Manhattan Review.
Over the years, Manhattan Review has garnered a reputation for working with the best and brightest in the Tampa. All of the top universities in the Greater Tampa Area including the University of South Florida and the University of Tampa have all endorsed our GRE test prep program by accepting our students into their highly regarded graduate programs. They do so each year not only because our students have the highest GRE scores, but also because they are confident that our students have the necessary knowledge and skills to excel academically in their chosen programs. Similarly, all the major employers in Tampa including BayCare Health System, Publix Super Market, HCA West Florida, Verizon, Tampa General Hospital, Wal-Mart, Florida Hospital, JP Morgan Chase & Co., Moffitt Cancer Center, Citi, Wikipedia, MacDill Air Force Base, and the Department of Defense also support our program as well. They do so by repeatedly hiring our past participants upon their completion of our GRE test prep program because they agree that our students are the best and brightest that Tampa has to offer.

Bill put in a lot of outside hours preparing for class and answering questions throughout the week. He really tried his hardest to help us reach our goals. I really really appreciated how dedicated he was to helping us.
- Cheng (This student did GRE tutoring)
Tampa
Primary Course Venue:

Manhattan Review GMAT GRE LSAT Prep
Tampa Teaching Center at the Sheraton
200 North Ashley Drive
Tampa, FL 33602

Phone: (813) 830-9623

NOTE: We do NOT typically have staff at the venue, so email us before visiting the venue.
Meet a Tampa GRE Tutor: Mason
Throughout his entire life, Mason has always worked with others to help them to either acquire new skills or brush up on existing ones. Working at Manhattan Review is no different. As an esteemed member of our elite team of GRE private tutors, Mason has been instrumental in helping us to provide the number one GRE test prep service that we are known for around the world, Tampa included. Like so many of our instructors, Mason works simultaneously in his profession as well as at Manhattan Review, which serves to demonstrate that our tutors are not only relevant professionals, but they also bring with them a wealth of academic and professional experiences to share with them in an effort to help them develop to future potential as well.
For Mason, working at Manhattan Review is yet another opportunity since his youth to help develop talent. Our students love to work with Mason because he is so down-to-earth and has an incredible ability to make them comfortable enough to fully express themselves, including their insecurities and asking questions during the learning process. As Mason often says, being able to reach students in this way is critical to the learning process as it enables them to grow. As a result, Mason's students are all able to achieve their GRE testing goals, which for Mason is always worth the effort that was invested. At Manhattan Review, we appreciate Mason's effort as well, which is why we are so proud to have such an accomplished professional as part of our instruction team in Tampa.