GRE Prep Courses in St. Louis (Missouri)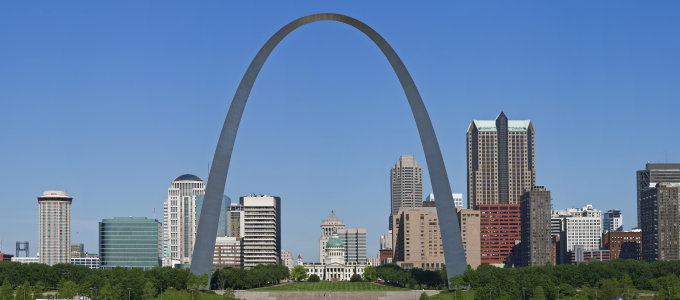 Students who are looking to place in the high percentiles on the GRE exam need to create a study plan. At Manhattan Review, we have deconstructed and analyzed the exam for you and formulated an unmatched syllabus. When this study guide is placed in the hands of our expert tutors, they coach their students one-on-one through the study guide towards a top tier score. We know all students are different and therefore carefully match you with a professional tutor who best suits your learning style. Having a top GRE exam score will put your application at the top of the pile at universities like Harvard, Columbia, Brown, MIT and Cornell. Many natives to St. Louis use their top percentile GRE score to help them walk through the doors of the prestigious University of Missouri, St. Louis University or Missouri State University.
Perhaps you have a first choice school you'd like to attend. Let our private tutors guide you towards the acceptance letter that's sure to be on its way once you ace the exam. With fifteen years of experience in tutoring the GRE, our knowledgeable instructors have seen it all. Our unique prep methods include finding out what subject areas are your weakest and helping you to excel in them. Your strong areas are built up more and in the end a high percentile GRE score is the result. Year after year in St. Louis and around the country, students have unitized our state-of-the-art resources to get into the best schools in the nation.
With large corporations like Peabody Energy, Ameren, Ralcorp and Express Scripts who have made St. Louis their home, our graduates have found rewarding careers. Along with the hosts of medical and research companies in St. Louis, the career opportunities are endless for those with an MBA. Past students of ours have also carved their own path, starting up successful businesses and even continuing their education to law school and more. Busy professionals have found our flexible options have helped them take the necessary steps toward an MBA. Let our experienced and educated tutors help you improve your GRE score so you too can have a career at a Fortune 500 company. Top GRE scores are the first step towards a successful and rewarding future!

My first class in Manhattan Review was a very good class. George is a very good teacher.
- Hugo (This student took our GRE course.)
St. Louis
Primary Course Venue:

Manhattan Review GMAT GRE LSAT Prep
St. Louis Teaching Center at the Sheraton
7730 Bonhomme Avenue
Clayton, MO 63105

Phone: (314) 558-6282

NOTE: We do NOT typically have staff at the venue, so email us before visiting the venue.
Meet a St. Louis GRE Tutor: Claus K.
Claus has been called our 'top' GRE tutor for Manhattan Review. He is an inquisitive student at heart, which helped him earn his Master's Degree in Philosophy from the prestigious John Hopkins University. Upon received his degree, Claus smartly took a teaching assistant job at his alma mater serving for five solid years. During this time he also began tutoring at various test prep companies. His natural knack for understanding how the human brain works and why combined with his strong teaching skills made tutoring a perfect fit for him.
Over this time, Clause shared his academic insights with more than 550 students. Since then, he has meandered through the United States and ended up in St. Louis. Here, like in the North East, Claus consistently is praised for his clarity of instruction, ability to relate to his pupils and presentation skills. His students have enjoyed earning top ranking GRE scores year after year under his tutelage.
His love of learning began at the early age of five when he began reading. Now, in his spare time, Claus can still be found with a book in hand at the base of the famous St. Louis Arch with his dog, Jeb, enjoying watching the people of the Lou and learning something new. He calls himself a forever student, which is one of the reasons he can so easily relate to his pupils.