GRE Prep Courses in San Diego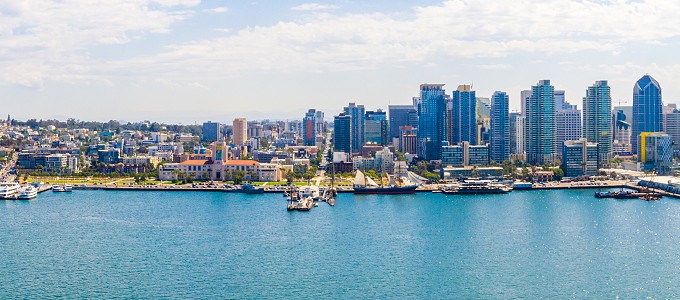 GRE Preparation in San Diego (California)
The GRE revised General Test is a standardized exam where strategy is key. In addition to mastering the core content, test-takers need to be equipped with a specific knowledge base to boost point scoring. Do you skip a question when you are only 50/50 confident of your answer? What if you're sure you don't know which multiple-choice option is correct? If you are seeking a top score so you can get into a competitive graduate program, Manhattan Review can help you improve your GRE score and strengthen your postgraduate application.
Master the skills and strategies to maximize your percentile-ranking potential. Get ahead of the curve and skip the ineffective study methods like rogue memorization of a random curriculum. Students in San Diego have access to our carefully constructed GRE course syllabus, a study guide that's based on close analysis and ongoing experience with this standardized exam.
Each year since 1999, we have been aware of the most recent trends and recurring themes that define this test. With the support of our test prep resources, energetic tutors, and your choice of learning platforms, you'll be properly prepared as you continue your higher education journey.
You can choose from Manhattan Review's full-length classroom courses, Interactive Online Courses, or private tutoring services to get all the information you need in a timeframe that streamlines your studies. Focus your energy on exactly what you need to know, and you'll gain a competitive advantage over other postgraduate applicants. No matter what your field of study and academic strengths, we'll work with you to ensure that your performance makes you a candidate at the school of your choice.
Eliminate the guesswork as you become more familiar with the GRE through practice exams and other interactive exercises. Sharpen your skill set for every section of the test in an energetic classroom environment, through personalized, one-on-one guidance, or via your home computer.
In San Diego, we have mentored students who went on to attend University of California – Los Angeles (UCLA), San Diego State University, UC San Diego, California State University, University of Southern California, Stanford University, UC Berkeley, and many more. If you want to acquire your Master's degree, distinguish yourself from the dense stack of applicants competing for your seat. Get GRE test prep with our San Diego tutors, and take your academic journey to the next level of professional possibilities.

I was most impressed with how efficient Vince was with everything, he came prepared and he knew what he was talking about. I liked the efficiency. I already came in with a good idea with what I needed to work on and Vince was great in attacking my weaknesses. I cannot think of anything I disliked or that he could improve about his teaching style.
- Jackson (This student took our GRE Tutoring)
San Diego
Primary Course Venue:

Manhattan Review GMAT GRE LSAT Prep
San Diego Teaching Center at the Sheraton
1380 Harbor Island Drive
San Diego, CA 92101

Phone: (619) 819-0716

NOTE: We do NOT typically have staff at the venue, so email us before visiting the venue.
Meet a San Diego GRE Tutor: Aimee N.
Aimee has been a successful GRE tutor in San Diego for the past five years. Having grown up in the Bay Area, she graduated from UC Berkeley with a degree in English and Anthropology. She then acquired her Master's in English at UCLA. Upon graduating with her MA, she worked as an Advertising Copywriter for several marketing firms and small agencies in the Los Angeles area.
Aimee got a big break when she applied for a position at San Diego Magazine. She and her husband wanted to move to the region for several reasons, and Aimee landed the role after presenting her diverse portfolio and proving her dedication through an advanced degree. Now a freelance writer, Aimee contributes to a variety of local and national publications and provides marketing copy for several firms. An avid writer, editor, and proofreader, Aimee has also found her voice in the classroom.
This GRE tutor has been praised for her first-hand experience with the standardized exam, her natural ability to breakdown complex concepts, and attention-grabbing presentation skills. Aside from her writerly and pedagogical pursuits, Aimee is content to complete a jigsaw puzzle, go on full-day bicycling excursions, and sip on concoctions from her prized espresso machine. "Coffee is a writer's best friend," she's been known to joke among her students and colleagues.