GRE Prep Courses in San Antonio (Texas)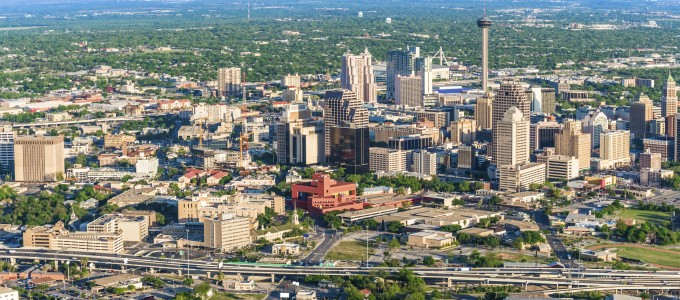 The Graduate Record Examination, or GRE, is one of the most prevalent standardized tests in the world. This primarily computer-based test administered more than a half a million times a year, is used to assess verbal reasoning, quantitative reasoning and analytical writing, in an effort to determine graduate school eligibility for graduate school hopefuls, like yourself. More importantly, prospective graduate students often find that their previously tried-and-true study strategies are no longer effective when prepping for the GMAT. That's where Manhattan Review comes in.
Since 1999, Manhattan Review has been providing world-class GRE test prep courses to prospective graduate students all over the world, including San Antonio. Our GRE test prep consists of three components that have proven successful over the course of the last 15+ years that we've been in existence, they include: elite professional tutors that provide one-on-one engagement, interactive online courses and accessibility to practice tests that mimic the real GRE that students take each year. Additionally, our test prep courses are a la carte, meaning that our services are tailored towards each individual student to both suit his/her scheduling needs and unique learning styles. As a result, we have developed an unparalleled program that is unmatched by any competition.
One of the many benefits of our reputation in San Antonio is that Manhattan Review is synonymous with the best. Our past participants have gone on to attend some of the top colleges and universities in the country, and particularly in San Antonio. Specifically, the University of Texas, Texas A&M University, Our Lady of the Lake University and the Southeast School of Art, are all proud recipients of our past GRE test prep participants. The same is true for the top employers in San Antonio, like Clear Channel Communication, QVC, Citigroup and AT&T, who have also been proud to hire past Manhattan Review test prep services participants.
In San Antonio, Manhattan Review is known for training the best and brightest, and our courses can help you become one of the best and brightest as well.

I wanted to thank you for helping me with the GRE prep and let you know that your teaching tactics worked! I took the exam yesterday and got an 800 on the math, 570 on the verbal and who knows about the writing but hopefully it's not below a 4! The verbal is tricky with those silly words but I am happy with my score and ready to walk away from this ETS madness. Thanks again and all the best!
- Sophia (This student took a GRE class)
San Antonio
Primary Course Venue:

Manhattan Review GMAT GRE LSAT Prep
San Antonio Teaching Center at the Sheraton
205 East Houston Street
San Antonio, TX 78205

Phone: (210) 485-3627

NOTE: We do NOT typically have staff at the venue, so email us before visiting the venue.
Meet a San Antonio GRE Tutor: Derrick S.
Since joining Manhattan Review back in 2010, Derrick has served as a beacon of hope for prospective graduate students who take the GRE. Between his down-to-earth personality, past success with the SAT and GRE (scoring in the 99th percentile on both), and his natural ability to engage with students, he is always a hit with the students year after year. As natural as his abilities are, there was still a honing of his skills that has occurred over the course of his very impressive career, which he will gladly confess would have not have been possible if it were not for his hard work in school.
After graduating in the top five of his high school class and acing the SAT, Derrick was recruited to attend the prestigious Texas A&M University, where he earned his Bachelor's degree in Aerospace Engineering and later a Master of Engineering. It didn't take long for top employers to notice the budding engineer in Derrick and he was immediately hired to work for a prestigious firm before graduating. Over the past 15 years, Derrick has steadily worked up the ranks as one of the top advanced aeronautical professionals in his field. Now an executive level manager, Derrick is often charged with the task of training and developing new talent, something that he takes very seriously. This is also what ultimately has led Derrick to a professional tutoring position with Manhattan Review. But Derrick isn't all about work. He is also a family man.
Derrick currently lives just outside of San Antonio, in Scenic Oaks, with is wife Olivia and their twin daughters, Maxine and Zoe. Since Maxine is a huge WNBA fan, Derrick and family often attend San Antonio Stars games at the historic Freeman Coliseum.